Latest Dewatering Pumps Put a New Spin on Performance
By Russell A. Carter, Managing Editor
---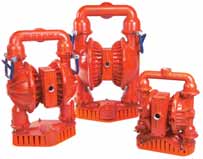 Wilden's Stallion AODD series pumps are
designed to be portable and damage-resistant.

One of the hottest commodities in today's mining industry isn't something that can be crushed, concentrated or smelted—it's water. Often scarce, sometimes contami-nated but more than occasionally present in unwanted, massive volumes, water has cost and value characteristics that trans-late into fundamental economic issues for mining operations.

To an observer walking the exhibit-floor aisles of the recent MINExpo 2012 trade show—the world's largest—the importance of water to mining was reinforced by the sheer number of pump and pump-related suppliers present (roughly 100), and the range of new products and services they demonstrated—a sizable portion of which were aimed directly at mine dewatering duties. Among the models displayed were some of the largest units available in a given vendor's product line, down to some of the smallest.

Typically, many offered new levels of performance; Pioneer Pump, for example, introduced its PP108C24, capable of han-dling higher flow rates and heads than its predecessor without reducing the available suction lift. Powered by a Cat C27 diesel, this 10-in. (250-mm) extreme-head unit is designed to provide flow of 3,750 gpm (850 m 3 /h) at 575 ft (175 m) head.

Others were designed for improved con-venience; Wilden highlighted its Stallion series solids-handling Air-Operated Double-Diaphragm (AODD) pump, fitted with han-dles that allow convenient transport, and a screen base that keeps oversized solids from entering the fluid inlet and is con-structed of polyurethane to combat the possibility of damage when the pump is dropped into a hole for dewatering. These pumps are available in three sizes—1-1/2, 2 and 3 in.—with flow rates ranging from 81 gpm (305 l/min) to 205 gpm (776 l/min), suction lifts from 18.6 ft (5.7 m) to 30 ft (9.2 m) and maximum discharge pressures to 125 psi. They can handle solids from 13 mm to 25 mm in size.

In conversations with vendors during the show, characteristics beyond size and power came up as topics that were of grow-ing interest to customers—pump 'intelli-gence,' for example; and speed, as in ven-dor product-logistics response time.

Sulzer Pump launched its next genera-tion of dewatering pumps, designed for harsh conditions in mining and touted as a pump line "made for the real world." Available in two series, one for drainage (model XJ) and one for sludge (model XJS), the ABS submersible pump range is claimed to be the world's smartest dewatering pump, equipped with electronic technology that can potentially save energy, reduce wear and allow pump condition to be checked without disassembly. According to Sulzer, the pump line's AquaTronic unit integrates electronic intelligence into the pump, while its AquaPlug control and monitoring module integrates it into the power supply.
Sulzer's latest ABS submersible pumps offer
electronic intelligence for better performance.
With AquaTronic in command, pumping starts immediately at full capacity and runs consistently. The direction of impeller rota-tion is always correct because AquaTronic electronically compensates for incorrect phase order—a feature claimed to be a first among dewatering pumps. In addition, the unit eliminates unnecessary servicing. With the pump line's USB link and a con-nected PC, diagnostics can be performed without disassembly.
AquaPlug provides a range of control and monitoring functions, including automatic stop/start, optional level control, alarms and service indication. Although the pump can be run continuously, AquaPlug can also be set to stop it when it begins to snore. By stopping at dry running and starting auto-matically at a specified level, energy use can be optimized and wear can be reduced.
In the pump market, speed also is important—not only in terms of material velocity but perhaps more importantly, when it comes to meeting the urgent needs of customers, according to Xylem Water Technologies, a fluid technology and equipment vendor that was spun off from ITT Corp. in October 2011. Xylem has, at recent trade shows, highlighted its Godwin HL series of high-lift pumps, including its HL110M Dri-Prime automatic self-prim-ing, dry-running model, specifically de-signed for pumping under extreme high-pressure discharge or high-discharge lift applications. The HL110M offers flow rates up to 500 gpm (113 m 3/h) and dynamic heads up to 615 ft (187 m). The HL110M features the Venturi air ejector priming system for fully automatic priming up to 28 ft (8.5 m) of static suction lift.
Xylem, which this year expanded its dewatering capabilities in France, Brazil, Australia, Vietnam and Panama to meet increased customer demand and has plans for further expansion over the next two years, said it takes pride in its ability to provide speedy solutions. When wide-spread flooding hit Australia's largest coal-producing region in 2011, Campbell Mining Services, a Queensland mining contractor, contacted Xylem about possible rental and purchase of large centrifugal pumps capable of handling flow rates between 9,500 and 15,850 gpm (2,160– 3,600 m3/h) with a total dynamic head between 65 and 100 ft (20–30 m).
Within 24 hours, Xylem provided rental and purchase options for Flygt submersible pumps, including two that provide flow rates of 7,925 gpm (1,800 m 3 /h) when pumping in parallel. After collecting the equipment in Townsville, Queensland, Campbell Mining Services fabricated flotation frames in its workshop based on pontoon arrangement drawings supplied by Xylem and put the dewatering pumps to work in an open-pit. Two weeks later, Campbell confirmed a five-month rental agreement for Flygt pumps and accessories to assist with pit recovery at a BMA mine site in Queensland's Bowen Basin. Within four days, Xylem staff gath-ered equipment from five Australia branch offices, fitted new cables to all three pumps and dispatched the shipment.
With virtually every pump in Australia working non-stop to drain floodwaters at the time, mine operators and service con-tractors looked abroad for additional resources for cleanup and recovery opera-tions. A major coal producer contacted Xylem in late December 2011 to discuss pit dewatering solutions. Over the end-of-year holidays, Xylem staff inspected the damaged pits and contacted Godwin pump specialists in the U.K. to develop a total pumping solution for the mine.
The factory built and dispatched seven Godwin high-head pumps by air to Australia within seven days of order receipt, much faster than the normal six- to eight-week turnaround time. The order included five complete Godwin Dri-Prime HL Series pumps with diesel power—two HL260M, two HL200M and one HL125M—and two HL250M bare-shaft pumps. Capable of handling flow rates of 19,500 gpm (4,425 m3 /hr) with head capabilities in excess of 500 ft, the pump package was used to suc-cessfully dewater flooded assets.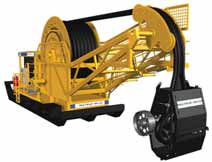 Weir Minerals Multiflo's MH high-wall pump
allows quick response to water-related problems
in mines.
In a similar vein, mine dewatering spe-cialist Weir Minerals Multiflo (WMM) recently announced the September launch of what it describes as a premium per-formance, custom-built highwall pump.
The Multiflo MH pump, according to WMM, was designed in response to customer feedback and comes on the back of the major flooding disasters described above. Paul Avey, managing director of WMM, said, "We have really listened to our customers and developed a pump that we believe will better protect people, assets, jobs and the environment, and ultimately get sites up and running more quickly during times of flood-ing and other water-shed crises.
"With a flooded mine or quarry costing up to $1 million a day in lost productivity, we believe the release of the Multiflo MH highwall pump will be extremely well received by customers because of the urgent need for a robust and reliable high-wall mine dewatering solution."
The new highwall pump offers an envi-ronmentally friendly dual pipe system that separates hydraulic oil hoses from the dis-charge pipe, to reduce the risk of hydraulic oils contaminating discharge water. The submersible pump head assembly includes hydraulically driven wheels to aid highwall ascent and descent, and a heavy-duty hydraulically driven submersible pump that can handle high concentrations of silt and solids. It also has a modular design for ease of transport and assembly; provides joystick control of the hydraulic controls for easy operation; has an operator camera for in-pit visibility; and has been designed to ensure maximum flow rates of up to 200 l/sec at a 90-m head.
---
As featured in Womp 2012 Vol 10 - www.womp-int.com