Midas Gold Reports PEA for Golden Meadows
---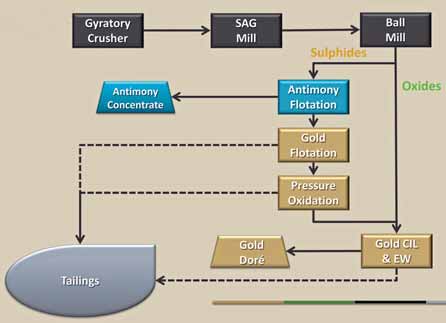 Midas Gold's Golden Meadows gold project in Central Idaho, USA, will mine both oxide and sulphide ores
that will require separate extraction processes, as shown here in a simplified process design diagram.
The projects's PEA assumes mill feed will be about 20,000 mt/d. (Photo courtesy of Midas Gold Corp.)

Midas Gold Corp., a Canadian junior com-pany headquartered in Vancouver, has announced the results of an independent, NI 43-101-compliant preliminary econom-ic assessment (PEA) of its Golden Meadows project near the historic mining town of Stibnite in central Idaho. The Golden Meadows project, as currently envi-sioned, consists of three gold mineral resources, Yellow Pine, Hangar Flats and West End, with zones of antimony and sil-ver mineralization. Conventional open-pit methods are recommended for mining the three deposits, which are located within 3 km of each other.

The deposits contain oxides and sul-phides that are contemplated to be treated using different extraction processes. The oxide material is amenable to milling and then vat leaching to recover gold and silver only. Sulphide materialization would be milled and treated by sequential flotation to produce two products, an antimony con-centrate for shipment to a third-party smelter and a gold concentrate that would be processed on site using pressure oxida-tion followed by vat leaching and cyanide destruction within the plant building to produce gold-silver doré.

Mill feed is assumed to be about 20,000 mt/d. At this production rate, mine life would be approximately 14.2 years. The mine would have an overall strip ratio of 3.7:1, waste to ore. Gold accounts for approximately 93% of the value of the payable metals; antimony accounts for about 7%; and silver makes a negligible economic contribution.

Life-of-mine gold production for Golden Meadows is estimated at 4.9 million oz, and life-of-mine antimony production is estimated at 90.6 million lb. Cash gold productions costs, net of byproduct cred-its, are estimated at $425/oz of gold. Initial capital to develop the project is esti-mated at $879 million.

The Golden Meadows property has been the site of extensive open-pit and underground mining for almost 100 years and, as such, has seen considerable disturbance and environmental impact. Midas Gold's approach to the conceptual design of the project has been to mitigate and minimize the results of its proposed activities, to remediate considerable amounts of legacy disturbance, and to develop a closure and reclamation concept that leaves the site with enhanced fisheries, wetlands and other productive environmental attributes.
---
As featured in Womp 2012 Vol 10 - www.womp-int.com