B2Gold and CGA Mining Agree to Merge
---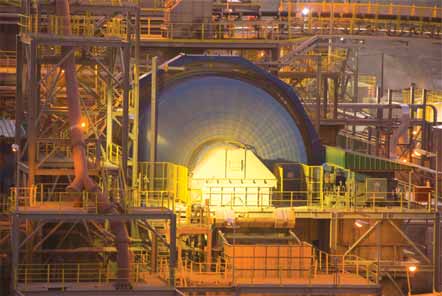 AA

B2Gold and CGA Mining have entered into a merger agreement to combine the two companies at the agreed exchange ratio of 0.74 B2Gold common shares for each CGA share. The transaction is val-ued at about C$1.1 billion. The merged company will operate CGA's Masbate gold mine in the Philippines and B2Gold's Limon and La Libertad gold mines in Nicaragua. The three mines are expected to produce about 350,000 oz of gold in 2012.

Masbate, the largest operating gold mine in the Philippines, will produce about 200,000 oz of gold over the 12-month period ending June 30, 2013. The mine poured its first gold in May 2009.

The combined company will also have growth prospects through B2Gold's 92%-owned Otjikoto project in Namibia and its Gramalote joint venture project (51% AngloGold Ashanti/49% B2Gold) in Colombia. Based on current assump-tions, the company expects to be produc-ing more than 700,000 oz/y from five mines by 2016.

The combined company will have 3.9 million oz in proven and probable reserves, 9.2 million oz in measured and indicated resources (inclusive of reserves), and 4 million oz in inferred resources. Market capitalization of the combined company will be about C$2.9 billion.

"We believe CGA and its flagship Masbate mine offers B2Gold shareholders immediate leverage to a significantly larger combined production profile. With this transaction, B2Gold has taken a major step toward cementing itself as a leading gold-sector consolidator, providing for geograph-ic and operational diversity while contribut-ing significant cash and future cash flow toward B2Gold's exciting development projects. We have great respect for what CGA has built and look forward to working with this exceptional team," B2Gold President and CEO Clive Johnson said.

B2Gold Corp. is a Vancouver-based company that was founded in 2007 by the former executive and management team of Bema Gold Corp. Bema was acquired by Kinross Gold in February 2007.
---
As featured in Womp 2012 Vol 10 - www.womp-int.com