Peabody, Kinder Morgan Sign Export Agreements
---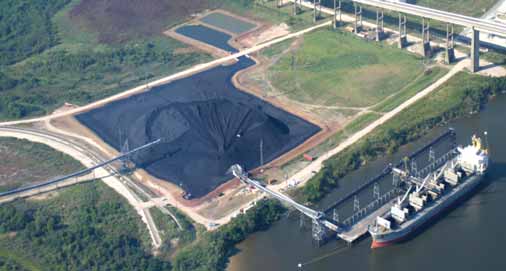 Kinder Morgan's Deepwater Terminal in Houston will boost Peabody's Gulf Coast exports.

Peabody Energy and Kinder Morgan Energy Partners announced long-term agreements to secure and expand the Gulf Coast export platform for Peabody's Colorado, Powder River Basin and Illinois Basin coals. Under the multi-terminal agreements, Peabody would gain additional access to export coal at Kinder Morgan's Deepwater Terminal and Houston Bulk Terminal (HBT) near Houston, Texas, and its International Marine Terminal (IMT) in Myrtle Grove, La., through 2021 and 2020, respectively. This would increase Peabody's Gulf Coast export capacity to approximately 5 million to 7 million tons of coal per year between 2014 and 2020.

Peabody has also secured a rail service agreement with Union Pacific to transport the company's Colorado coal to Kinder Morgan's Houston terminals. The agree-ments allow for throughput flexibility among Kinder Morgan's Gulf Coast export terminals to serve Peabody's international customer base. The additional capacity also supports the planned expansion of Kinder Morgan's Gulf Coast coal handling facilities and Peabody's development of the Sage Creek extension of the Twenty-mile mine.

Kinder Morgan will invest, including previously announced projects, approxi-mately $400 million to expand its Gulf Coast terminal network. After completion of all of the export expansion projects, Kinder Morgan's Gulf Coast terminal network will have a coal export nameplate capacity of approximately 27 million tons per year.

Peabody has extended its existing con-tract with KMP's HBT and will begin exporting Colorado and PRB coals from the Deepwater facility beginning in 2014. Peabody's Illinois Basin, Colorado and PRB coals will be exported through KMP's expanded IMT in New Orleans from 2014. An existing agreement at the Cora river ter-minal in Illinois will be extended through 2018 to facilitate exports through IMT as well as domestic sales.
---
As featured in Womp 2012 Vol 08 - www.womp-int.com