OceanaGold Signs Didipio Concentrate Offtake Agreement
---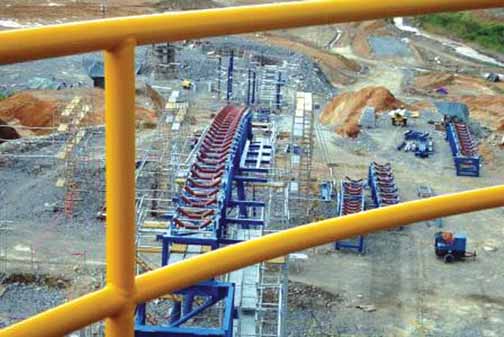 OceanaGold began construction at its Didipio copper/gold project in the Philippines in mid-2011, and expects to
comission the $220-million surface operation in late 2012. (Photo courtesy of OceanaGold)

OceanaGold reported in mid-July 2012 the signing of a Heads of Agreement with Trafigura in relation to the sale and purchase of copper-gold concentrate from Oceana's Didipio project, located about 270 km north of Manila on Luzon island in the Philippines. Trafigura is a commodity trader that specializes in the supply and transport of concentrates and owns and operates con-centrate storage facilities in China and worldwide that support its trading activity.

The key terms of the offtake agreement are: Oceana will sell 100% of Didipio's cop-per-gold concentrate production to Trafigura at competitive terms and conditions, includ-ing treatment and refining charges; the agreement will be for a minimum period of five years from the start of production at Didipio; and Trafigura will take delivery of copper-gold concentrate at the Didipio mine site and will manage all land and sea trans-portation from the mine site to smelters.

The parties expected to finalize a bind-ing contract for the offtake arrangements in the near future.

Didipio development is based on 1.68 million oz of gold reserves and 229,000 mt of copper reserves. Commissioning is scheduled to begin in the fourth quarter of 2012. Production from a large open-pit operation is expected to average 100,000 oz/y of gold and 14,000 mt/y of copper in concentrates over a 16-year mine life. Cash costs over the first six years of operation are expected to be negative $79/oz, assuming a $3/lb copper price for the byproduct cred-its. Average life-of-mine cash costs are esti-mated at $372/oz. Capital costs to develop the project are estimated at $220 million.

OceanaGold began construction at the Didipio project in mid-June 2011. Pro-duction will be from an open-pit throughout the life of the operation, with additional pro-duction from underground mining from 2020 onwards. The concentrator is de-signed to process 3.5 million mt/y.

Mining will be by a mining contractor at a maximum planned mining rate of 24 mil-lion mt/y. Total material moved over the life of the mine will be about 199 million mt, of which 44.7 million mt will be ore. Underground mining will be by sub-level open stoping with cemented paste backfill. Access to the underground mine will be via a ramp from the open-pit.

OceanaGold is an Australian company based in Melbourne. It has three operating mines in New Zealand: Macraes open cut, Frasers underground, and Reefton open cut. The company produced 249,000 oz of gold in 2011 and expects to produce between 230,000 and 250,000 oz in 2012.
---
As featured in Womp 2012 Vol 08 - www.womp-int.com