Vale Obtains Environmental License for S11D, Moves Closer to Construction
---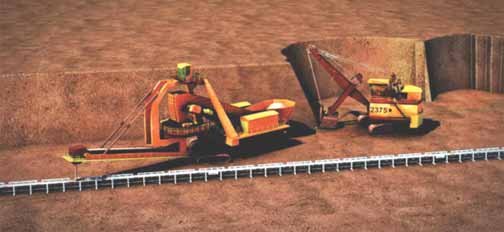 Vale's $8-billion S11D iron ore project will employ a system of excavators and mobile crushers—an illustration of
which is shown here—to extract ore and feed conveyors for transport to the processing plant. (Photo courtesy of Vale)

Vale reported in late June 2012 that it has obtained the preliminary environmental license for its S11D iron ore mine development project in the Carajás region of Brazil. The project has a nominal capacity of 90 million mt/y of iron ore at an average grade of 66.48% iron and low concentration of impurities. It is the largest mine development project in Vale's history. An estimated $8.039 billion will be required to develop the mine and processing plant. Operations are expected to start in the second half of 2016.

The S11D project is located in the southern range of Carajás, Pará state, Brazil. In addition to the mine development investment, related logistics infrastructure investments in the Carajás railroad and the Ponta da Madeira maritime terminal will total an estimated $11.4 billion. When this work is complete, the railroad and port will have capacity to handle 230 million mt/y of iron ore.

"Carajás offers the best iron ore growth platform in the world, combining substantial proven and probable reserves of 4.239 billion mt with low operational cost resulting from the high-quality mineral deposit and the efficient long-haul logistics system," the Vale statement said.

The next step in the S11D environmental licensing process is the installation license, which will enable the start of the plant construction.

The S11D mine will employ a system of excavators and mobile crushers to extract the ore and feed conveyor belts for transport to the beneficiation plant. In all, 37 km of conveyor belts will be installed in the mining area, including branches that will connect to the main trunk line to the processing plant. The maximum distance between ore collection points and plant will be 15 km.

Vale observes that a conventional mine the size of S11D would require 100 offhighway trucks for ore haulage. Using a "truckless" system, Vale will reduce diesel consumption and annual CO2 emissions at the mine by 77%.

S11D ore will be processed using its natural moisture (dry process), eliminating the generation of tailings and maximizing use of the ore, since the finest feed, which would be lost in conventional processing, will be within the final product. The system developed by Vale will cut water consumption by 93% to 110,000 m3/month from the nearly 1.7 million m3/month that would be used in a conventional plant.

Most S11D equipment will be powered by electricity. Only crawler tractors, motor graders and other auxiliary equipment will run on diesel. Vale plans to use "B20" biodiesel to run this equipment, reducing greenhouse gas emissions further and complying in advance with legislation that mandates the use of this fuel as of 2020.
---
As featured in Womp 2012 Vol 08 - www.womp-int.com