Immersive Expands Simulator Kits
---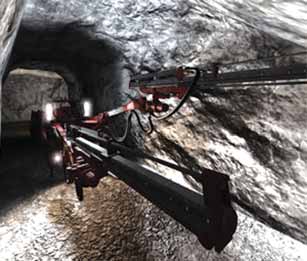 Immersive Technologies' latest simulator kit is for the popular Sandvik DD420 drill jumbo.

Immersive Technologies said it has expand-ed its simulation-product portfolio for underground mining applications with the development of simulator conversion kits for Sandvik's DD420 jumbo drill and Atlas Copco's MT6020 articulated mine truck.
The jumbo drill simulator conversion kit, according to Immersive, represents a significant advance in design and applica-tion for the company, employing realistic drilling physics coupled with an innovative 'drilling assistant' feature to maximize operator training effectiveness.
The Immersive simulator for the DD420 jumbo—described as the world's most popular underground development drill—provides an authentic recreation of the DD420, featuring tramming controls, drill and boom controls, jack controls, dials, gauges and ancillary functions. The controls are all based on the fully hydraulic version of the machine, with the software supporting both closed-cab and open-cab arrangements.
The simulator also provides a new type of "Special View" in which the operator can use an integrated dash-control to "walk" around the outside of the cab and navigate within the 3-D virtual world to inspect aspects of the development heading. This is a key feature for jumbo operators where reg-ular external inspections can form part of their daily routine in ensuring correct drill hole alignment.
Visuals provided for the drill set new standards in 3-D graphical machine mod-els for mining simulations, according to Immersive. The simulator utilizes the 360° display of the Immersive Technologies UG360 simulator platform in order to pro-vide a realistic underground setting in which to conduct training. Other aspects of machine operation, such as tramming and jack operation, are covered in a compre-hensive set of scenarios.
Atlas Copco's MT6020 mine truck also is widely used in underground haulage, and the first installation of the new MT6020 simulator will go into service with an underground mining contractor in August 2012. Immersive said the simula-tor creates an ideal, safe environment to provide initial training for new operators to rapidly build knowledge of both the machine and the mining methods and pro-tocols used underground.
---
As featured in Womp 2012 Vol 07 - www.womp-int.com