Rio Tinto Makes First Coal Shipment from Mozambique
---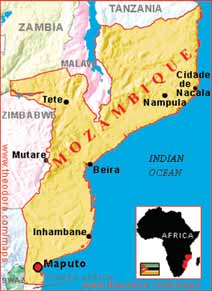 Rio Tinto has started exporting premium hard coking coal from its Benga mine in the Moatize Basin in Mozambique. The first shipment of 34,000 metric tons has left the Port of Beira, bound for an Indian steel mill.

"This shipment marks an important point in the phased development of our tier one coking coal resources in Mozambique. It is the first step toward our aim to become a significant supplier of hard coking coal to the seaborne mar-ket," said Rio Tinto Energy Chief Executive Doug Ritchie. "The Moatize Basin is one of the most prospective cok-ing coal regions in the world. We contin-ue to evaluate the most effective means of developing our resources to create value for shareholders and bring benefits to the people of Mozambique. We are also continuing to work with the Government of Mozambique to secure the development of comprehensive infra-structure for efficient transport of coal from mine to port, which is a priority for the further development of the region."

The Benga mine, located in the Moatize Basin of Tete in the north of Mozambique, is operated by Rio Tinto and is a joint venture between Rio Tinto (65%) and Tata Steel (35%).
---
As featured in Womp 2012 Vol 07 - www.womp-int.com