Michelin to Expand North American OTR Tire Production
---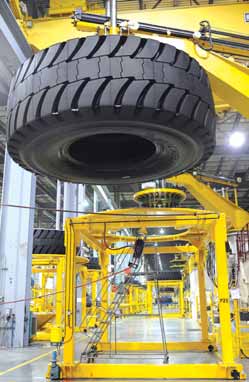 Michelin North America's newly announced OTR plant in
South Carolina will primarily produce 49-in.-diameter and
larger radial tires for mining customers.
(PRNewsFoto/Michelin North America)
Michelin North America announced it is planning an additional expansion of its earthmover tire operations in the United States. The company said it would break ground in mid-April on a new manufac-turing plant in South Carolina, and also expand its existing earthmover tire facil-ity in Lexington, South Carolina. Initial production from the new plant, compris-ing 49-in. and larger radial OTR units, is scheduled for 2013.
The two projects represent a $750-million investment and are in addition to Michelin's 2011 commitment to invest $200 million in its existing Lexington passenger and light truck tire manufacturing facility. This expanded operation at Lexington will begin pro-duction in October.
"Michelin intends to maintain and strengthen its leadership in all its spe-cialty businesses, especially earth-mover radial tires," said Jean-Dominique Senard, managing general partner of Michelin. "The market for earthmover tires grew by more than 20 percent between 2009 and 2011. This new facility will help us meet sustained demand while also attaining our growth objectives for 2015."
The new earthmover tire plant will be adjacent to Michelin's existing rubber processing plant in Starr, South Carolina, and will be the third Michelin plant in Anderson County. The company also operates a rubber processing plant, the largest in the world, in Sandy Springs.
In addition to the Lexington plant, Michelin currently produces earthmover tires around the world in Waterville, Canada; Campo Grande, Brazil; Le Puy and Montceau-les-Mines, France; Vitoria, Spain and Zalau, Romania.
During the past year, South Carolina has seen more than $2.8 billion in announced tire-related plant investments for both new plants (Bridgestone Americas, Continental Tire–Americas and Michelin) and plant expansions (Michelin and Bridgestone) within its borders.
---
As featured in Womp 2012 Vol 06 - www.womp-int.com