Northland Orders Railcars from Kiruna Wagon
---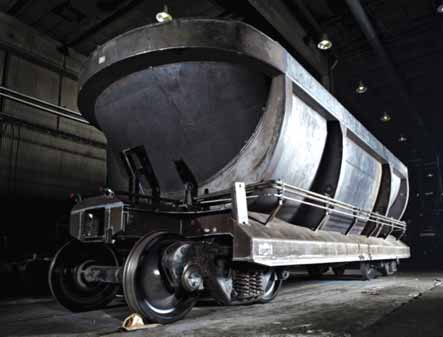 Kiruna Wagon has designed specialized railcars, shown here, for transporting iron ore concentrates from
Northland Resources' Kaunisvaara mill in northern Sweden.
Sweden's Kiruna Wagon, a manufacturer of railroad rolling stock, has signed an order for 150 iron-ore railcars with mining company Northland Resources. The rail-cars are scheduled for delivery between January 1, 2013, and May 5, 2014. As reported last month in E&MJ (See "Northland Finalizes Logistics and Mill Operational Agreements for Kaunisvaara," May 2012, p. 151), Northland also has an option to buy up to 92 additional rail-cars from Kiruna Wagon.
The railcars, rated at about 98 met-ric tons capacity, will transport iron ore concentrate from Northland's transship-ment terminal in Pitkäjärvi, Sweden, to the ice-free port of Narvik, Norway, a distance of 226 km.
Kiruna Wagon said the railcars will be built primarily with high-strength steels and will have a low tare weight to maximize payload. The Pitkäjärvi-to-Narvik Malmbanan rail route has a max-imum permitted axle load of 30 mt.
Based on technology that has been previously proven on the railway, the wagon features a load "cube" that differs from the design manufactured by Kiruna Wagon for LKAB. Kiruna Wagon notes that, due to the fine particle size of Northland Resources' magnetite concentrate—with 80% of the product passing 40 micron—bottom discharge is not practical and consequently a "bas-ket-turning" solution was chosen instead. When emptying, the cube is rotated 148° while the frame remains on the rails. The rotation, along with the rounded contour of the walls, creates optimal conditions for effective dis-charge, according to the manufacturer. The Northland order, comprising 150 wagons, will operate as 75 short-coupled units in 500-m-long train sets.
---
As featured in Womp 2012 Vol 06 - www.womp-int.com