Mid-size Wheel Loader Designed for Improved Productivity
---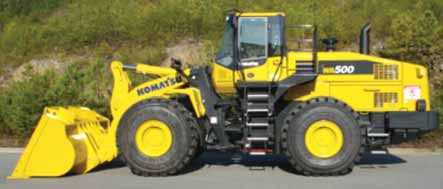 .

Komatsu America's new WA500-7 wheel loader is powered by an EPA Tier 4 Interim and EU Stage 3B emission-certified SAA6D140E-6 engine with 353 net hp (263 kW) and has an operating weight of 76,611 lb (34,750 kg) when equipped with a 7.3-yd3 (5.6-m 3 ) general-purpose bucket. Improvements include Smart Loader Logic, which can save fuel by adjusting engine torque to match the appli-cation. The WA500-7 provides easy service access, increased cooling capacity, wider cooling fin spacing, and a standard auto-reversing fan to help keep the radiator clean. A diesel particulate filter and regen-eration system are integrated to keep the operator aware of its status, yet not inter-fere with daily operation.

According to Komatsu, the WA500-7 features a large-capacity torque converter with lock-up as a standard feature, provid-ing improved acceleration and hill climbing ability, a higher top speed and lower fuel consumption. The lock-up function acti-vates in second, third and fourth gears and gives the machine a maximum ground speed of 23.2 mph (37.3 km/h). Komatsu claims that because of its increased trac-tive effort, the wheel loader has greater productivity in V-cycle applications. It can also achieve higher gear ranges and main-tain higher ground speeds when working in load-and-carry applications.

A ROPS/FOPS Level 2 certified cab provides a more comfortable and quieter work environment for the operator, featur-ing a redesigned dashboard and a high-back, heated air ride seat that has been relocated to improve visibility. A high-reso-lution 7-in. LCD monitor offers enhanced capabilities and displays information in 25 languages for global support. Using the monitor, the operator can easily modify set-tings for items such as the Auto Idle Shutdown or the auto-reversing fan. Operators can also check operational records, such as working hours or fuel con-sumption; monitor the diesel particulate filter; or check time remaining for the next maintenance interval. A separate high-res-olution back-up camera is standard equip-ment on all WA500-7s.
---
As featured in Womp 2012 Vol 06 - www.womp-int.com