Rodeo's Roadheader Experiment Pays Off
Mechanical cutting provides a safe solution to a hot problem at this Nevada gold mine
By Russell A. Carter, Managing Editor
---
A Sandvik MR360 roadheader at work in a stope at Barrick's Rodeo gold mine. Mechanical mining allowed
Barrick to extract ore from a section of the mine in which drill and blast methods weren't effective.
(Photo courtesy of Sandvik)

The world's folklore contains countless tales of heroes fighting fire-breathing drag-ons and other fearsome foes to a) rescue villages, b) save maidens in distress, or c) reap a rich reward. In today's high-tech world, the battles, tactics and rewards are quite different than their medieval prede-cessors, but every now and then a story line reverts to the classic formula.

In a underground mining project cur-rently taking place in Nevada's famous Carlin Trend, for example, the quest involves a campaign to gain access to mil-lions of dollars worth of formerly untouch-able gold ore—but in this tale, traditional roles are jumbled: The hero is a large piece of tracked equipment that vaguely resem-bles a mechanical dragon, and the foe is an ore body that is literally too hot to handle.

Two Mines, Nine Zones
Barrick Gold Corp.'s Goldstrike complex near Elko in central Nevada, USA, com-prises both open-pit and underground min-ing operations: the Betze-Post surface mine, and the Meikle and Rodeo under-ground mines located just north of the Betze-Post pit. The Meikle mine began production in 1996 to exploit a high-grade ore body that was discovered in 1989. It is mined by both transverse longhole stop-ing and underhand drift-and-fill methods. The ore body incorporates five mineralized zones: the Main Meikle, Meikle Extension, South Meikle, Griffin and West Griffin.

Rodeo, situated between Meikle and the pit, works a moderate-grade ore body that was discovered in 1988 and brought into production in 2002. It includes four mineralized zones: Upper Rodeo, Lower Rodeo, West Rodeo and Barrel, all of which are mined using the same methods used at Meikle. The Meikle and Rodeo ore bodies are interconnected by two haulage drifts and can be accessed from two shafts and by a decline at the bottom of the pit.

The deposits are all hosted in sedimen-tary rocks of the Silurian to Devonian ages. The Post Oxide ore body occurs in the siliceous siltstones, mudstones, argillites and minor limestones of the Rodeo Creek Formation. The Betze and Rodeo deposits are found in the silty limestones and debris flows of the Popovich Formation. The Meikle deposit occurs in hydrothermal and solution collapse breccias in the Bootstrap Limestone of the Roberts Mountains Formation. The gold at Goldstrike was car-ried into the various ore bodies by hot hydrothermal fluids, and deposited with very fine pyrite and silica. Over time, the pyrite oxidized, freeing the gold and making its extraction relatively easy, as in the Post Oxide deposit. In the deeper deposits— Betze, Rodeo and Meikle—the gold is still locked up with the iron sulphide and an additional processing step (autoclaving or roasting) is required to free the gold.

The Rodeo mine was developed follow-ing a 1999 land-swap agreement between Barrick and Newmont Mining Corp. that allowed both companies to benefit from syn-ergies created by the consolidation of their overall land positions in the area of Barrick's Goldstrike Property and Newmont's North Area and Deep Star operations. Essentially, each company transferred assets that they agreed would generate greater value when developed by the other company.

Under the transaction, Barrick received the land corridor currently separating the Betze-Post and Meikle mines on the Goldstrike property; the Goldbug deposit, with a reserve of 1,140,000 oz, adjacent to Barrick's Rodeo deposit; Newmont reserves of 860,000 oz in the Betze-Post open-pit; and the Banshee property to the north of Meikle mine. Newmont, in return, got Barrick's portion of the underground Deep Post deposit, a reserve of approxi-mately 450,000 oz; Barrick's 40% interest (1.2 million oz) in the High Desert proper-ty; the land corridor between the Deep Post and Deep Star deposits; approximately 350,000 oz contained in stockpiled ore; and surface rights to certain lands to the south of Barrick's pit dumps.

In 2011, the Goldstrike complex pro-duced 1.09 million oz of gold at total cash costs of $511/oz. Production in 2012 is expected to be 1.25-1.30 million oz as the open-pit moves back into a higher ore phase. Total cash costs during 2012 are expected to be $525-$575/oz. Goldstrike's proven and probable mineral reserves as of December 31, 2011, contained an esti-mated 12.4 million oz of gold.

Although the two underground mines at the Goldstrike complex began as separate entities, Barrick has essentially merged them into a single operation, integrating common services and sharing a mainte-nance shop. Underground conditions differ somewhat at each operation, however: Meikle is a 'hot' mine, requiring an extensive ventilation and refrigeration system to cool underground air temperatures to about 80°F. Rodeo generally does not have underground heat issues—with one notable exception.

An Alternative to D&B
Roadheaders are not commonly used in hardrock mining production. They are gen-erally employed as tunneling or under-ground construction machines, although they and their continuous-miner cousins are used to mine industrial minerals such as potash, gypsum and salt. However, the performance points of these tracked, rotat-ing-drum machines—continuous produc-tion of a fairly uniform fragmented product, simultaneous excavation and muck clear-ing, the ability to cope with variable rock conditions, and general invulnerability to high ambient temperatures—mesh well with conditions commonly encountered in a number of Nevada underground mines, such as blocky, fractured rock that im-pedes efficient drill-and-blast (D&B) oper-ations, and high temperatures.

One such area, in the Lower Rodeo zone of the Meikle underground complex, pres-ents both problems to such a degree that there simply isn't a safe and cost-effective method of mining it using conventional methods; rock temperatures range from 280°–325°F (140°– 160°C) and rock mass ratings (RMR) vary from 20–50 (poor to fair), making the area too blocky to conduct efficient drill-and-blast (D&B) operations— and even if it could be blasted safely, the rock would be too hot for miners to handle without a cool-down period of several days.

A few years ago, a manager at Rodeo became interested in assessing the poten-tial benefits that could be obtained through mechanical mining in certain areas of the mine, and arranged to have an older Dosco roadheader taken underground to assess its performance. Although maintenance prob-lems with the well-used, high-hour machine and another that followed precluded a full evaluation of its potential, the machine's performance in the Lower Rodeo hot zone was sufficient to maintain the mine's inter-est in mechanical-cutting methods.

In 2010, Rodeo management approved further evaluation of roadheader mining, leading to negotiations with Sandvik Mining & Construction for temporary use of a newer model—a Sandvik (formerly Voest Alpine) MR360 with transverse cutterhead and more power, size and reliability than the previous machines. The MR360, part of Sandvik's MR300 series of roadheaders, is capable of excavating rock with uncon-fined compressive strength up to 100 MPa, according to the company.

After a short underground run, the MR360 was removed and delivered to anoth-er site to fulfill a pre-existing rental obliga-tion, but was returned to Rodeo in 2011. By October, the machine was reinstalled under-ground and began mining on a full-shift basis in the Lower Rodeo, gradually gaining effi-ciency as the operating crew became more familiar with its maintenance requirements, characteristics and performance.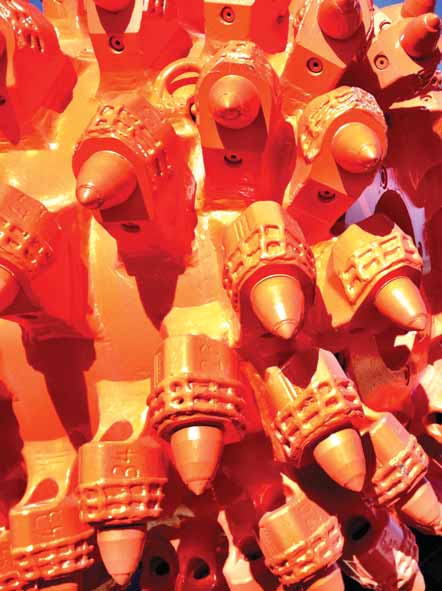 ACloseup view of the Sandvik MH620 roadheader's cutting head. The new, larger and more powerful
MH620 has replaced the Sandvik MR360 roadheader previously used by the Rodeo mine.
Making Money from Nothing
Asked to gauge the effectiveness of road-header mining in the problem zone, Mining Engineer Drew Wheeler said, "I'd definitely describe it as successful. It's allowed us to mine an area in which we can't blast, giving us access to material we'd never have been able to mine using conventional methods." Wheeler and General Supervisor Patrick Chacon were the originators of the roadhead-er experiment and oversee the ongoing effort.
From an economic perspective, early results of the roadheader project were decidedly positive: in October 2011, the machine extracted more than 1,000 oz of gold in a 'hot' heading that would have been difficult, if not impossible, to mine other-wise, generating more than $1.75 million in revenue for the company. In addition, cer-tain operating and material costs were reduced and worker safety was improved.
The potential productivity of the machine actually has been constrained by real-world practicalities. Spare haul trucks are scarce at the mine; consequently, the roadheader loads a single, 26-ton-capacity hauler and then must wait for it to return before starting up again. And, although the MR360 has performed adequately, it has occasionally approached the limits of its cutting capacity in the hard rock of the Lower Rodeo zone.
One factor that could have been a sig-nificant hindrance never materialized. Whenever new technologies and methods brush up against long-standing business cultures and traditions, there's always fric-tion and the possibility of resistance. In the case of the roadheader approach versus conventional drill-and-blast (D&B) meth-ods used at the mine, worker and manage-ment 'culture shock' wasn't an issue.
"Drill and blast has been around for-ever, and everyone here is familiar with it," said Wheeler. But the [roadheader] crew was quick to see the advantages it could provide, and they've been very involved in keeping the machine running at its best during the tests. In fact, they were down-right unhappy when it was pulled out of the mine the first time."
The Mining Sequence
During E&MJ's visit to the mine in March, the MR360 was working on the 3790 level and during that month advanced at an average rate of 12.3 ft (3.8 m) per shift. It has since been moved to the 3860 level. By early May, the roadheader had cut 928 ft (280 m) of advance in multiple head-ings, all in the ore body.
In the most productive environment, the roadheader provided 200 ft (61 m) of advance per month, cutting a 20-ft-wide (6.1-m) by 16-ft-high (4.9-m) profile. It has mined a total of 21,600 tons of ore, according to Wheeler.
In the mining sequence, the roadheader advances the heading as it loads the truck— which normally takes 4 to 6 minutes—then powers down while the truck hauls the load several hundred feet to an ore pass and makes the return trip. During the 8- to 10-minute truck haul, the roadheader crew uses the downtime to change cutter picks, wet-down the face for dust suppression and perform other small cleanup and mainte-nance tasks. On average, three picks are replaced per foot of advance.
In theory, the roadheader could make a 16-ft (4.8-m) cut before exposing the oper-ator to uncontrolled ground; however, the crew limits the cuts to 14 ft or less to pro-tect the operator as well as the machine's electrical boxes from exposure to rockfalls. As Wheeler explained, "If falling rock dis-abled the machine, we'd have to bolt around the roadheader before we could work on it, or find some way to move it safely out of the area." Not a simple task for a machine that weighs 55 mt and is 34-ft (10.3-m) long.
Once the cut is completed, the road-header backs out and usually trams to another heading as the bolter moves in. Cable handling is a constant concern, according to Chacon, but the crew has devel-oped a routine to move it and keep it safely stowed along the rib using hydraulic tuggers.
The mine uses 8-ft (2.4-m) inflatable rockbolts on a 4 x 4-ft pattern or 12-ft rockbolts on a 6 x 6-ft pattern, along with welded wire mesh starting 4 ft above the sill, for ground control. Shotcrete is applied only in the long-term workings. The absence of blast-related overbreak and fracturing combined with the relatively smooth, uniform profile left by the road-header allows the mine to safely reduce the number of rockbolts needed—roughly 25% fewer, on average—and to improve bolting efficiency, explained Wheeler. "Because of the longer advances we can cut with the roadheader, compared with the 8 feet or so that we're limited to with drill and blast, the overall time the bolter spends in the cut is a bit longer, but the time spent per foot of bolting is less because we need fewer of them."
In addition to reduced ground control costs, the smooth profile also improves ventilation flow in the stopes. Other advan-tages include the elimination of any need for a drill jumbo, scaler or ANFO truck, and only intermittent use of a loader to clean up muck along the sides of the heading.
But, the potential benefits don't end there, said Wheeler. "The safety advantages it provides for miners are tremendous, par-ticularly in the hot areas, and there also are advantages using it in other applications."
These, he explained, include backfill recutting to recover "stranded" ore from areas in which a stope may have been mined out of sequence for one reason or another, as well as for mining support pillars between backfilled stopes. "The machine produces a lot less damage to adjacent backfill, compared with blasting, and we've been able to get advance rates of up to 46 feet per shift using it in backfilled areas."
However, the MR360 wasn't perfect for the conditions it encountered at Rodeo. "A larger machine would be ideal," said Chacon. "One that can cut harder rock and has an enclosed cab to protect the operator from dust, along with remote-operation capability and higher spray volume on the cutterhead. It'd also be nice to have a way to move the machine under its own power when relocating it from one area to another."
That wish list is soon to be fulfilled; the MR360 was scheduled to be removed from the mine at the end of May for a major rebuild, and will be replaced by a Sandvik MH620 roadheader under rental contract. Workers at Sandvik's Elko, Nevada, support facility have been busy fabricating a mockup of the MH620—essentially, a robust wire frame on wheels—that can be pulled through the mine to identify areas along the route that might hinder passage of the new machine.
The MH620 is a much heavier (118-mt), longer (12.1 m) wider and more powerful model that offers the features desired by the mine, including an enclosed cab, the ability to cut rock of more than 120 MPa UCS, and an onboard diesel power pack that will enable the machine to tram without a trail-ing cable during moves. The MH620's wider cutterhead will allow the mine to return to its standard heading profile width of 25 ft (7.6 m) instead of the 20-ft single-pass maxi-mum width provided by the MR360.
Other Opportunities
Kirby Owens, Sandvik's product support manager–mechanical cutting, North America, believes that in locations where geological conditions are suited to the use of a roadheader, other mines also could benefit from the technology.
"In addition to the advantages we've seen at Rodeo—improved safety, reduced rock bolting and shotcrete requirements and better ventilation flow, for example, there are other considerations. Mechanical cutting provides a uniform product size that can increase load capacity in batch haulage as well extend the life of compo-nents involved in transporting material. Also, with mechanical cutting, mine-devel-opment advance and production rates can be made more consistent by removal of blasting-related downtime and delays, in addition to completely eliminating explo-sives from the operating face.
"Overall, I'm excited about the advan-tages that mechanical cutting can offer compared with more conventional mining or heading development, and believe with our hardrock-class roadheaders with ICUTROC technology we can offer improvements in safety, as well as reduce mine costs while meeting or exceeding production rates pro-vided by conventional mining techniques."
---
As featured in Womp 2012 Vol 06 - www.womp-int.com