Alliance CEO Offers a Positive Perspective
---
Joseph W. Craft III, ARLP president, CEO and
director and AHGP president, CEO and chairman
of the board.


Alliance Resource Partners President and CEO Joseph Craft III, whose Tulsa, Okla.-based company is the third-largest coal pro-ducer in the Eastern United States, predicts domestic coal consumption will reach a low point this year before starting back up the recovery slope in 2013. That may help explain why Alliance continues to develop and open new mines in the Illinois Basin and Northern Appalachia while many pro-ducers are pulling back in the teeth of a triple whammy for the coal industry: Decade-low natural gas prices coupled with tougher federal Environmental Protection Agency rules that are causing some electric utilities to retire older coal units or switch them to gas, and lower electricity demand stemming from a still shaky economy.

Craft, though, believes the worst may be about over in the industry's historic boom-or-bust cycle and brighter days are ahead. By 2016, he wants Alliance to be producing at the rate of 50 million tons a year, up from the 35.4 million to 36.2 mil-lion tons it expects to turn out this year.

"We're going to bottom out for coal con-sumption in 2012, then start to see some increase in 2013," he told the National Association of Publicly Traded Partnerships conference in Greenwich, Connecticut, in May. "We believe there will be some switch-ing back to coal in 2013" by utilities looking to take advantage of currently low gas prices.

Unlike some of its competitors, Alliance has not been affected much by the move to gas, according to Craft. "We had some cus-tomers switch to gas, but not at the plants we're selling to," he said. "We haven't had anybody shut down a plant we've been tar-geting in the past or in the future."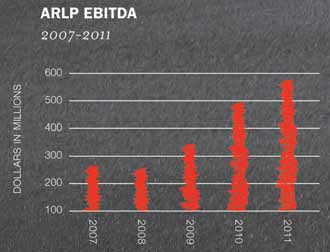 For much of this year, natural gas has been selling around $2/mmBtu, a price at which coal has trouble competing. Craft maintained existing gas prices are not sus-tainable because investors "want a return on their investment and aren't getting it at $2 gas." If gas hits $3.50/mmBtu, he said, "We'll see some of the switching come back to coal from natural gas."
In fact, Craft said it would not be a stretch to see gas prices climb to $4/mmBtu in 2013. "If that happens, the impact on coal will be small," he said, adding, "I do believe we're going to see $4 gas sooner than later because of economics."
In the meantime, Alliance is pushing ahead with several new underground mine projects. The longwall system at its new Tunnel Ridge operation in Washington County, Pennsylvania, and Ohio County, West Virginia, began running May 16. By sometime next year, the mine should be producing at the rate of 6.5 million to 6.8 million tons annually.
Under construction in southern Indiana, the Gibson South mine is expect-ed to play an important role in boosting Alliance's foreign coal exports. To date, the company has not focused as heavily on the export market as some of its competitors. But that may be changing somewhat.
Craft said the lower-sulfur coal at Gibson South, which will be a continuous miner operation, "will sell well in the inter-national market." As a result, it is possible, he said, that Alliance will increase its over-seas shipments from the current 3.5% to 10%. Gibson South will produce more than 3 million tons annually once it starts up in 2014.
Craft also has high hopes for White Oak Resources' No. 1 longwall mine under construction in Hamilton County, Illinois. Alliance is investing more than $400 mil-lion in privately owned White Oak, includ-ing for reserve acquisition and mine devel-opment. The mine should produce more than 6.5 million tons of high-sulfur coal a year by 2015.
Although the current mine plan calls for a single longwall system at No. 1, "If the market allows, they can go to two long-walls," he said.
---
As featured in Womp 2012 Vol 06 - www.womp-int.com