Citing Poor Share Performance, Barrick Appoints New CEO
---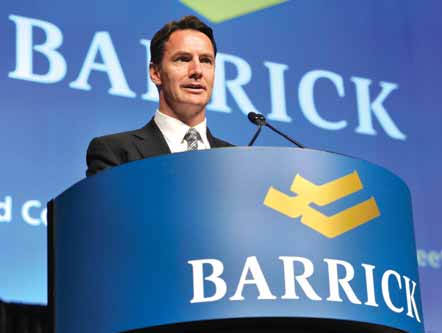 Jamie Sokalsky (inset) will replace Aaron Regent (above) as CEO of Barrick Gold, the largest
gold producer. (Photo courtesy of Reuters/Mike Cassese)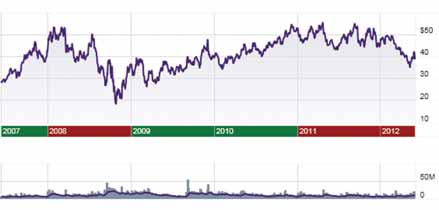 Barrick's stock performance over the past five years has been "disappointing," according to
Barrick Chairman Peter Munk

Barrick Gold Corp. has appointed Executive Vice President and CFO Jamie Sokalsky president and CEO, replacing Aaron Regent, who had held the position since January 2009. Sokalsky will also replace Regent on Barrick's board of directors. In addition, John L. Thornton, currently a Barrick director, has been appointed cochairman of Barrick's board of directors.

"On behalf of our board, I would like to thank Aaron for his significant contribution to Barrick's development. We are fully committed to maximizing shareholder value, but have been disappointed with our share price performance. Our board has every confidence in Jamie's experience and commitment to take our company forward," said Peter Munk, founder and chairman, Barrick Gold.

During Regent's tenure, Barrick eliminated its gold hedge, completed the Placer Dome acquisition, and acquired Equinox Minerals, which gave the gold miner exposure to Zambian copper. The company also successfully launched the Cortez Hills mine and announced two major gold discoveries in Nevada. The company will bring the Pueblo Viejo mine online in the Dominican Republic soon. During the past year, the company stock has dropped from a high of about $56/share to $42/share, about the same level as when he accepted the position of CEO. Prices slid further following the announcement.

"I feel enormously privileged to take on this role at Barrick, a company that combines operational excellence and financial strength with a track record of successful execution," Sokalsky said. "My focus will be on maximizing shareholder value and our mission of superior performance." Jamie Sokalsky joined Barrick as treasurer in 1993 and became CFO in 1999.
---
As featured in Womp 2012 Vol 06 - www.womp-int.com