Eldorado Builds on Turkish Success
Turkey's top gold producer is intent upon doubling ore production to reach an estimated 475,000 ounces per year by 2014
By Simon Walker, European Editor
---

The crushing and screening plant at Kişladağ, with the pit in the background. The operation came on stream in 2007, and now has a 10.5 million oz mining reserve.
(Photo courtesy of Eldorado Gold Corp.)

Headquartered in Vancouver, British Columbia, Eldorado Gold Corp. is one of the new generation of mid-tier gold pro-ducers. Focusing on low-cost production, the company currently has mining, devel-opment and exploration operations in Brazil, China, Greece and Turkey. Since Eldorado was incorporated in 1992, it has grown both organically and through a series of mergers and acquisitions, the most recent of which, involving a C$2.5-billion bid for European Goldfields Ltd., was com-pleted in late February.

While its acquisition trail provided Eldorado with an entry into countries such as China (with its 2005 takeover of Afcan Mining Corp.), the company has also been developing its own projects from discovery to production, with none more prominent than its Kişladağ mine in west-central Turkey. Today, this is the largest gold pro-ducer in the country, with Eldorado having recently completed studies on a major expansion that would result in its output increasing from the 284,648 oz produced in 2011 to 475,000 oz by 2014.

As a low-grade deposit, Ki şlada ğ has benefited enormously from the current high gold price, and Eldorado has contin-ued to invest in exploration that has increased the resource there nearly two-fold since production began in 2006. Today, the mine is founded on a 10.5-mil-lion-oz gold reserve, with a lifetime cur-rently projected to run until at least 2026.

Grass-roots and Growth
Ki şlada ğ is located at an elevation of just over 1,000 m (3,300 ft) on the plateau-lands of U şak province, inland from the western Turkish Port of Izmir and some 350 km (220 mi) southwest of the country's cap-ital, Ankara. Operated by Eldorado's wholly-owned subsidiary, Tüprag Metal Madencilik Sanayi ve Ticaret A.Ş., the mine paved the way for the use of heap-leaching in Turkey. To give a measure of the scale of the opera-tion, in 2011 Tüprag placed 12.4 million metric tons (mt) of ore on to its leach pads, a 25% increase over 2010's production. The strip ratio of 1.46:1 waste-to-ore means it also had to move 18.3 million mt of waste rock, with a further increase scheduled for the total tonnage during 2012.

The region that hosts the mine is high, dry and economically dependent on small-scale agriculture. During a visit to the mine last December, Tüprag's chief geolo-gist, Yücel Öztaş, told E&MJ how the deposit was discovered and outlined its geological setting.

"The first indication of gold mineraliza-tion came from sediment sampling in the early 1990s, and we won the rights to begin exploration here when the property was put up for auction by the Turkish gov-ernment in 1996," Öztaş said. "There's little surface outcrop, but our initial trench-ing returned grades of over 1 gram per ton. After that, we started drilling."

Ki şlada ğ is a Miocene-age porphyry-type gold deposit hosted in a series of latite intrusives. Emplacement was into base-ment schists that can be graphite-bearing. Latite, Özta ş explained, is the near-surface expression of quartz syenite and quartz monzonite intrusives, with exploration hav-ing defined four phases of intrusives within the resource area. Of these, the oldest, Intrusive 1, hosts around 80% of the total resource in quartz-sulphide stockwork min-eralization, with further resources held in both Instrusives 2 and 2A. All three were emplaced over a short time-frame, while the youngest body, Intrusive 3, which cuts through the earlier emplacements, is essen-tially barren, forming a core around which the ore zone lies in a horse-shoe shape.

Typical grades for the three ore-bearing intrusives are 1 g/mt, 0.7-0.8 g/mt and 0.3-0.5 g/mt respectively. Strong argillic alter-ation has produced a soft capping to the deposit that extends to depths of between 30 and 80 m (100 and 260 ft) and overlies harder, more abrasive host rock.
The gold occurs as 2- to 10-µm free grains in both the oxidized and sulphide zones, making it a straight-forward target for heap-leaching following simple crush-ing. In addition, Özta ş said, copper, molyb-denum and silver values are low, which helps the metallurgical process by reduc-ing the potential for cyanide robbing.
In 2003, when Eldorado prepared its feasibility study on the project, proven and probable reserves at Ki şlada ğ stood at 4.5 million oz. By 2005, this had grown to 135 million mt grading 1.16 g/mt, containing 5.06 million oz, and by the end of 2011, continued exploration had increased this to 460 million mt at 0.71 g/mt for 10.5 mil-lion oz, within measured and indicated resources of 580 million mt grading 0.65 g/mt and containing 12.1 million oz.
Construction and Commissioning, but Then...
Having secured its permits, Eldorado gave the go-ahead for development in 2004, with construction beginning in September of that year. At the time, the company was budgeting capex of US$83 million to bring the mine on stream, with commissioning scheduled for the end of 2005 and an out-put of 164,000 oz projected for 2006. In the event, bad weather delayed the start-up until early 2006, with the first gold pour achieved in May and the official opening taking place in July.
Speaking at the ceremony, the compa-ny's President and CEO Paul Wright said: "Turkey is a country where we have invest-ed for over a decade, and have successful-ly advanced a grass-roots discovery to a producing mine. With a 14-year mine life, Ki şlada ğ will provide direct employment for 300 people."
By the end of 2006, the mine had pro-duced nearly 71,000 oz of gold at a cash cost of US$206/oz, and Eldorado had already committed to a US$14 million expansion project aimed at increasing capacity to 240,000 oz/y. With contract mining scheduled to be phased out, a new excavator and truck fleet was on order, the aim being to reduce mining costs by using higher-capacity equipment.
Then, in July 2007, everything got put on hold. Pre-existing third-party litigation over the validity of the project's environ-mental impact assessment reached a high-er court that ordered the shut-down of the operation pending a final decision. With the exception of essential environmentally orientated work, the company suspended operations at Kişladağ.
...Back on Track
Seven months of suspension followed before the mine was able to return to oper-ation, in March 2008. During the remain-der of the year, it achieved an output of 190,000 oz from 7.5 million mt placed on the leach pads, with the company reporting cash costs of US$254/oz.
With the new mining system in place, ore production in 2009 rose to 10 million mt, while total rock mined reached 24 mil-lion mt. Eldorado completed an expansion of the leach pads, installed larger carbon columns in the ADR (adsorption-desorp-tion-recovery) plant and undertook design work on increasing crushing capacity to more than 12 million mt/y. Gold produc-tion rose to 237,200 oz at a cash cost of US$280/oz.
Design work on the capacity expansion continued during 2010, while mine output rose again, to 274,600 oz at a cash cost of US$329/oz. Permitting for the expansion was granted in June 2011, allowing the company both to increase its leaching capacity for Kişladağ ore and construct a new processing plant to handle flotation concentrates from its Efemçukuru under-ground mine in Izmir province, which came on stream during the year (See E&MJ, February 2012, p.20). The new plant is designed to recover around 70% of the recoverable gold from Efemçukuru, with the remainder being recovered at a gravity-concentration unit at the mine. Capex at the mine totaled US$55 million in 2010 and a further US$53 million during 2011, most of which was invested in completing the expansion project.

The Atlas Copco Pit Viper PV-235 and one of the mine's older DM45 rotary blasthole rigs drilling a new
bench. (Photo: Simon Walker)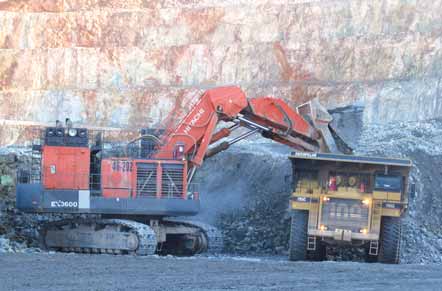 The mine's Hitachi EX-3600 hydraulic excavators are matched with Caterpillar 785C haulers. When new
haulers arrive on site, they will be equipped for trolley assist. (Photo: Simon Walker)
Phased Pit Development
Since mining began, the pit floor at Ki şlada ğ has reached an elevation of 874 m above sea level, from an 1,100 m start-ing point. A six-phase operation is being studied, with the final pit bottom engi-neered for an elevation of 400 m, giving ultimate pit dimensions of 1,700 by 1,500 m (5,600 by 5,000 ft), by 650 m (2,100 ft) deep.
Since taking over the mining operation from its initial contractor, Tüprag has been relying on two Atlas Copco DM45 drill rigs for the bulk of its production blasthole drilling, together with an Atlas Copco FlexiROC D50 that is used mainly for pre-split drilling around the pit perimeter, plus some production work as well. In August 2011, the mine took delivery of an Atlas Copco Pit Viper PV-235 blasthole rig, which will add capacity once drilling demands increase as the next stage of expansion gets under way. Loading and hauling involves two Hitachi EX3600 face-shovel hydraulic excavators, a Caterpillar 993 wheel-loader and a fleet of 14, Caterpillar 785C 150-mt-capacity rear-dump trucks.
Designed as a mid-range blasthole drill capable of either rotary or down-the-hole drilling, the Ki şlada ğ PV-235 is powered by a 597-kW (800-hp) Caterpillar C27 engine. Crawler-mounted, and with an all-up weight of some 58 mt, the rig can exert 267 kN (60,000 lbf) of hydraulic pull-down and 29.5 mt (65,000 lb) of weight on the bit. The mine uses 152- or 165-mm bits on 114-mm-diameter drill pipe, with the rig drilling 12-m-deep holes in one pass.
Mine Manager Serkan Yüksel described to E&MJ the contribution that the Pit Viper had made since it had arrived on site, with the two DM45s and the PV-235 having completed a total of 650,000 drill meters during the first 11 months of the year. "During the four months that it's been here, the Pit Viper has contributed around 70,000 m to that total," he said.
"We are using the Pit Viper in the hard-er rock in the pit, so we're not really in a position yet to make direct comparisons between it and the DM45s. What it has done for us, though, is to give us drilling capacity ahead of our production needs, so we can chose to be selective about where we use it at the moment," Yüksel said. Not only that, but the mine operates with a 'cushion' of broken ore sufficient for between 20 and 25 days' production which, he added, has been helped by the extra drilling capacity now available.
Both ore and waste is drilled on a dia-mond pattern, with a 4.5-5.25 m burden and slightly greater spacing. Blastholes cover the depth of a 10-m mining bench, with typically 800-mm (31.5-in.) sub-drilling. The mine uses both ANFO and Emulite emulsion explosives, depending on whether holes are wet or dry. A blast every day meets the mine's current production needs, with some 1.5 million mt of broken ore 'in stock' at the end of November 2011.
Dig and Dump
Equipped with 21-m 3 buckets, the two Hitachi EX-3600 hydraulic shovels bear the brunt of the rock-loading duties, with a high-lift Caterpillar 993K wheel loader on hand to add capacity when needed. The mine's initial fleet of 10 Cat 785C haulers was augmented with a further four machines during 2011, in preparation for future increases in tonnage handling. Other equipment on site includes two Cat D9 doz-ers, a Cat 834 wheel dozer, and two Cat 16M graders and three water trucks for haul road maintenance and dust suppression.
As Yüksel explained, there is good rea-son for high-quality haul-road care. This is an arid part of Turkey where annual rainfall averages 425 mm, mainly in winter when temperatures are 5-10°C (40-50°F) during the day and down to -10°C (15°F) at night. In summer, by contrast, typical daytime temperatures are up to 33°C (90°F).
With the rock density varying from 2.1 to 2.5 mt/m 3 , haul-truck loads can range between 120 and 150 mt, he pointed out. Average haul runs are currently around 2 km to the waste-rock dumps and 1.4 km to the primary ore crusher.
Given its relatively compact footprint, maintaining pit-wall stability will become increasingly important as the pit gets deep-er, which is where the mine's Atlas Copco FlexiROC D50 comes into play. The rig is used to drill 20 m double-bench-height holes at 95-mm diameter, with 1-m sub-drilling. The layout involves 1-m hole spac-ing around the entire pit periphery, requir-ing very accurate rig set-up to achieve par-allel drilling. "Another challenge is that the pit slope varies from 42.4° to 48.5°, de-pending on the geotechnical conditions from area to area," Yüksel said. "We have experimented in the past with both single-and double-plane inclined holes."
Despite the security provided by this system, Tüprag has invested in a further safeguard in the form of a Reutech Mining movement and surveying radar monitor. Supplied by the South Africa-based firm, the MSR system continuously scans the opposite pit slope for any signs of move-ment or instability, taking between five and ten minutes to complete each pass across the entire pit wall. Sensitive enough to identify even sub-millimetric movements, the trailer-mounted instrumentation is fully self-contained and remote controlled, with a maximum range of between 1,200 and 2,500 m, depending on the model.
High-recovery Heap Leaching
As other companies have discovered (See E&MJ, February 2012, p.47), popular opinion in Turkey often expresses strong misgivings over the use of cyanide in min-ing operations. Tüprag has provided clear proof that heap leaching is a safe way of producing gold, achieving recoveries of around 85% from oxide ores and 65% from the underlying sulphide mineralization.
General Manager Metin Demir ran through the operation's process route for E&MJ. "We use a Metso Superior primary gyratory crusher to produce -100 mm material for the 20,000-mt coarse ore stockpile, with a Metso MP1000 cone as the secondary crusher and three MP800s short-heads for tertiary crushing," Demir said. Undersize is screened out before both secondary and tertiary crushing, with fine-ore screening separating out product from oversize that is returned to the tertiary crushers. After screening, the fine ore product is 80% minus-7.5-8 mm.
"The fine ore can either be stacked on the heap direct from crushing or screening, or we can hold it in a 25,000-mt stockpile until it can be loaded on to the pads," Demir said. Lime addition at 5.5 kg/mt of ore precedes stacking, with a two-stage overland conveyor running from the plant to the heap. Mobile conveyors carry the ore to a radial stacker for placement in 10-m-high lifts, with a final planned heap height of 60 m. Cyanide solution is applied at a rate of between 5.5 and 12 l/m 2 /h, with a 90-day leach cycle for oxide material and 120 days for sulphide ore.
The leach pads are founded on a two-layer liner system comprising compacted clay or geosynthetic clay liner overlain by a 2-mm-thick HDPE/LLDPE synthetic mem-brane. The 15-million-mt initial pad capacity has been extended sequentially since production began, with new cells being brought on stream as mine output has grown. There are now 21 cells in oper-ation, each measuring 80 m wide by 750 m long. High-grade pregnant solution is pumped to the ADR plant, while low-grade solution from the pads is recycled through an intermediate pond for re-application.
The ADR plant consists of two trains of five carbon columns, with each column containing between 4.5 and 5 mt of car-bon. Following an acid wash, the loaded carbon is pressure-stripped, with elec-trowinning and smelting to produce a doré bar containing 65%-80% gold, 10%-20% silver and some copper. Refining is under-taken in Turkey.
The recently commissioned concentrate plant, designed to handle material grading around 85 g/mt from Efemçukuru, in-cludes IsaMill fine-grinding and leaching circuits, with the high-grade leach solution going straight to electrowinning without passing through carbon columns.
Looking Ahead
In August 2011, Eldorado completed its studies into doubling ore production from the pit. This would not only increase gold output to around 475,000 oz/y, but would also involve a separate leaching system for low-grade run-of-mine ore as well as the construction of a new bank of convention-al leaching heaps. The company has since been preparing its application for a revised environmental permit.
Based on a 25-million-mt/y throughput rate for crushing, screening and stacking, the material-handling requirement will increase to an average of some 65 million mt/y from now until 2016, peaking at 100 million mt/y. Run-of-mine ore treatment will average around 8 million mt, with a maximum of 13.6 million mt, with recov-eries expected to be in the order of 40% from this material.
Eldorado plans to keep its existing shovel and truck fleet in operation, with new equipment being phased in as loading and hauling demands increase. The com-pany's aim here is to cut operating costs by going electric, not only for loading but also for the new trucks, which will be equipped for trolley-assist up the pit ramps.
The mine's Reutech movement and surveying monitor system
continuously scans the opposite pit wall, provid-ing an additional
level of safety. (Photo: Simon Walker)
The expansion will also require a dou-bling-up on crushing, screening and fine-ore handling capabilities, together with a new gold-recovery plant. Eldorado antici-pates receiving permitting for the project later this year, with a capex budget of some US$175 million already allocated for pre-liminary work, out of a project total of US$354 million. Commissioning of the new infrastructure is currently scheduled for the third quarter of 2014.
Closer to the present, Eldorado ex-pects Kiş lada ğ to produce between 285,000 and 295,000 oz of gold this year at a cash cost of US$385-395/oz, only marginally higher than the US$374/oz achieved in 2011.
The company reported net profits of US$347 million for 2011, on revenues of US$1.1 billion that were US$300 million higher than in 2010. Total gold out-put reached nearly 659,000 oz, with Ki şlada ğ contributing 43% of this. Its other operation in Turkey, Efemçukuru, is now operating as planned, with an out-put of 125,000-135,000 oz projected for this year.
Faced with a challenging operating environment, Eldorado has proved that it is possible to develop world-class mines in countries for which this a new experience. Ki şlada ğ is one such, with plenty more to come as it cements its position as Turkey's largest gold producer.
---
As featured in Womp 2012 Vol 05 - www.womp-int.com