Shotcrete System Handles All Underground Jobs
---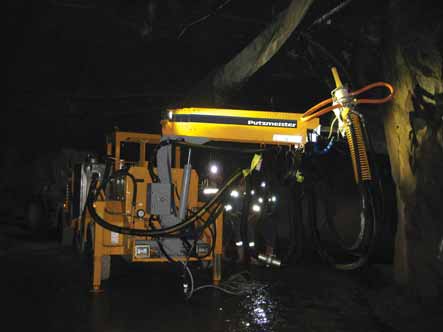 Putzmeister recently introduced two new units comprising what it describes as a complete system for shotcreting in mining applications. The SPM 4210 WETKRET sprayer series features a reinforced spray arm that provides a vertical reach of 10 m, and a Putzmeister double-piston pump rated at 20 m 3 /h (706 ft 3 /h) maximum output. A proportional remote control, which can be operated by tether or wire-lessly, allows convenient control of the arm, regulation of concrete output and adjustment of pre-defined additive dosage. With state-of-the-art axles and a reinforced turning system, the SPM 4210 WEKTRET series, according to the supplier, is suitable for rough operating conditions.

To enhance system flexibility, the new sprayer series is offered in three versions to satisfy different jobsite requirements. The standard version is electrically pow-ered and can include an optional onboard electrically or diesel-driven air compressor. The SPM 4210 WETKRET DUAL DRIVE provides dual diesel or electrical power and is available with an onboard air com-pressor. The 4210 WETKRET ROTOR is equipped to allow use in both wet and dry spraying operations.

Putzmeister says its new low-profile MIXKRET 4 mixer is designed to comple-ment and improve shotcrete applications in mine environments. It provides transport capacity of 4 m 3 (141 ft 3 ) and includes a liquid additive tank for transferring addi-tives to the spray equipment. The machine, powered by a 6-cylinder, 130-kW (176-hp) engine, features a cabin designed for driv-er visibility and also offers a night-vision camera at the rear to enhance safe opera-tion. Compact design and state-of-the-art axles provide excellent mobility and maneuverability in narrow galleries and tunnels. The machine has a hydrostatic transmission with a stepless variable gear motor that ensures an ideal torque:speed ratio, and also features an automatic speed control system for descending ramps while fully loaded at maximum safe speed.
---
As featured in Womp 2012 Vol 03 - www.womp-int.com