Vedanta Consolidating Diverse Resource Holdings
---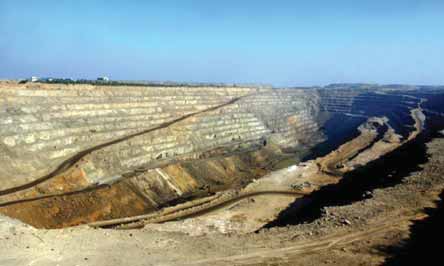 Consolidation of Vedanta Resources' mineral assets into a new company owned jointly by Vedanta and
Sesa Goa will include all of its mining properties, including the Rampura Agacha mine shown here, with the
exception of Vedanta's Konkola Copper Mines operations in Zambia, in which it will continue to own a
79.4% direct interest. (Photo courtesy of Hindustan Zinc)

Vedanta Resources announced in late February it will consolidate all of its diverse natural resource holdings, with the exception of Konkola Copper Mines in Zambia, into a single group to be called Sesa Sterlite. Vedanta has a 79.4% interest in Konkola and will con-tinue to hold that interest directly.

Sesa Sterlite will be formed through the merger of Sterlite, owned 54.6% by Vedanta, into Sesa Goa, owned 55.1% by Vedanta. All other Vedanta natural resource holdings, again with the excep-tion of Konkola, will be rolled into Sesa Sterlite. When all of the shifting of inter-ests is complete, Vedanta will hold a 58.3% interest in Sesa Sterlite.

Sesa Goa is India's largest private-sec-tor iron ore producer and exporter, with current production of about 19 million mt/y. Sterlite is India's largest nonferrous metals and mining company and has its primary interests in aluminum, copper, zinc and lead, and commercial energy.

Sesa Sterlite will be organized into four divisions: iron ore, copper smelting, aluminum, and power. Other holdings will be organized as subsidiaries of Sesa Sterlite. (Editor's note: All percentage interests cited in the remainder of this paragraph refer to Sesa Sterlite inter-ests .) These subsidiaries will include: Hindustan Zinc in India (64.9%, with an option to increase to 94.4%); off-shore zinc producers Skorpion Zinc in Namibia (100%), Lisheen in Ireland (100%), and Black Mountain in South Africa (75%); Bharat Aluminum in India (51%, with an option to increase to 100%); the Western Cluster iron ore development project in Liberia (51% with an option to increase to 100%); Copper Mines of Tasmania (100%); Talwandi Sabo Power (100%); VAL Power and Malco Power (100%); and Cairn India, an oil and gas explorer and developer focused on India (58.9%).

Vedanta's goal is for Sesa Sterlite to be the world's seventh-largest diversified resources company and India's first glob-al resources company. Sesa Sterlite will be listed in India, with American Depositary Shares listed on the New York Stock Exchange. Pro forma EBITDA in for the combined company in 2011 would have been $5.3 billion and earnings would have been $2.4 billion. Synergies are expected to generate cost savings of about $200 million per year.

The proposed transactions will require numerous shareholder and regulatory approvals. Vedanta expects the formation of Sesa Sterlite to be complete by year-end 2012.
---
As featured in Womp 2012 Vol 03 - www.womp-int.com