Thompson Creek Starts Up New Endako Mill
---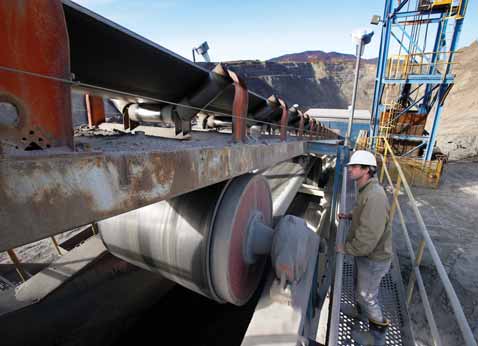 Molybdenum ore is delivered via conveyor to Thompson Creek Metals' new mill at the Endako mine in British
Columbia, Canada. (Photo courtesy of Thompson Creek Metals)
Thompson Creek Metals achieved commer-cial production at its 75%-owned Endako molybdenum mine in central British Columbia February 1, 2012. For the first five days of February, the new mill was run-ning at or above its design capacity of 55,000 st/d, a 77% increase over the old mill's capacity of 31,000 st/d.
Construction of the regrind circuit for the new mill was still in progress and was expected to be completed by the end of the first quarter of 2012. In the interim, the company is utilizing the cleaner and regrind circuit in the old mill.
Thompson Creek's 2012 production guidance for its 75% share of Endako mine production is in the range of 10 million to 11 million lb of molybdenum in concen-trate at cash costs of $8.25 to $9.25/lb. Sojitz Corp., a Japanese company, holds the remaining 25% interest at Endako.
Thompson Creek Chairman and CEO Kevin Loughrey said, "We continue to make significant progress and ramp up production, and we anticipate full produc-tion will be achieved in the second quarter of 2012. Once at full production, the Endako mine is expected to increase molybdenum production from approxi-mately 10 million lb/y to approximately 16 million lb/y (100% basis)."
Based on existing mineral reserves, mine life at Endako will be 18 years at a processing rate of 55,000 mt/d. Proven and probable mineral reserves as of September 2011 were estimated at 340.3 million st at an average grade of 0.046% Mo, containing 312.2 million lb of molybdenum. Measured and indicated mineral resources (excluding proven and probable mineral reserves) were estimated at 63.2 million st at an average grade of 0.030% Mo containing 38 million lb molybdenum, and inferred mineral re-sources were estimated at 54.4 million st at an average grade of 0.035% Mo containing 37.8 million lb of molybdenum.
The Endako expansion project was orig-inally announced March 13, 2008, after completion of a feasibility study dated December 14, 2007. The project was halt-ed in December 2008 due to economic uncertainty, although Thompson Creek pro-ceeded with the purchase and storage of equipment when orders could not be can-celled without the payment of onerous penalties. The company's board of direc-tors approved the resumption of the project in early August 2009.
---
As featured in Womp 2012 Vol 03 - www.womp-int.com