Xstrata and Glencore Agree to Merge
---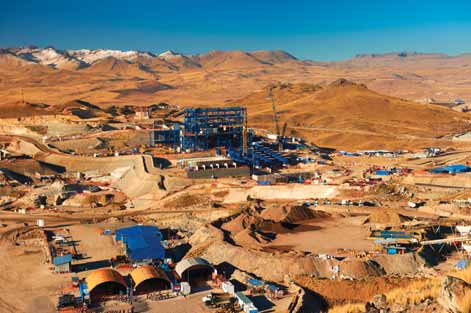 A merger agreement between Xstrata and Glencore would result in a combined entity that would be the world's
largest thermal coal producer, third largest copper producer and fourth largest nickel supplier. Among its assets
would be Xstrata's Antapaccay copper product in southern Peru (shown under construction in late 2011), which
along with Xstrata's Las Bambas project, will cost an estimated $5.7 billion and will raise Xstrata Copper's pro-
duction capacity in the region five-fold to more than 500,000 mt/y of fine copper. (Photo courtesy of Xstrata Copper).

Xstrata and Glencore announced on February 7 that Glencore's directors and Xstrata's independent directors had reached agreement on the terms of a recommended all-share merger of equals. The announcement followed a February 2 announcement that the companies were in discussions regard-ing a possible merger. The merger will be effect-ed by means of a court-sanctioned scheme of arrangement pursuant to which Glencore will acquire the entire issued and to be issued ordinary share capital of Xstrata not already owned by Glencore. The merger ratio of 2.8 new Glencore shares for every Xstrata share held, excluding the 34.08% of Xstrata shares already owned by Glencore, pro-vides Xstrata shareholders other than Glencore with a 45% stake in the com-bined entity.

The merger values the entire issued and to be issued share capital of Xstrata at about $61.9 billion and would create a major natural resources group with a combined equity-market value of about $90 billion. The busi-ness model of the combined group would be unique among the world's major resource companies in that it would be fully integrated along the commodities value chain from mining and processing, storage, freight, and logistics to marketing and sales.

The announcements cited the pro-posed combination of two complemen-tary businesses with long-standing links as "the logical next step for both companies against a changing industry environment." Assuming completion of the merger, the combined group would include Glencore's global commodities marketing business and Xstrata's met-als and mining assets, with combined production growth prospects of 11% on a compound annual basis to 2015. In aggregate, the two companies are developing 25 approved copper, ther-mal coal, nickel, zinc and alloys growth projects and have an extensive range of additional unapproved growth options.

Xstrata's operating businesses and Glencore's marketing functions will continue to operate under their existing brands. It is proposed that the com-bined entity will be called Glencore Xstrata International plc, listed on the London and Hong Kong Stock exchanges, with its headquarters in Switzerland. Among other conditions, the merger is subject to approval by Glencore and Xstrata shareholders and to approval by anti-trust authorities in the European Union, the United States, South Africa, China and Australia. The companies anticipate the merger will become effective in the third quarter of 2012.

Glencore Xstrata International will be led by current Xstrata CEO Mick Davis as CEO; Ivan Glasenberg, current Glencore CEO, as deputy CEO and pres-ident; Trevor Reid, current Xstrata CFO, as CFO; and Steven Kalmin, current Glencore CFO, as deputy CFO. Sir John Bond, current Xstrata non-executive chairman, will be nominated as non-executive chairman of the combined group, and the board will also include Mick Davis, Ivan Glasenberg, and a fur-ther eight non-executive directors, four from each of Xstrata's and Glencore's current boards.

Mining and metals producing assets will be integrated into the existing Xstrata business units, while marketing will be managed by the existing Glencore management teams. Annual EBITDA synergies resulting from the combination are estimated to be at least $500 million for the first full financial year of the combined group, with most of these synergies being mar-keting related.

For the 12 months ended December 31, 2011, Glencore generated revenues of $186.2 billion and adjusted EBITDA before exceptional items of $6.5 bil-lion. During the same period, Xstrata generated revenues of $33.9 billion and EBITDA before exceptional items of $11.7 billion.

Assuming completion of the merger, Glencore Xstrata International will be a major producer and marketer of 18 commodities. It will have operations and projects in 33 countries, with 101 mines and more than 50 metallurgical facilities. It will have offices in 40 countries and approximately 130,000 employees. It will have an established footprint in emerging regions for natu-ral resources investment, including the African Copper Belt and Kazakhstan, as both an operator and as a provider of marketing and logistics services to new producers.
---
As featured in Womp 2012 Vol 03 - www.womp-int.com