Iron Filings: Siemens/Outotec Partner on Pellet Plant, New DRI Furnace Offers Energy Savings
---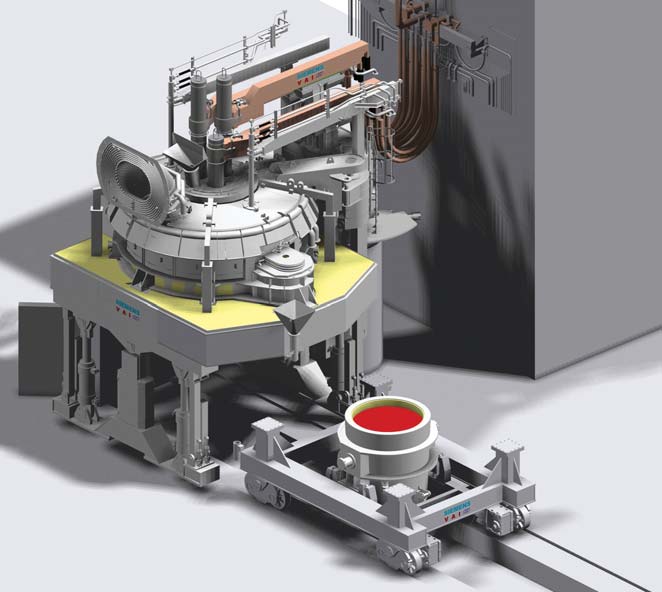 Siemens' new Simetal EAF FAST DRI arc furnace, modeled here, is designed to process direct reduced iron with

energy savings and productivity gains.

Russian steel producer Novolipetsk Steel (NLMK) has placed an order with a consor-tium comprising Siemens VAI Metals Tech-nologies and Outotec for a new iron-ore pellet plant with an annual production capacity of 6 million mt/y of magnetite pel-lets. The plant, part of a major technical upgrade and expansion program, will be built at NLMK's Stoilensky (SG !") mine and plant complex in Stary Oskol, 600 km south of Moscow. Contract value for Siemens is approximately !125 million ($165 million). The plant, scheduled for commissioning in 2014, will employ trav-eling grate induration technology and will produce high-grade magnetite pellets with iron content of 65% or more.

Siemens VAI will supply engineering and equipment for the preparation of the iron ore concentrate, material handling and storage, utilities, and related electrical and automation systems. Outotec will supply process technology and plant equipment for the pelletizing plant. NLMK will handle civil works, structural-steel supply and erection of the pellet plant facility.

On its own, Siemens VAI Metals Technologies also unveiled in mid-January an electric arc furnace specially developed for DRI (direct reduced iron) applications. The Simetal EAF FAST DRI is designed for a continuous melting process as electrical energy and DRI are supplied during tap-ping. This, said Siemens, shortens tap-to-tap times and reduces specific energy con-sumption. An overall productivity increase of around 15% can be achieved with a 150-ton furnace. The arc furnace has a modular structure, which also makes it possible to retrofit existing, conventional furnaces.

The Simetal EAF FAST DRI electric arc furnace has a tiltable lower vessel with an extensive liquid heel. The resulting contin-uous flat-bath operation allows electrical energy input and DRI feeding during tap-ping. A patented furnace advanced slag-free tapping system (FAST) allows charg-ing, tapping and taphole refilling under power-on conditions. Energy consumption is cut by 20 kilowatt-hours per ton and electrode consumption falls by 10%, according to the company. The continuous supply of electrical energy during flat-bath operation not only improves productivity, but also avoids line harmonic distortions such as flicker.

Continuous operation of the furnace offers a number of other benefits. Coal and oxygen injection as well as foaming slag control can be implemented more precise-ly. Slag-free tapping results in an enhanced alloys yield and better steel desulphuriza-tion. Thermal stress on the refractory and structure materials also remains constant, prolonging their useful lives.

Siemens said the Simetal EAF FAST DRI is designed so that, in combination with Siemens' Hot Transport System (HTS), it can also be fed with hot DRI at temperatures of around 600°C.

Meanwhile, Outotec announced that LKAB had awarded it a contract to provide a comprehensive technology package for thickening tailings from LKAB's Svappavaara iron ore mine in Sweden. The project value was not disclosed.

Outotec's scope of delivery includes engineering of a tailings treatment process, an Outotec Paste Thickener with related buildings, piping, electrification, instru-mentation and control systems as well as installation and services for start-up and training. The new system is expected to become operational in October 2012.

"We recently delivered and commis-sioned a similar solution to the Laiva gold mine in Finland, so this new order strengthens our view that the demand for tailings treatment solutions continues to grow," said Outotec CEO Pertti Korhonen.
---
As featured in Womp 2012 Vol 02 - www.womp-int.com