Industrial Coatings Provide Long-term Protection from Corrosion
---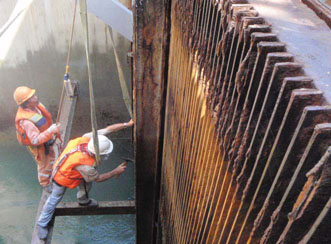 Prior to the start of a project at a Newmont copper operation
in Indonesia to coat and protect the mine's processing infrastructure from corrosion,
Sherwin-Williams Protective & Marine coatings trained the Singapore-based
applica-tion contractor's crews in proper preparation of surfaces as well as in
applying the selected industrial coatings. The coatings have stood up well to
harsh local conditions since being applied more than four years ago, Newmont reports.

The PT Newmont Nusa Tenggara mine in Indonesia has produced copper concentrate containing small quantities of gold since 2000. Based on the remote tropical island of Sumbawa in the Indian Ocean, saltwater-related corrosion of the surface mine's pro-cessing infrastructure and pipes has been a continuing problem. Salt-laden air and mist can cause protective coatings to fail and steel substrates to degrade prematurely.

To address the issue, in 2008 manage-ment implemented a project to remediate corrosion of the mine's overland conveyer system, pipelines and the mill house, including the roof. Newmont sought the services of a company that could deliver a turnkey solution to the refurbishment— from professional advice to degreasing, sandblasting and high-pressure washing, to coating the structures and offering pro-ject quality control, to ongoing mainte-nance services. In conjunction with Sherwin-Williams Protective & Marine Coatings, Newmont selected Singapore-based EJ Coatings Pte as the solution provider for this undertaking.

Through its subsidiary in Indonesia, PT. Surya Sembada Jaya, EJ Coatings pro-vides a full range of engineering services to the mining industry on corrosion reme-diation projects, from site preparation through the final finishing coat. For the mining industry, Sherwin-Williams sup-plies protective coating systems designed to reduce the total cost of ownership of expensive and critical equipment and structures by warding off corrosive attack from typical mining operating conditions as well as addressing challenges present-ed by harsh environments.

The project scope included removal of salt and copper dust contamination, and coating the mill house and other equipment and structures. The coating system speci-fied would require high-solids, high film-build products that adhere well in a harsh setting, provide significant abrasion and impact resistance, and deliver a long-term program of corrosion protection. For high visibility areas, a topcoat that provided color and gloss retention was also a necessity.

To achieve the best possible penetra-tion into the steel substrates for impact and corrosion resistance in the aggressive operating environment, Sherwin-Williams recommended the following system:
•SeaGuard 5000 HS Epoxy—A high per-formance, low-VOC, high solids coating delivering superior bond strength in marine environments.
•Sher-Glass FF—An easy-to-apply glass flake-reinforced amine epoxy coating and lining system highlighted by its low per-meability and durability, delivering en-hanced chemical and abrasion resist-ance and edge retention.
•SherThane 2K Urethane—An aliphatic acrylic-modified polyurethane enamel providing chemical and abrasion resist-ance, as well as color and gloss reten-tion, for high visibility areas.

As part of the start-up process, Sherwin-Williams conducted classroom training and field demonstrations of the coating system for the application team. Over the course of the project execution, Sherwin-Williams also supplied periodic on-site technical consulting to augment the quality control inspectors provided by EJ Coatings, providing daily assurance that work was being performed in full compli-ance with the specification.

Newmont reports that four years after application, the coatings are holding up well.

Platinum Refiner Upgrades Equipment for Higher Productivity, Reliability
Pfaudler Reactor Systems, a specialist in providing glass-lined process components and part of the Process Solutions Group of Robbins & Myers, was recently retained by a South Africa-based precious-metals re-finer to upgrade mixers in an effort to sig-nificantly increase the capacity of the cus-tomer's process reactors.

Working in conjunction with sister com-pany Chemineer, Pfaudler developed what it describes as a process solution designed to ensure optimum mixing of platinum group metal concentrates, which can severely damage vessels when not config-ured correctly. Pfaudler Process Engineer Chris Drysdale said: "As platinum group metals are very heavy, the tendency is to run mixers at excessive speeds in order to achieve sufficient solids suspension. This not only increases energy bills, but it caus-es the heavy metal concentrates to damage the glass interior of the tank, which can make the surface increasingly rougher and ultimately lead to chemical attack and fail-ure of the vessel."

Using Chemineer's Maestro process-development software, Pfaudler said it was able to show the customer how efficient top-to-bottom mixing in the tanks would be achieved. The company noted that opti-mum mixing that keeps solids in suspen-sion also improves productivity by reducing downtime required for cleaning.

Because the dimensions of the cus-tomer's vessels were not standard, Pfaudler said it had to design new dual-flight agita-tor shafts, but used the same size hub; the new design allowed for a single-diameter shaft with two honed areas for the two flights. The installation also incorporated Pfaudler's Cryo-Lock system, which uses the cryogenic fit between the glass shaft and the glass impeller hub for precise interference fit. The major benefit gained is that impeller changeover can be carried out inside a reactor, rather than having to remove the drive, shaft or access cover.
Ore from a new pit, due to begin production in 2012, at Barrick's Lumwana
copper mine in Zambia will be trans-ported from an in-pit crusher to the mill (shown
here at night) by a conveyor system to be designed and installedby Bateman Engineered Technologies.
New Conveyor Systems Support Lumwana Expansion
A contract for a conveyor system support-ing a new mining area at Barrick's Lumwana copper mine in northwestern Zambia has been awarded to Bateman Engineered Technologies, a member of the Bateman Engineering NV group (See relat-ed article on p. 73).
The project's scope of work covers design, supply, delivery, erection and com-missioning of the conveyor system and includes all mechanical and structural equipment. The order includes supply of a 118-m-long (387-ft) sacrificial and 3,640-m-long (12,000-ft) overland conveyor for an additional primary crusher, and a 502-m-long (1,647-ft) stockpile feed conveyor feeding the existing stockpile. The convey-ors have a design capacity of 5,140 mt/h.
The system will transport copper ore over a distance of approximately 4 km (2.5 miles) from the run-of-mine (ROM) tip to a stockpile which feeds the processing plant. The ground profile over which the overland conveyor will traverse necessitat-ed special design features, including fly-wheels on the drive side and a brake on the tail side to maintain belt tensions, pre-venting the belt from collapsing when the conveyor is stopped.
The mine's new Chimiwungo pit is being developed to supplement ore feed to the process plant as production from the existing Malundwe pit tapers off.
Software Optimizes Process Sustainability
Process technology provider Outotec and corporate sustainability consultancy PE International recently announced progress in joint development of a new software interface for metals production sustainabil-ity and lifecycle evaluations.
To be completed in 2012, the new inter-face will be based on PE International's GaBi 5 and Outotec's HSC Chemistry soft-ware. The interface, said the two parties, will enable users to optimize HSC-based process models using the GaBi extensive Life Cycle Assessment (LCA) databases and procedures—thus facilitating identification of the Best Available Technology (BAT) from several process alternatives.
The new interface will allow users to devel-op product and process modeling simulations and scenarios using a life cycle perspective, plus providing all environmental impact infor-mation, according to a press statement released by the developers. In addition, Original Equipment Manufacturers (OEM) and businesses will be able to plan their oper-ations and make material decisions based on the sustainability and life cycle information of current and future metal manufacturing sce-narios and their environmental impacts. This will help to lower the environmental footprint of these products and production facilities.
---
As featured in Womp 2012 Vol 01 - www.womp-int.com