Modern Communications Systems for Miners
New tools which include VoIP Phones and wireless sensors allow miners to improve productivity safely
---
As is the case with many emerging tech-nologies, the mine communications sector has expanded so quickly and widely that it's difficult to establish boundaries between traditional communications sys-tems and newer technologies that don't specifically involve person-to-person speech, but nevertheless provide informa-tion, warnings and other signals that allow miners to work in a safer environment. New laws relating to underground mine safety have driven increased activity in this field, and the results are tools now available to the modern miner that a previous genera-tion could not have imagined, such as handheld VoIP phones and wireless hazard monitors that can transmit for months from remote parts of the mine without attention. Global Positioning Systems (GPS) and radar-detection technologies are further examples of concepts that once might have been considered science fiction but are now commonly encountered in almost every industrial setting.

Here are just a few wide-ranging exam-ples illustrating the expanding scope of mine communications, ranging from the ease with which comprehensive and reli-able satellite communications systems can be configured to serve even temporary mine operations, to the real-time reporting and reliability offered by the latest in surface and underground mine sensor systems.

Upgrading a Remote Mine's Phone, Internet Service
OCENS, a Seattle, Washington, USA-based provider of fixed and mobile satellite com-munications solutions, was selected by Midas Gold of Spokane, Washington, to configure a remote communications sys-tem consisting of a VSAT antenna and serv-ice, VoIP telephone system, and network controls and metering at the Midas Stibnite-Yellow Pine gold mine in the Salmon River Mountains of central Idaho.

The mine site is at an altitude of 6,500 ft, surrounded by steep, forested terrain. It operates seasonally from early June until late October and has one per-manent structure, three modular offices, and hosts a temporary camp that houses 25–30 workers.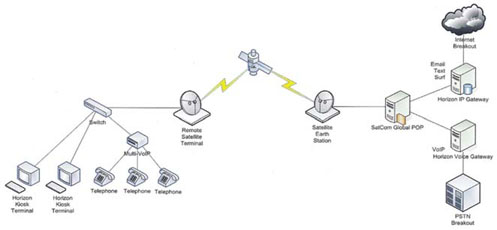 OCENS, a Northwest USA-based satellite communications solutions provider, designed a versatile satcomm system for Midas Gold, which operates a seasonal
gold-mining operation in a remote area. Designed around a 1.2-m-diameter antenna, the system provides high-speed Internet access, a protected network and a
cost-effective multi-line phone system.
The mine was using a Hughes Net VSAT system as its sole Internet connection, and mine operators used handheld satellite phones for all voice communications. According to OCENS, the existing VSAT service has a restrictive use policy—and handheld satellite phones aren't the most practical or cost-effective approach for reg-ular office use. Additionally, most of the mine's personnel had no access to Internet or telephones while at the camp for their two to three week work intervals. The mine operators needed a more robust communi-cations system providing high speed Internet with minimal usage restrictions, Internet-access PIN controls and metering for individual users, a multi-line phone sys-tem and network access for the work camp.
OCENS installed a new VSAT system with a 1.2-m antenna and high-speed 2-Mbps service that includes a usage limit of 30 gigabytes per month. The site's local network was designed around OCENS' WebXaccelerator (WXa)—an Internet accel-eration, metering and automatic failover device. All traffic is routed through the WXa, which provides metered Internet access via pre-assigned PINs, along with usage logs, remote support, and load bal-ancing that takes advantage of the existing Hughes system that also serves as an auto-matic backup. Additional features built into the WXa include Web compression, black lists/white lists and Wi-Fi.
Wireless Access Points were placed at each of the three offices as well as the camp. Since the camp is located approxi-mately 1,000 ft away and down a slope from the main office area where the VSAT equipment is located, a high-range wire-less bridge was installed to integrate the camp into the network.
OCENS said it also installed its Horizon Multi VoIP platform, which uses the VSAT connection and provides low-cost voice service. Four of eight available lines are used at the site with one line going to each office. The lines use standard CAT3 cabling and are compatible with any ordi-nary phone handset.
Built to withstand adverse climatic conditions, vibration and high tempera-tures—and originally designed for ship-board use—the Multi VoIP unit is installed by simply connecting it to an Ethernet Local Area Network (LAN) that provides Dynamic Host Configuration Protocol (DHCP) IP addressing. The Multi VoIP optimized plug and play configuration, according to OCENS, allows access to more simultaneous voice connections over standard IP networks than any other sys-tem currently available.
The Horizon unit uses an industry-lead-ing codec that enables the system to pro-vide high efficiency over satellite and ter-restrial networks. The main features of the system include:
•Eight available standard analog phone ports for concurrent voice connections.
•Three quality settings for optimum cost/quality voice delivery.
•Optimized two-way voicemail for all Horizon users.
•Extension number for direct dialing of incoming calls.
•'Follow me' user extension.
•Optimized local number dialing to access users.
•Pre-paid and post-paid PIN protection.
•Low cost international calling.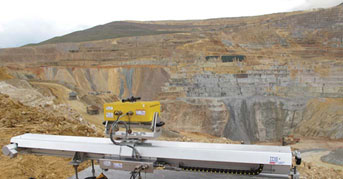 An IBIS-M slope monitoring radar deployed at Minera Yanacocha, Peru.
(Courtesy of Minera Yanacocha)
According to OCENS, a major benefit of using Horizon over satellite is its SmartPacket technology which compresses VoIP calls while maintaining voice quality. For example, even at its highest call quali-ty setting, a single line on the Horizon uses only about 25% of the bandwidth of a typ-ical VoIP phone. Prepaid and postpaid service is universally available to call any-where in the world and any call is free when calling "in-network" from one Horizon unit to another.
OCENS preconfigured and tested Midas Gold's entire network before deploying it to the site to ensure a smooth "plug-and-play" installation. With remote access enabled and network monitoring capabili-ties from the OCENS office, remote-sup-port is offered with real-time visibility ensuring reduced downtime in the event of a problem. The final implementation of the complete system, according to OCENS, provided high-speed Internet access, a pro-tected network and a cost-effective multi-line phone system—capabilities compara-ble to a conventional land-based service, but now accessible in the remote region where the mine is located. Similar sys-tems, according to the company, are appro-priate and available for virtually any geo-graphical location on earth.
Using Radar to Monitor Slope Stability
Since the first applications in early 2000, slope monitoring radar have been used extensively for monitoring instability issues in either natural and engineered slopes and to support the management of the associ-ated geotechnical risk. IDS Ingegneria dei Sistemi SpA, an Italian company with more than 30 years of experience in radar tech-nologies, recently introduced IBIS-M for the mining market. More than 45 units have been commissioned around the world and it's gaining acceptance with more prominent mining groups, which have adopted the IDS technology to increase safety standards. This trend reflects the crucial role played by slope monitoring radar in modern surface mining.
The IBIS-M features very high spatial resolution and accuracy and the greatest operating distance currently available on the market along with the fastest scan time, making it possible to effectively track slope movements and manage geo-technical risks. The working distances range from few hundred meters to more than 3.5 km from the slope. Moreover, the few moving parts of the radar and its very low power consumption make it able to dra-matically reduce the use of a diesel gener-ator relying mainly on solar power, resulting in high reliability and high mechanical robustness. Finally, the use of small anten-nas instead of wide parabolic dishes elimi-nates the risk of wind-induced vibrations, particularly troublesome in windy regions where it may result, depending on the wind speed, in noisy displacement measure-ments or in the need to turn off the radar to avoid damages to the system.
IBIS-M has the ability to measure the entire range of spatial scales of typical slope instabilities within a pit, from bench scale to overall slope failures passing through multi-bench and inter-ramp scale failures and the entire temporal scale of the slope instabilities, from fast move-ments (mm/day - cm/day), to very slow movements (mm/month - mm/year). Based on this accurate data IBIS-M is able to generate alarms for progressive movements potentially leading to slope failures, improving the safety conditions of modern mines, and allowing the local staff to opti-mize production.
The radar has detected movements and generated alarms in tens of cases on slope movements ranging from bench scale fail-ures involving just a few tons of material to multi-bench failures with many millions of tons collapsed. Today IBIS-M is considered by IDS customers an effective tool to improve the safety of their operations.
Tunnel Radio's methane and CO sensors relay information from the
face to the surface wirelessly.
MST Expands Globally and Gains New Approvals
Australian-based Mine Site Technologies (MST) is a solutions provider, specializing in the development and supply of technol-ogy, and services, to the mining industry. In addition to gaining ATEX approval for its Voice over Internet Protocol (VoIP) phones, the company recently opened a new office in Ontario and acquired Nixon Communi-cations, a network and communications infrastructure provider for the mining, oil and gas, remote construction and Coal Seam Gas sectors.
Building on MST's underground mining strengths, the Nixons acquisition is a core element of MST's ongoing development of its surface mining and resources business, substantially expanding its capabilities. Nixons provided communication systems and equipment to mining projects operat-ing primarily across Queensland, as well as in other Australian locations, New Guinea and the Solomon Islands. Founded by John Nixon in 1977 as a one-man operation, the Gladstone-headquartered company has grown steadily to now employ 70 people, with branch offices in Rockhampton, Mackay and Blackwater. Nixon, will remain with the combined company for at least 18 months as an adviser and consultant.
The company's MinePhone VoIP digital phone and NS40 Wireless Access Point for integrated underground mining communica-tions recently achieved ATEX certification, Group 1 Category M1 as intrinsically safe, which certifies that it can be safely used in underground coal mines. "These approvals open a new door of opportunity for MST in Europe, with the installation of these tech-nologies now being progressed in mines in Germany, Poland and Russia," said MST's CEO, Lloyd Zenari. "We make modern and fit-for-purpose technologies available to our customers with a focus on enhancing safety and productivity through applied technology. We provide the opportunity for increasing productivity—safely." Formal testing of the MinePhone and NS40 was carried out by DEKRA-EXAM of Germany.
MSHA Approves Wireless Methane Detector
Last year, the U.S. Mine Safety and Health Administration (MSHA) approved Tunnel Radio's TR-MX-332 methane and CO (car-bon monoxide) detection wireless reader as intrinsically safe for coal mine use. Designed for use with the MineAx Bird Dog RFID personnel tracking system, this new micro-technology now makes it feasible to wirelessly deploy a multitude of methane and CO sensors anywhere needed in a coal mine environment. For the first time, this critical gas level information can be trans-mitted wirelessly to the surface from the longwall face and the continuous miner headings. Complementing the company's long -range wireless readers, these sensors may operate for months on battery power to provide electronic tracking of personnel location and gas levels simultaneously to control centers on the surface.
As coal mines under the MINER Act of 2006 are required to deploy electronic tracking technologies in the United States, the widely used Tunnel Radio MineAx tracking system can additionally provide very precise methane and hydrocarbon group gas measurement 24/7 in the mines using this new digital technology. Wireless sensors can be located exactly where need-ed, a shortcoming of current wired tech-nologies that also must be disabled once an emergency occurs. In addition, the same device is equipped with a CO sensor (a precursor gas emitted from very low level combustion sources), to alert mine crews immediately of unsafe thermal conditions, giving time to react before a fire breaks out. The unit also transmits temperature, humidity and barometric pressure read-ings, providing atmospheric data helpful in evaluating overall mine ventilation system effectiveness, a critical factor in recent mine disasters.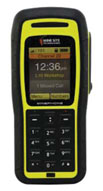 MST's VoIP MinePhone.
With this equipment deployed, mine personnel now have the tools to prevent deadly methane ignitions. Critical infor-mation can now be analyzed from the comfort of the office, home or head-quarters by simply accessing the mine central computer through the Internet, including the use of most mobile devices. The MineAx Bird Dog tracking system is already deployed in more than 50 mines in three countries. "We feel this tech-nology is a win for miner safety, the industry and is a credit to American know how," said Mark Rose, president, Tunnel Radio. Tunnel Radio of America is based near Corvallis, Oregon, and has provided technologies and services to the mining and railroad industries for more than 20 years.
---
As featured in Womp 2012 Vol 01 - www.womp-int.com