KGHM Extending Reach with Offer for Quadra FNX
---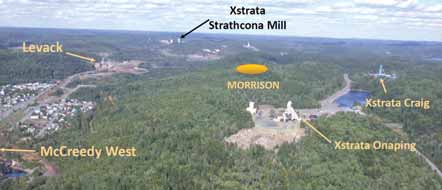 Polish copper producer KGHM intends to acquire Quadra FNX in a cash transaction valued at C$3.5 billion.
If successful, the arrangement will bring all of Canada-based Quadra FNX's copper properties and exploration assets
under KGHM's ownership; however, the Americas-based holdings would be managed from the combined company's
Canadian offices. Shown here are a few of Quadra FNX's properties in Ontario's Sudbury basin, including
the McCreedy West mine and the Levack mine with the adjacent Morrison deposit. (Photo courtesy of Quadra FNX))

Polish copper producer KGHM Polska Miedz and Canada-based Quadra FNX Mining signed a binding conditional agreement in early December 2011 whereby KGHM will acquire Quadra FNX in a transaction that values Quadra FNX shares at C$2.87 billion. Inclusive of outstanding Quadra FNX debt, the total transaction value is approximately C$3.5 billion. KGHM will fund the acquisition from existing cash resources. The Canadian headquarters of the combined company will oversee its mining operations throughout the Americas.

KGHM is listed on the Warsaw Stock Exchange and has a market capitalization of about $8 billion. The company's integrated production facilities are centered on the City of Lubin in western Poland and include three underground mines and associated concentrators, three smelter/ refineries, a precious metals plant and a wire rod plant. The company is the world's ninth largest producer of copper and third largest producer of silver.

In 2010, KGHM's production included 937.8 million lb of mined copper, 1.2 billion lb of refined copper, 37.3 million oz silver and 24,949 oz of gold. Acquisition of Quadra FNX would increase the company's resource base from 29.3 million mt to 37.4 million mt of contained copper.

Quadra FNX produced 253.5 million lb of copper in 2010. Its operations include the Robinson and Carlota mines in the United States, the Franke mine in Chile, and the McCreedy West, Levack (with the Morrison deposit) and Podolsky mines in Canada. Development projects include Sierra Gorda in Chile (the company's major development project, involving one of the largest copper and molybdenum deposits in the world), Victoria in Canada and Malmbjerg in Greenland. Sumitomo owns a 45% stake in Sierra Gorda. Quadra FNX exploration projects include the Kirkwood, Falconbridge and Foy projects in the Sudbury region in Canada. The company also owns a minority stake in Capstone Mining.

The Sierra Gorda project hosts 1.3 billion mt of copper-gold-molybdenum ore in proven and probable reserves. Production from the project is scheduled to begin in 2014. The project feasibility study calls for production of 483 million lb/y of copper, 25 million lb/y of molybdenum, and 64,000 oz/y of gold in concentrates over a 20-year mine life. In 2010, Quadra FNX produced 253.5 million lb of copper in concentrates.

KGHM CEO Herbert Wirth said, "This carefully prepared transaction is in line with KGHM's strategy of focused development and value creation. KGHM will benefit greatly from Quadra FNX's high-quality management team and employees, and we plan to make Canada our base for further growth in the Americas. Quadra FNX has a proven track record and ambitious future development plans. Coupled with KGHM's strong balance sheet and substantial positive cash flow, this transaction will provide a solid financial foundation and improve prospects for securing necessary financing for projects in Canada and abroad."

Closure of the transaction is contingent on approval by two-thirds of Quadra FNX shareholders at a general meeting of Quadra FNX and regulatory approvals. If a competing offer arises, KGHM is entitled to alter currently proposed pricing terms. Should Quadra FNX withdraw from the transaction, KGHM will be paid a break fee of C$75 million.

Subsequent to the KGHM/Quadra FNX agreement, KGHM and Abacus Mining & Exploration announced December 21, 2011, completion of a positive feasibility study for their Ajax copper-gold project located southwest of Kamloops, British Columbia. The project is being developed through KGHM Ajax Mining Inc., owned 51% by KGHM and 49% by Abacus. KGHM holds an option to increase its interest in the project to 80% within 90 days of its receipt of the feasibility study.

The Ajax feasibility study describes a 60,000-mt/d open-pit mining operation producing about 50,000 mt/y of copper and 100,000 oz/y of gold in concentrate over a 23-year mine life. Capital cost to develop the project is estimated at $795 million. Measured and indicated mineral resources total 512 million mt of ore grading 0.31% copper and 0.19 g/mt of gold. Proven and probable reserves of contained metal are estimated at 1.34 million mt of copper and 2.75 million oz of gold.
---
As featured in Womp 2012 Vol 01 - www.womp-int.com