New ADT Lineup is Faster, Carries More and Burns Less Fuel
---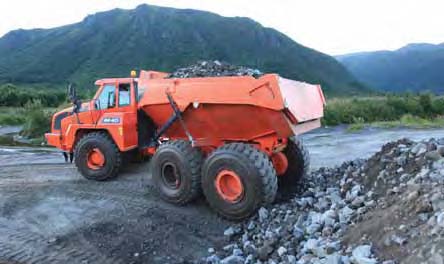 Doosan Infracore Construction Equipment has launched its new DA40 articulated dump truck, the first in a new family of Doosan ADTs offering increased engine power and torque, higher payloads, lower fuel consumption, enhanced operator comfort and faster travel speeds. Powered by a six-cylinder Tier 4i compliant diesel engine with a gross power output of 500 hp (373 kW) at 2,100 rpm, the new DA40 offers a 10% increase in engine power compared with the previous model. The new truck also provides a 22% increase in gross torque to 1,750 lb ft (2,373 Nm) at 1,300 rpm. Contributing to an overall 8% reduction in fuel consumption is a new transmission offering eight forward and four reverse speeds. To withstand the increased power, the driveline dimensions and cooling capacity of the truck have been increased.

Other improvements include a higher top speed of 36 mph, an increased body capacity of 31.9 yd3 (24.5 m3), and payload rating of 40 metric tons without tailgate. The DA40 has permanent six-wheel drive for equal power distribution; and to handle the increased payload as well as provide a smoother ride for the operator, the DA40 has a completely new hydro-gas front suspension which allows for independent movement on each side, providing maximum ground contact and shock absorption. The articulation hinge is positioned behind the turning ring to provide equal weight distribution even during maximum turning and ensure maximum contact between the front wheels and the ground for optimum traction.

In the cab, Doosan has introduced new electronic systems and simplified fingertip controls with a digital display of all desired machine functions. For routine maintenance and service, the cab can be tilted backward to provide easy access to components A fully automatic central greasing system and rear view camera are standard.
---
As featured in Womp 2011 Vol 10 - www.womp-int.com