Big Diesels Prepare for Finals
EPA Tier 4 Final emissions standards won't apply to mining diesels until 2015, but engine builders aren't waiting until the 11th hour to offer models that can pass the test
By Russell A. Carter, Managing Editor
---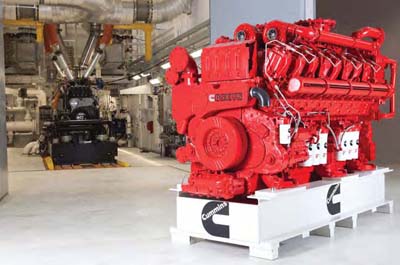 Cummins' new 16-cylinder QSK95 diesel is rated up to 4,000 hp for mining applications.
The engine is shown here on display outside one of 10 new test cells installed to support
production of the company's new engine platform at its Seymour engine plant in Columbus,
Indiana, USA.

The leading suppliers of large diesel engines for mining—Caterpillar, Cummins and MTU—are jockeying for market share in an industry that steadily demands more power. However, brute horsepower doesn't provide a total solution to rising customer expectations that also include better fuel economy, longer service life and simplified maintenance, to name just a few. Each vendor is picking its own path into the future, selecting the particular air management, combustion and exhaust control technologies they believe will satisfy both market and regulatory requirements.

With an eye toward meeting these future propulsion needs, Cummins Inc. recently unveiled its latest solution for high-output diesel applications—an engine capable of producing more than 4,000 hp (2,983 kW) and staking claim as the world's most powerful high-speed diesel.

The 95-liter-displacement QSK95 is the first engine to be introduced in a new high-horsepower diesel- and natural gas-fueled platform from Cummins. To date, the company's largest high-speed diesel has been the 3,500-hp QSK78, introduced in 2003. The new product line, code named 'Hedgehog,' will extend up to the 120-liter, 20-cylinder QSK120, capable of more than 5,000-hp (3728-kW) output.

Introduced November 1 at Cummins' engine plant in Columbus, Indiana, at what President and CEO Tom Linebarger described as the largest customer/press event in the company's history, the 16- cylinder QSK95 is touted as being capable of surpassing the power output of larger high-speed (1,800-rpm) engines with 20 cylinders. And, according to Cummins, when compared with much larger medium- speed engines operating below 1,200 rpm, the QSK95 offers a more compact and cost-effective solution to achieve the same power output.

For all applications, Cummins said the QSK95 is ready to meet stringent emissions standards, including EPA Tier 4 Final taking effect in 2015, using Selective Catalytic Reduction (SCR) aftertreatment designed to replace the exhaust muffler.

Linebarger said the QSK95 is the offspring of an initiative Cummins launched more than 10 years ago to upgrade its High Horsepower lineup. The QSK95 itself emerged from a project begun about three years ago, eventually involving more than 150 engineers and 20 technicians. The QSK95 development program was supported by about $110 million in investment, mainly to establish a new production line and test facilities at the Columbus facility, formerly known as the Cummins Industrial Center but recently renamed the Seymour Engine Plant (SEP).

Mark Levett, vice president and general manager of Cummins' High- Horsepower Business, said the QSK95 "represents a landmark in the evolution of the large high-speed diesel engine. We are excited to introduce the QSK95, as this is just the start of a new high-horsepower platform for both diesel and [natural] gas, covering 12, 16 and 20 cylinders. The gas engines will not be just a derivative of the diesel engines, but uniquely designed for gas. We will release more details about our gas product line during 2013.

"The QSK95 moves Cummins into a significantly higher power class, and we know that many of our customers have been eagerly anticipating us making that move," Levett said. "During the development of the QSK95, we engaged with hundreds of potential users to ensure that we fully reflected their operational and installation needs." He went on to say that the QSK95 development effort included more than 130 site visits and 3,000 voice-ofthe- customer (VOC) discussions.

The timetable for market introduction of the QSK95 will begin with prototype availability in 2013, limited production in 2014 and full production in 2015. By the time the QSK95 reaches production, it will have amassed approximately 80,000 hours of testing, according to Levett.

The QSK95 has been pre-engineered to add cylinders and the platform will achieve over 5,000 hp (3728 kW) with the introduction of the 20-cylinder QSK120 engine. The QSK120 will utilize the same architecture and systems as the QSK95, providing the advantage of platform commonality. In addition to the 20- cylinder model, Cummins also plans to develop a 12-cylinder version.

The QSK95 was developed using stateof- the art analytical tools, including highly advanced combustion modeling, according to Jim Trueblood, vice president for Cummins High-Horsepower Engineering. "We evaluated thousands of possible combustion designs until we arrived at the optimum formula for fuel efficiency, performance, emissions control and power cylinder durability before cutting any metal. The QSK95 is designed with immense strength at the heart of the engine, enabling the power cylinder to achieve higher levels of peak cylinder pressure. This gives a higher threshold in-cylinder to focus on emissions reduction and improve fuel efficiency.

"A key achievement of our combustion analysis-led work is that the QSK95 makes no performance compromise to meet very low emissions standards—an advantage that few, if any, other large high-speed or medium-speed engines will be able to claim for Tier 4," he said. "The QSK95 will provide the lowest total cost of ownership of any high-speed or medium-speed diesel."

Interviews with potential customers defined a handful of expectations that a new engine platform must satisfy, Trueblook explained. These include more power, greater uptime, longer life to overhaul, greater fuel efficiency, higher performance and ease of service. Starting from a clean sheet and using Six Sigma tools, Cummins' design team believes the QSK95 will meet all those expectations.

In addition, the Hedgehog family of engines will offer about 75% commonality of components across the lineup. Although the QSK95 represents an allnew platform, its design takes advantage of proven systems from within Cummins' high-horsepower technology portfolio. In the QSK95, for example:
• A quad-turbocharger system adapted directly from the QSK60 engine brings reliable air handling, according to the company, with four compact turbochargers providing outstanding step-load acceptance and transient response with the simplicity of single-stage operation.
• The Modular Common-Rail System (MCRS) is upgraded to a next-generation design with up to 2200-bar highpressure fuel injection. MCRS, said Cummins, achieves high fuel efficiency, reduces noise, offers smooth idle stability and eliminates visible smoke across the operating range.

To provide a practical example of the QSK95's power capabilities, Trueblood pointed out that each of the new engine's cylinders contributes the equivalent of total output produced by one of Cummins' B-series, 5.9-liter-displacment, four-cylinder engines.

Although the QSK95 shares some systems and components with the QSK78 and other existing engines, the Hedgehog line will clearly provide unique features. For example, because the QSK95 will operate at 10% higher cylinder pressure than older QSK models, its design includes a new ductile iron block and an extended block skirt for higher structural strength and improved capability for multiple overhauls. An internal stiffening bedplate minimizes vibration.

Single-piece, forged-steel pistons provide durability and reuse capability at rebuild. All three piston rings use premium materials, with the top ring Plasma Vapor Deposition (PVD)-coated. The hardened power cylinder features mid-stop cylinder liners and dual piston cooling nozzles, contributing to reduced piston ring temperatures and increased wear resistance.

The stronger design is intended to improve reliability in-service while requiring less to rebuild at engine overhaul, reducing total life cycle costs. According to Cummins, the QSK95 will be capable of consuming 1.7 million gallons or more of fuel before overhaul, with no midlife intervention required.

The QSK95 will be available as a global mining engine platform capable of operating at mine sites anywhere in the world and meeting all emissions standards, using Cummins proven Selective Catalytic Reduction (SCR) aftertreatment.

Cummins said it designed the SCR aftertreatment system to provide a flexible installation package for Tier 4 Final and similar ultra-low emissions standards. Even with inclusion of the SCR infrastructure, space remains available for additional Particulate Matter (PM) reduction technology if required for specific applications.

Depending on the duty cycle, Cummins said its SCR system is capable of achieving fuel savings of 5%–10%, together with a significant reduction in CO2 emissions. The SCR fuel savings are incremental to those already realized by the high-pressure fuel system, reducing the cost of operation by more than the cost of Diesel Exhaust Fluid required for the SCR system.

By using SCR aftertreatment, the QSK95 avoids the need for an Exhaust Gas Recirculation (EGR) system to reduce NOX. Dr. John Wall, vice president and chief technical officer, explained that controlling NOX in aftertreatment allows optimization of an engine's combustion event, leading to improved fuel efficiency.

Typically, he noted, NOX control and fuel efficiency are separate objectives that demand tradeoffs from each other to achieve their own maximum efficiency.

Service intervals are a minimum 500 hours, with the option of significantly extended oil change intervals available using the ELIMINATOR oil purification system, mounted on the engine.

Cummins attacked the goal of achieving a leak-free engine by installing "pressin- place" seals on all critical joints, such as the flywheel housing, gear housing and oil pan-to-cylinder block. A special perimeter seal to the cylinder head prevents airborne debris from penetrating this important interface. Four standardized Cummins Electronic Control Modules (ECMs) provide processing power and memory to monitor, control and protect the engine systems. One ECM monitors each engine quadrant, with all four ECMs grouped together for easy access at the front of the engine in a protected cover.

Cummins said the QSK95 has been purpose-designed to provide greater strength for powering ultra-class haul trucks—which the company predicts by 2015 will represent 30% of the global haulage fleet—and offers a 4,000-hp (2,983 kW) powerplant solution for future 400-ton behemoths.

Advanced electronics enable the QSK95 to be custom-calibrated for specific duty cycles, with the flexibility for performance to be optimized among fuel consumption, transient response and emissions reduction to suit different haul truck applications.

MTU Embraces EGR
MTU says it will be ready for the more stringent emissions standards as well, and will introduce EPA Tier 4 Final compliant engines for the mining industry in 2015, offering a product family ranging from 1,000–4,000 hp (800–3,000 kW) power output that will meet the standards without requiring exhaust gas aftertreatment.

MTU said its technology package for the next-generation Series 4000 engines includes high-pressure common rail fuel injection, two-stage turbocharging and EGR, an approach designed to offer very low-particulate and NOX combustion with low CO2 emissions. These key elements— all of which affect combustion efficiency—must be perfectly matched for optimum results, the company notes.

EGR works by adding cooled exhaust gas to the charge air, resulting in a lower combustion temperature and less NOX. MTU said its compact engine design allows all EGR components to be integrated into the engine with only minor impact on space requirements and the exhaust and intake air system. The company states that, compared with an engine application requiring an aftertreatment system, the EGR approach makes it easier for customers to upgrade mining vehicles to comply with new emissions standards. Additionally, EGR requires no additional consumables such as fluids, or tanks, piping and dosing equipment. The customer benefits in terms of reduced costs for handling and maintenance.

Accompanying MTU's EGR technology is Miller valve control for NOX reduction, which involves closing the inlet valves earlier than usual, thus reducing combustion temperatures and, consequently, NOX in the exhaust.

All engine and turbocharging functions are centrally controlled by MTU's ADEC (Advanced Diesel Engine Control) which provides improved engine management with superior precision in fuel volume delivery at high pressure, resulting in lower exhaust emissions and improved transient behavior, as well as reduced fuel consumption.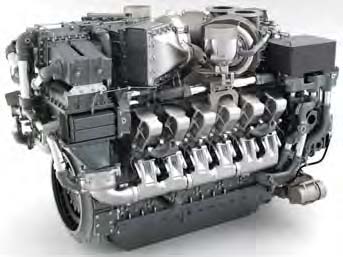 MTU says its next generation Series 4000 diesels
won't require exhaust aftertreatment to comply with
EPA Tier 4 Final emissions standards. Shown here is a
current 12V4000 model

MTU said it implemented a technology change from conventional mechanical fuel injection systems to the flexible, electronically controlled common rail system at a very early stage—even before emissions regulations demanded it—and its Series 4000 engine introduced in 1996 was the first large diesel engine to be equipped with a common rail system as a standard feature. MTU said it has, since then, continually improved the injection process and raised the maximum injection pressure. Today's third-generation common rail systems are able to inject the fuel with peak pressures of more than 2,000 bar—2,000 times greater than atmospheric pressure at sea level.

MTU also pointed out that, being specifically configured to meet mining engine specifications, its two-stage turbocharging setup is easily integrated into the overall Series 4000 engine package. This makes the engines compact—an advantage in mining applications where weight and installation space may be at a premium.

Cat Looks to Expand C175 Powerplant Opportunities
Caterpillar has stated it will use its proprietary ACERT technology as a foundation to implement next-generation turbocharging, advanced electronics, advanced fuel systems, particulate aftertreatment systems and a suite of NOX reduction technologies to provide Tier 4 emissions solutions. The company— not surprisingly, considering its need to assimilate the many facets of its Bucyrus acquisition—has been relatively quiet in recent months regarding future plans for its top-of-the-line C175-20 and C175-16 diesels, but it's likely to equip the Unit Rig haul truck line acquired in the Bucyrus deal with its C175 or 3500 Series engines, replacing the Cummins and MTU powerplants that have been standard equipment on those units.

And, with its acquisition of dieselelectric locomotive builder EMD in 2010, Cat also has opened an avenue for new, rail-related applications for its C175-20/16 diesels—interestingly, a market on which Cummins has placed a large bet that its QSK95 also will garner an increased market share of the largerlocomotive engine business.
---
As featured in Womp 2011 Vol 10 - www.womp-int.com