Semafo Signs Mining Contractor for Mana Underground
---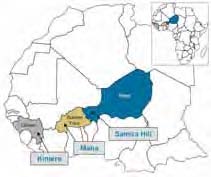 Semafo reported November 7 the signing of a letter of intern (LoI) with Dumas Con-tracting for development of the Mana under-ground project at Semafo's Mana operations in Burkina Faso. The LoI outlines the scope of work and responsibilities to be carried out by Dumas during an interim period leading to execution of a definitive agreement.

The feasibility study for the Mana under-ground was completed in March 2011, and Semafo elected to proceed with the project in May. Gold production from the project is estimated at 942,600 oz over a nine-year mine life at a mine production rate of 4,000 mt/d. Mining methods will be long hole transverse and longitudinal retreat. Initial capital expenditure is estimated at $140 million. Cash operating costs are estimated at $529/oz at full production.

Progress to date includes elaboration of longhole drilling plans, with various stope-type combinations; detailed monthly plan-ning for the first two years of development; test hole drilling at the portal and ventila-tion raise to certify rock elevation and qual-ity; and procurement of more than $10 million of general equipment and mining materials, including gensets, compressors, surface ventilators, underground support equipment, mine rescue equipment and dewatering pumps.

A camp expansion of 40 units to accommodate the underground teams has been completed, and construction of all other on-surface infrastructure is sched-uled for completion by the end of the first quarter of 2012.

Semafo also has secured additional new mining equipment from Dumas under the provisions of the LoI. Equipment for ventilation shaft development is expected to be on site for commencement of surface work in January 2012, while all develop-ment and production equipment is sched-uled to arrive on site in the second quarter of 2012. Dumas, in collaboration with Semafo, has initiated the recruitment process for national employees.

Semafo is also increasing processing capacity at Mana from 8,000 to 14,000 mt/d. Work on the expansion will begin in early 2012 and is scheduled for comple-tion during the second half of 2013. The project has the potential to add 120,000 oz/y to Mana's gold production, lifting it to more than 300,000 oz/y.

Mana produced 61,500 oz of gold dur-ing the third quarter of 2011 at cash oper-ating costs of $637/oz.
---
As featured in Womp 2011 Vol 10 - www.womp-int.com