Anglo American and Codelco Clash over Anglo American Sur
---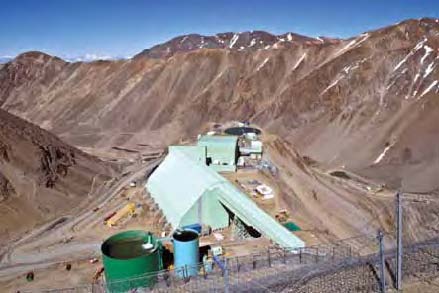 Shown here is the new Confluencia grinding plant at Anglo American's Los Bronces copper mine in Chile.
The facil-ity comprises a stockpile, mill building (containing one SAG mill and two ball mills), thickeners and
other associ-ated equipment. Anglo and Chilean national producer Codelco are embroiled in a disagreement
over the recent sale of a 24.5% share of Anglo American Sur—the assets of which include Los Bronces
and El Soldado mines— to Mitsubishi. (Photo courtesy of Anglo American)

Anglo American announced November 9 completion of the sale of a 24.5% interest in Anglo American Sur SA (AAS) to Mitsubishi for $5.39 billion. AAS assets include the Los Bronces and El Soldado copper mines and the Chagres copper smelter in Chile. The sale brought Anglo American into dispute with Chilean state copper producer Codelco, which had announced October 12 that it had secured financing of up to $6.75 billion from Mitsui for use in exercising an option to purchase 49% of AAS in January 2012.

Anglo American's transaction with Mitsubishi valued 100% of AAS at $22 billion. The $5.39-billion sale price was paid in the form of a promissory note deliv-ered by Mitsubishi. The transaction was unconditional and was completed immedi-ately following agreement on the terms of the transaction.

Anglo American stated the transaction is fully compliant with the provisions of the Codelco option agreement, "...which expressly contemplates the eventuality of Anglo American disposing of its AAS shares at any time prior to the date on which the option may be exercised and therefore no longer holding 100% of the shares in AAS. In such an eventuality, the percentage of shares in AAS over which Codelco may exercise its option is reduced by the percentage of shares in AAS not held by Anglo American at the time of exer-cise. The option is exercisable only during the month of January every three years until January 2027."

Codelco immediately took issue with Anglo American, saying its option on 49% of AAS was not compromised by the sale of the 24.5% interest in Mitsubishi. Anglo American disagreed. As of late November, the issue appeared to be headed to court. Meanwhile, Anglo American announced November 23 that AAS's Los Bronces expansion project had delivered its first cop-per production on schedule. The expansion is expected, on average, to more than dou-ble the mine's existing copper production of 221,000 mt/y over the first three years of full production. Processing plant throughput will increase from 61,000 to 148,000 mt/d.

Los Bronces is an open-pit copper and molybdenum mine located approximately 65 km northeast of Santiago at an altitude of about 4,000 m above sea level. The ore is extracted, crushed, and transported down a 56-km slurry pipeline to the Las Tórtolas flotation concentrator, where copper and molybdenum concentrates are produced. The mine also produces copper cathodes. The Los Bronces expansion project involved several sub-projects that spanned various geographical areas. A new primary crusher was installed near the Los Bronces open-pit, with crushed ore being fed by conveyer through a 4.4-km tunnel to the grinding plant at an area known as Confluencia. At Confluencia, a new stock-pile, a grinding building (with one SAG mill and two ball mills), thickeners and other associated equipment were installed to produce the slurry.

The slurry is then transported through a 56-km pipeline from the Confluencia grinding plant to a new copper and molyb-denum flotation concentrator built next to the existing concentrator at the Las Tórtolas complex about 45 km from Santiago at about 750 m above sea level.

Due to the more than 3,000-m differ-ence in elevation between Confluencia and Las Tórtolas, the pipeline system also required the construction of five choke stations to control the gravitational force of the descending slurry, and five pump stations to return water from Las Tórtolas to Confluencia.

The project also called for the con-struction of new 220-kV electric power lines to satisfy increased energy require-ments, in addition to improvements to the operation's tailings dam, fresh water sup-ply and water recirculation systems.

At its peak of construction the Los Bronces project employed approximately 16,000 workers directly and indirectly.
---
As featured in Womp 2011 Vol 10 - www.womp-int.com