Rio Tinto Adds to Simandou Funding
---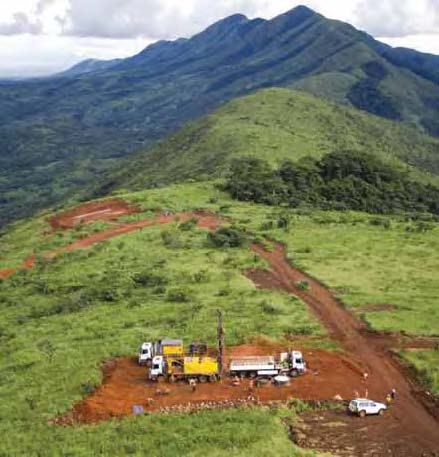 As exploration drilling continues at its Simandou iron ore project in Guinea, Rio Tinto plans to speed up
development by committing more than $1.3 billion for further studies, long lead-time equipment procurement
and earlystage civil works. (Photo courtesy of Rio Tinto)

Rio Tinto reported in mid-October 2011 that it has accelerated development of the Simandou iron ore project in southeast Guinea with approval of an additional $211 million for continued studies and $1.117 billion for commitments to early works and procurement of long-lead items. The funding is in support of the company's objective of moving the project toward shipment of first ore by mid-2015.

Work is progressing with Rio Tinto's project partner, Chalco, on obtaining required Simandou regulatory approvals, which, once granted, will trigger formation of an agreed Rio Tinto-Chalco joint venture. Finalization of an infrastructure investment framework, expected in early 2012, will also trigger the requirement for the government of Guinea to contribute its share of infrastructure project expenditure incurred to that time.

The new funding brings the total amount spent upon or committed to the Simandou project to $3 billion, including the $700- million settlement payment to the government (E&MJ, May 2011, p. 18). Of this amount, approximately $2 billion has been allocated to mine-related costs and $1 billion to infrastructure requirements.

The Simandou project is currently held by Rio Tinto subsidiary Simfer, whose shareholders are Rio Tinto (95%) and the International Finance Corporation (IFC), a member of the World Bank Group (5%). Once the joint venture agreement with Chalco is complete, Rio Tinto's 95% interest in Simfer will be held by the joint venture, with Chalco acquiring a 47% interest in the joint venture by providing $1.35 billion on an ongoing earn-in basis.

Rio Tinto's agreement with the government grants the government the right to take up to a 35% interest in the Simandou project under specified conditions over a period of 20 years. As the government stake increases, the ownership of other shareholders will be reduced proportionally.

A new rail line through Guinea and a new Guinean port will be constructed to serve the project.
---
As featured in Womp 2011 Vol 09 - www.womp-int.com