Trevali Expects Production from Santander in 2012
---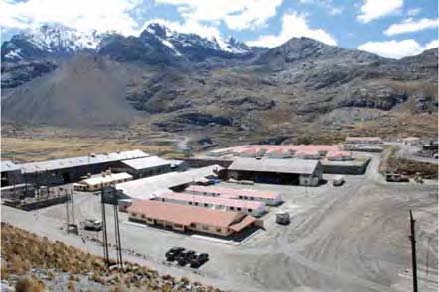 Trevali Resouces was scheduled to complete most infrastructure construction by mid-November in support
of its Santander mine redevelopment project. Shown here are the administration offices, assay lab,
concentrate filter house, concentrate storage, workshops and housing.
(Photo courtesy of Trevali Resources)

Trevali Resources reported October 19 that construction is advancing on multiple fronts at its project to re-develop the Santander zinc-lead-silver mine, located about 200 km by road northwest of Lima, Peru. The company currently anticipates that production will begin late in the first quarter or early in the second quarter of 2012.

The Santander project is being developed under an agreement between Trevali and Glencore International, whereby Trevali retains 100% ownership of the project, while Glencore is constructing and will operate a modern 2,000-mt/d mill and flotation plant to produce zinc and lead-silver concentrates. Glencore is also providing project management and operational expertise on a contractor basis to design, develop and operate the future mine using a combination of open-pit and underground mining techniques. Trevali is providing exploration, permitting and community relations for the partnership.

Construction of infrastructure to support underground mining operations at Santander began in July 2011 and was on track to be finished by mid-November. Progress included preparation of the main mine adit, construction of mine offices and trackless equipment maintenance facilities, installation of mine electrical and ventilation systems, and construction of a mine-water treatment facility, a dry and lamp house, a training center, and other ancillary facilities.

The former Santander plant structures and equipment have been rehabilitated and earth-moving and foundation preparation is in ongoing. Construction of a 65.5-km power line to provide power for the project was approximately 60% complete, and construction is under way for the Santander 50-kW main electric substation. The power line and sub-station will connect the Santander project to Peru's national grid.
---
As featured in Womp 2011 Vol 09 - www.womp-int.com