Molycorp Accelerating Planned Expansion Startup
---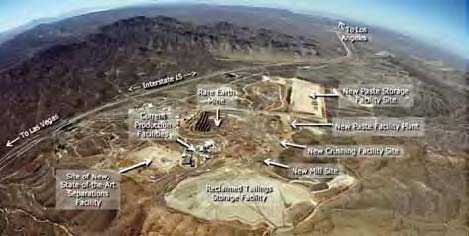 Molycorp's Mountain Pass, California, rare earth mining operation. (Photo courtesy of Molycorp)

Molycorp announced plans October 20 to accelerate by approximately three months the initial start-up of its stateof- the-art rare earth processing facility, now under construction at Mountain Pass, California. The plant is part of the company's two-phase Phoenix project, which is designed to lift its production of rare earth oxide equivalent first to 19,050 mt/y (Phase 1) and then to 40,000 mt/y (Phase 2). Phase 1 of the expansion had been planned to start up in late 2012.

Molycorp President and CEO Mark A. Smith said accelerating the facility's initial start-up will increase the company's estimated 2012 production of rare earth oxide equivalent by approximately 3,500 mt to 8,000 to 10,000 mt and will enable the company to achieve its full Phase 1 production rate of 19,050 mt/y three months earlier than previously planned. In anticipation of the facility's accelerated start-up, Molycorp began mining and stockpiling fresh rare earth ore in late October.

Construction of the Phoenix Project began in January 2011. When Phase 1 is completed, Molycorp's Mountain Pass assets will comprise the world's first fully integrated rare earth mining and manufacturing operation, producing high-purity rare earth oxides, metals, alloys and neodymium-iron-boron (NdFeB) permanent magnets. Start-up of Phase 2 is planned for late 2013.

Capital expenditures for the Phoenix project had been planned at $781 million. Acceleration of the project will add $114 million to the total. The acceleration effort will be funded from current cash flow and existing cash balances.

"We are accelerating our start-up because of robust rare earth oxide markets and very favorable project economics," Smith said. "Every month we accelerate our start-up provides that much more product to customers who need it now. This acceleration also expands the diversity of global supply, which is an increasingly urgent matter for rare earth consumers.
---
As featured in Womp 2011 Vol 09 - www.womp-int.com