Two Chinese Companies Bid for African Resources
---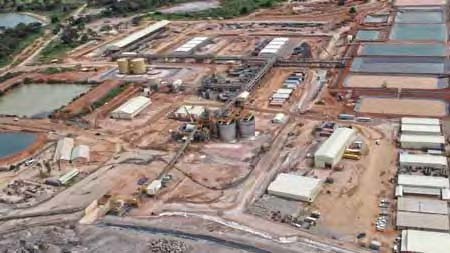 Aerial view showing Kinsevere SX-EW Stage II project at 90% completion. (Photo courtesy of Anvil Mining)

Two Chinese companies, Minmetals Resources and Hanlong Mining, made agreed offers in late September and early October 2011 for, respectively, Anvil Mining and Sundance Resources, each of which has a major resource development project in Africa. Minmetals' bid valued Anvil at about C$1.33 billion; Hanlong's bid valued Sundance shares it did not already own at about A$1.34 billion. At the time of its offer, Hanlong already held an 18.6% interest in Sundance.

Minmetals/Anvil: Minmetals and Anvil announced their agreement September 29, 2011. The offer was all cash. Minmetals entered into a lock-up agreement with directors, senior officers and Anvil's major shareholder, Trafigura Beheer B.V., to tender 40.1% of the total shares into the offer. The Anvil board unanimously approved entering into a support agreement and recommended Anvil shareholders

Anvil Mining's interests include a 95% equity interest in the Kinsevere copper project and a 70% equity interest in the Mutoshi project, both in Katanga province of the Democratic Republic of the Congo (DRC). Anvil also holds 14.5% of the issued and outstanding capital of Mawson West Ltd., which has a large interest in the Dikulushi mine in the DRC and additional interests in a number of exploration properties in the DRC.

Anvil announced in mid-August 2011 that construction of the Kinsevere Stage II solvent-extraction/electro-winning (SX-EW) plant was essentially complete, with commissioning and ramp-up progressing in accordance with the company's expectations. Anvil expected the SX/EW plant to achieve commercial production in the third quarter of 2011. Design capacity of the plant is 60,000 mt/y of copper cathodes.

Anvil was also investigating options to expand capacity of the SX/EW plant. Mine life is currently estimated at 14 years. In announcing its bid for Anvil, Minmetals made note of the fact that it can "leverage off its significant experience in similar operations, such as its Sepon project in Laos, which will produce around 80,000 mt of copper cathode in 2012."

Minmetals operations include its Century zinc mine in Queensland, Australia, Sepon copper and gold operations in Laos, Golden Grove underground base and precious metals mine in Western Australia, and Rosebery polymetallic mine in Tasmania. The company is headquartered in Australia, is listed on the Hong Kong Stock Exchange, and is supported by its majority shareholder, China Minmetals Nonferrous Co., Ltd.

Hanlong/Sundance: Hanlong and Sundance announced their agreement October 4, 2011. The offer was all cash. The board of directors of Sundance Resources recommended its shareholders accept the offer, which represented a 14% increase over a previous offer made by Hanlong in July 2011.

Sundance is an Australian junior based in Perth that is developing the Mbalam iron ore project, which spans the border between Cameroon and Republic of Congo in central-west Africa. The project is focused on development of two mines, construction of a 510-km rail line dedicated to iron ore transport to the Cameroon coast, and construction of a deep water port capable of servicing bulk iron ore carriers.

Mbalam project development "promises to unlock the world's next major iron ore province," Sundance said in the statement announcing its agreement with Hanlong. Project resources include 521.7 million mt grading 60.7% iron and a further 2.3 billion mt of itabirite hematite grading 38% iron. Stage one of the project is targeting production of 35 million mt/y of high-grade hematite direct shipping ore for 10 years; stage two planning calls for production of 35 million mt/y of itabirite hematite concentrate for an additional 15 years.

The Sundance-Hanlong agreement is conditional on regulatory approvals by the governments of Australia, the Republic of Cameroon, the Republic of Congo and the People's Republic of China. The companies currently anticipate the transaction will be completed by May 2012.

Hanlong Mining is a subsidiary of Sichuan Hanlong (Group) Co. Ltd., one of China's largest private enterprises. In Australia, Hanlong also holds a 57% interest in Moly Mines and 11.5% of uranium explorer Marenica Energy. In the United States, Hanlong holds a 12.5% interest in General Moly and will be assisting with the procurement of project finance for General Moly's Mt. Hope molybdenum project in Nevada.
---
As featured in Womp 2011 Vol 09 - www.womp-int.com