Cone Crushers: The Suppliers' Perspective
Leading manufacturers offer perspective on the market, evolving technology and the future
By Simon Walker, European Editor
---
The last time that E&MJ looked at crushing technology (November 2010, pp.38-42), the focus was predominantly on primary crushers and mobile units. Here, we turn the spotlight on cone crushers, used more often for secondary and tertiary crushing duties in both the mining and aggregates industries.
Industry consolidation over the past 20 years has resulted in a much smaller pool of suppliers servicing the market, although—as in the construction sector—Chinese equipment manufacturers are becoming increasingly international in their marketing approach. While Chinese-supplied crushers may well find their way into projects in which there is a significant Chinese funding contribution, for the established sector the choice stands between machines from four major manufacturers: Finland's Metso Minerals, Sandvik Mining & Construction from Sweden, the U.S. arm of Denmark-based FLSmidth, and Telsmith, also from the U.S.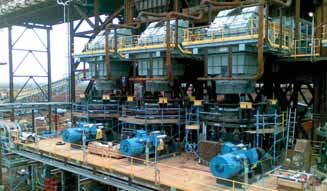 FLSmidth recently introduced the 2,000-hp Raptor XL2000 cone crusher which
offers twice the capacity of its previous top-of-line XL1100, shown here in an
installation at an iron ore processing plant.

Recent Addition to the Raptor Range
Last year, FLSmidth introduced a new top model to its Raptor cone-crusher range, the XL2000. With effectively double the capacity of the previous top-of-the-range XL1100, the XL2000 cone is powered by a 2,000-hp (1,750-kW) motor, making it ideal for high-tonnage mining operations, the company states.

FLSmidth adds that its new machine provides opportunities for linking cone crushers directly to a primary crusher, offering the capability of producing up to 10,000 t/h of minus 125-mm material when a primary gyratory is followed by XL2000 cone crushers. "The advantage of producing a finer product and higher total tonnage from a primary gyratory and XL2000 is that fewer screens and crushers will be required in later stages to prepare material for milling or leaching. Because of this, the XL2000 cone crusher provides a better return on investment for high-tonnage applications," FLSmidth said.

Innovations introduced on the XL2000 include double-acting tramp-release and clearing cylinders, and easy access to critical load-carrying bearings. The machine also has a sleeved main shaft to allow for rapid disassembly and access to all bronze bearings/bushings for inspection or replacement, and an improved seal design to help reduce failures caused by material ingress.

FLSmidth can supply its Raptor cone crushers with input power ratings from 300 to 2,000 hp, suitable for installing in both mobile and stationary applications. The three largest machines in the range, the XL900, XL1100 and XL2000, are the most likely to appeal to the mining sector. With a 1.8 m (71 in.) crushing head, the XL900 can take feed material up to 14.57 in. (313 mm) with a maximum throughput of nearly 1,400 t/h (1,270 mt/h). The XL1100, meanwhile, is capable of taking minus-24 in. (620 mm) feed.

Two recent equipment-supply orders announced by the company have included cone crushers within the machines being provided. In November, the award of a $30-million contract by the Indian state company NMDC Ltd., included a cone crusher in the equipment being sourced for its Kumaraswamy iron ore project. This order followed one earlier in the year from Mineral Lumina Copper for its Caserones copper-moly project in Chile, where FLSmidth cone crushers will form an integral part of the 105,000 mt/d processing circuit.

Wear Monitoring Helps Maintenance
IAn Astec Group member company, U.S.-based Telsmith reports that its SBS and SBX cone crushers offer state-of-the-art technology that has evolved from more than 100 years of experience. Standard features include hydraulic overload protection, chamber clearing and pushbutton adjustment control with digital setting display, while options include a no-maintenance, hydraulic antispin system that reduces manganese wear costs, and the company's TRAC10 automated crusher-control system that, it claims, improves efficiency and reduces operating costs.

The company's current cone-crusher portfolio includes five SBS models, with power requirements ranging from 200 to 600 hp, and three SBX models (300, 400 and 500 hp). SBS cone crushers can handle both coarse and fine crushing from secondary to fourth-stage applications, while the SBX models are designed for extra-coarse secondary crushing. The SBX machines can also accept larger feed, fitting into secondary crushing circuits that once required larger, more expensive machines, Telsmith notes.

Telsmith cone crushers feature a cam-and-lever crushing action, allowing them to work with many different liner profiles. The company states that in most installations, an anti-spin system will deliver longer liner life, and claims its hydraulic anti-spin design is the most advanced available. A small, low-maintenance hydraulic motor, coupled to the main shaft, allows the head to spin only in the crushing direction, while the system can interface with automation systems to provide greater crusher protection and automatic setting calibration.

Its crushers also feature an advanced clearance system that can be used in the event of a power failure or when tramp metal enters the crusher. The push-button system works by lifting the upper frame vertically, allowing material in the chamber to fall through the crusher quickly and safely, giving the minimum of downtime.

The TRAC10 is a stand-alone remote-control system that monitors crusher operations, provides automated calibration and setting controls, and protects the crusher from overload.

Optimum crusher settings are maintained via remote adjustment, with the crusher operator able to initiate an automated calibration process via a touch-screen monitor. The operator can also modify the crusher setting at any time, even while crushing, with the system providing warnings when liner wear reaches various set levels between 50% and 100%.

Sensors continuously monitor crusher lube, hydraulic and electrical systems, making adjustments and providing advanced warnings, with historical records and trending data providing additional tools that can be used for predictive maintenance.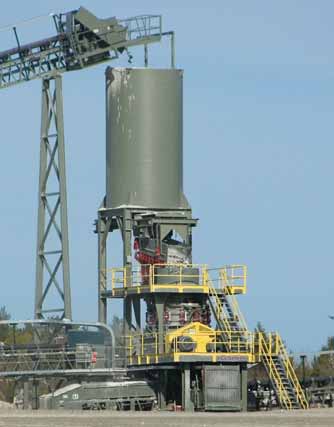 A Telsmith cone crusher in a surface installation. The company's current
cone-crusher portfolio includes five SBS models, with power requirements ranging
from 200 to600 hp, and three SBX models rated at 300, 400 and 500 hp.
Multiple Choices of Liners and Throw
Sandvik reports that its mining cone crushers are of advanced design with a small footprint and high capacity in relation to their size. They have a high reduction efficiency and high capacity in round-the-clock mining operations. Major features include hydraulically adjusted closed-side setting (CCS), Sandvik's Automatic Setting Regulation (ASRi) system, and a choice of several different crushing chambers.
The company's CS and CH series of cone crushers have a wide field of use, as they can easily be matched to changes in production through the proper selection of the crushing chamber and eccentric throw. Its cone crushers are designed for secondary, tertiary and pebble crushing, while their easy-to-install and easy-to-service design allow them to be used in replacement, expansion or greenfield projects.
With Sandvik's Constant Liner Performance (CLP) design, the almost vertical profile of the feed opening area means the shape of the crusher chamber remains virtually unchanged throughout the wearing life. In combination with CLP crushing chambers, high motor powers give its crushers capacities that are in most cases comparable with those of other, larger crushers. It cites advantages of CLP as being constant feed acceptance capability; increased output; and increased liner life, leading to lowest total cost.
Sandvik offers four models in its CS range, and six in the CH series, with the largest of these, the CH880, taking an 800-hp (600-kW) motor and capable of handling up to 2,130 mt/h. Its feed size capabilities range between 75 and 370 mm (2.9–14.6 in.), with a CCS range of 8–70 mm (0.3–2.8 in.). Two newly designed models, the CH890 and CH895, will supersede the CH880, with both new machines designed to increase operational performance in both secondary, tertiery and pebble crushing. They will have increased power (1,000 hp) and significantly increased crushing force, Sandvik says.
Last year, Sandvik delivered eight cone crushers to the Russian iron ore producer, Stoilensky GOK, as part of a program aimed at upgrading its secondary and tertiary crushing plant. These units followed four CH880s that were supplied in 2006—machines Sandvik says led to a considerable increase in productivity.
In Australia, meanwhile, 12 CH880 cone crushers are currently being installed for the major Sino Iron project in the Pilbara region of Western Australia. These will function as pebble crushers, and are being installed in pairs to serve six mill circuits.
Maximum Power, High Performance
Metso offers three ranges of its Nordberg cone crushers, the GP, HP and MP series. The company notes the GP concept allows big feed openings with a fairly small cone diameter, adding this is especially important in secondary applications since it means the primary crusher can be opened wider, giving the possibility of higher throughput. GP machines are usually equipped with the Nordberg IC50 automation unit which, Metso says, guarantees constant choke feeding, improves the liner utilization rate, and enhances end-product quality by promoting inter-particle crushing.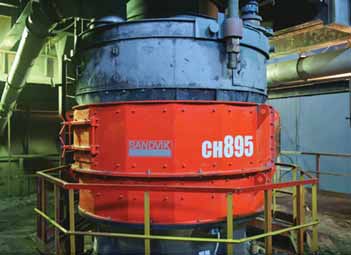 Sandvik has designed its new CH890 and CH895 models to provide increased power
and crushing force.

Most GP cone crushers are equipped with a patented piston design, which gives a lower installation height and, in turn, helps cut installation costs as well as making the machine suitable for mobile crusher applications.

Typical applications for Nordberg MP cone crushers include secondary and tertiary crushing for feeding grinding circuits and leach pads, Metso says. With MP designating "maximum power," Metso claims the two models in the series, the MP800 and MP1000, can process more ore to the same reduction, or the same amount to a finer reduction than any competing machine. Features include a rotating bowl to give even liner wear, automatic tramp release and a large feed opening, with the units designed to fit onto a 7-ft (2.1-m) Symons crusher foundation.

The most recent additions to Metso's HP series, the HP4 and HP5, build on the company's previous six-model range. With HP standing for "high performance," these units give the operator the option of producing much finer products with fewer crushing stages, Metso says, thus lowering investment costs and saving energy. A combination of optimized speed and large throw gives these machines the highest reduction ratios of any current cone crusher, the company claims, a result of their power utilization measured on a cone-diameter basis.

Capable of handling materials as diverse as limestone and taconite, the HP cone crushers offer versatility, allowing users to change rotational speeds and liner configurations quickly and easily. This gives the potential for changing the machines from coarse to extra-fine crushing, depending on the product specifications needed.

Metso points out the HP4 and HP5 have an advanced fastening system for the mantle and bowl liner that makes backing mate-rial unnecessary, and makes liner changes faster. When liners are changed or the crusher is reconfigured, the same hydraulic motors that rotate the bowl for setting adjustment will rotate the bowl completely out of the adjustment ring threads, greatly simplifying liner replacement.

The Technology Develops
E&MJ asked each of the major manufacturers for their perspective on various aspects of cone-crusher technology, from developments that have taken place over the recent past, to the way ahead in crusher design and the potential impact of other players in what is currently a tightly-held market.

Asked to summarize the major developments that there have been in cone crusher design over the past 10 years, Jouni Mähönen, product manager for cone crushers at Metso Minerals, said wear-part development—in terms of both materials and liner profiles—has been remarkable over recent years, and will continue. "The pressure is huge to provide long-lasting liners, while consistent performance over the liner lifetime is very important in liner development," he said.

The development of high reduction ratios has also been important. "The recent HP-range developments have been the HP4 and HP5. The technological innovation in these machines is the full utilization of cone-crusher parameters and theory in practice," Mähönen said.

"Higher reduction ratios and greater yields mean that this a way reduce the number of operating machines, with a new-generation unit capable of replacing a larger old-technology cone crusher, or two of the same head diameter."

John Olsen, vice president for international sales at Astec Industries, agreed. "Telsmith cone crushers have been improved through an increased use of automation, by designing higher horsepower machines with a more efficient use of the power, and by making smaller machines more efficient through geometry and speed of crushing," he said.

From Sandvik's perspective, major improvements have been made to further optimize the overall design, improve the crushing chambers, increase power, increase the crushing force, improve durability, improve serviceability (i.e., increased safety, ease of access) and improve the strength and wear-resistance of materials. Torbjörn Nilsson Wulff, the company's product line manager for mining cone crushers, added that advances in setting regulation (such as Sandvik's ASRi) have also been introduced. "All of these major developments have led to significant productivity gains," he said.

Fred Gross, global product director for minerals at FLSmidth, looked at some of the technical achievements from a hardware point of view, listing innovations such as the optimization of gradation control, the development of superior bronze bearing technology, and the design of high-strength load-bearing components. "Production versatility has also improved markedly," he said, while other major advances have come with the development of fail-safe hydraulics to ensure protection from mechanical overload, and the counter-clockwise rotation feature adopted by the company in its cone-crusher designs, which prevents the cone from self-tightening when movement in the adjustment ring becomes excessive.

Optimizing Performance
Mähönen (Metso): Crusher effective stroke adjustment through changing the eccentricity or speed is definitely the way to adjust the throughput capacity to production needs and utilize the crusher installed power. The active setting adjustment is needed for end product calibration. The shape of the end product is managed by controlling the crusher kinematics, which means all of the available parameters, together with liner profile design.

A cone crusher can be optimized (proper liner configurations, speed and kinematics) for maximum performance when the feed distribution and ore characteristics are constant. However, in the real world the feed distribution and ore characteristics are always varying. Crusher designs today are well-suited for optimizing cone crusher performance, especially when product sizing requirements are critical, with the ability to vary and hold settings. It is often the case that crusher performance can be optimized most effectively by having proper screening, plant layout and feed-control arrangements.

Crusher wear-part material development is targeting for longer lifetimes. While new, harder and more abrasion-resistant materials are being developed all the time, the manufacturing application of cone-crusher wear parts is demanding, so the manufacturing techniques need to be developed as well.

Automation and control support the crusher when the feed is consistent, or react and adjust it when the feed becomes unstable. In both cases, automation helps to optimize the crusher's performance, giving consistent, predictable production of the end products that are wanted. The development of sensor technologies will provide more opportunities for 'smart' adjustment of both the crusher and other machinery near it.

Nilsson Wulff (Sandvik): Specialization will increase efficiencies. By optimizing and designing a crusher to match a customer's applications, cone crushers will be more "tailor-made," leading to increased production efficiencies. Robust structural design of the bottom shell, as well as using stronger alloys for key components, will result in a better product for mining customers.

Robust sealing to the inner crusher mechanics provides more effective protection against dust and other unwanted particles— reducing maintenance and increasing the life of the crusher. An over-pressure system to keep the lubrication oil clean, hence increasing the time between servicing and reducing the number of oil changes, will also contribute to increased productivity.

In terms of control and automation, Sandvik's cone crushers provide automatic overload protection. A combination of Hydroset and ASRi offers possibilities of true automation of the setting, facilitating online adjustment during full load and ensuring peak performance at all times. Faster signal analysis and response time could further improve operational efficiencies, while the external monitoring of auxiliary systems could also help optimize cone-crusher performance.

Olsen (Telsmith): There have been substantial advances in the study of the effects of speed and throw on crusher performance, which have been incorporated into Telsmith cone crushers. There has also been a minimization of maintenance times and costs to provide a lower overall cost of operating. By monitoring our cone crushers out in the field, there has been continuous improvement regarding the life of wear components, and the endurance of critical components.

Improving the productivity of cone crushers by automating their key functions will allow them to operate at peak performance while crushing. Critical machine operational data must also be collected and tracked, and can then be used for real-time protection, diagnostics, operational and maintenance adjustments. Gross (FLSmidth): The key is to have automation controls to improve crushing performance, with self-contained controllers providing full-time monitoring.

Making Maintenance Safer
Nilsson Wulff (Sandvik): Like all mining equipment, proper and regular scheduled maintenance is required in order to reduce unwanted breakdowns that can lead to major unexpected production costs. Lubrication is absolutely vital, and an off-line filtration unit increases up-time and wear life and cuts operating costs.

Ease of access, such as top serviceability and using specially designed tools, will lead to improved safety for crews who are tasked with maintaining cone crushers on site.

Gross (FLSmidth): Easy accessibility to major components is essential for making maintenance as safe as possible.

Mähönen (Metso): Generally maintenance should be made as easy and safe as possible. This means components need to be developed that have lower maintenance requirements and/or safe and easy accessibility. Crusher lubrication plays the most important role in respect to sensitiveness for crusher failure, so the lube unit and monitoring the oil flow and quality is important.

Maintenance is an area of challenge, especially for mining-size crushers; as crushing equipment becomes larger, the individual components get larger as well. Transport restrictions makes optimizing the completeness of crusher component/assemblies (as far as installation is concerned) limited. Having said that, in some parts of the world Metso has been very successful in terms of being "fitter-friendly," with MP1000 cone crushers being completely assembled before delivery to site.

Health and safety are very important for everyone operating with crushing equipment. The development of safe lifting tools is important, as the components that need to be lifted—such as wear parts—are very special, and cannot be lifted with hook and chain. Metso will be launching a new mantle-lifting tool for its HP cone crushers in 2011.

Olsen (Telsmith): Serviceability is the key here. Telsmith believes ease of maintenance is critical for our customers. That is why we are focusing on lengthening maintenance cycles and making common maintenance components more fitter-friendly, enabling our customers to perform most routine maintenance.


Future Development: The Five-Year Forecast
Mähönen (Metso): One area of development is improving crushing diagnostics and crusher performance status-monitoring even more than today. Automation will develop all of the time when other industries develop sensor techniques that can be used in the crushing industry.

The critical factors in cone-crusher design are the head diameter, head angle, length of stroke and eccentric speed. By understanding the combination of previous, you can choose the direction of cone-crusher development.

The development of cone crushers will continue in the direction where operating costs per ton will be the lowest. This means more production from less, with wear-part profile development having big potential for energy saving in terms of kWh/ton.

Olsen (Telsmith): A key area for improvement will be improving the life of wear materials within the crusher itself. Telsmith is also utilizing increased automation to improve the efficiency of its cone crushers.

Gross (FLSmidth): The technology focus for the next five years will be on increased horsepower, greater access to critical components, and increased portability.

Nilsson Wulff (Sandvik): Specialization increases efficiency. The specially designed, strength-optimized top shell and dedicated crushing chambers of Sandvik's new CH895 model, for instance, make it ideal for tertiary and pebble crushing, while the new CH890 model uses a top shell and crushing chambers dedicated to secondary crushing. Both units have more power and increased crushing force in order to increase productivity.

The new main shaft, made from a new high strength material, is designed to withstand harsh mining conditions. The strength-optimized bottom shell design allows for greater loads, while the heavy-duty structural design ensures durability and longevity in the most demanding mining conditions.

Wider Applications for Cone Crushers?
Nilsson Wulff (Sandvik): Crushing in stages, as an alternative to SAG milling, generates the same size reduction but with a lower total power consumption (crushing vs. milling). Rising energy costs and the benefits of cone crushers to reduce operating costs will hopefully shift the landscape in favor of crushing circuits.

Mähönen (Metso): Applications are getting wider all of time, especially where recycling raw materials from different industries needs particle breakage and re-utilization in the original industrial process. Slag, ferrochrome and demolished concrete are just three examples. The crushing of high-temperature feed material is one specific requirement, and Metso is developing sustainable optional solutions that can be used with our standard cone crushers.

Automation Benefits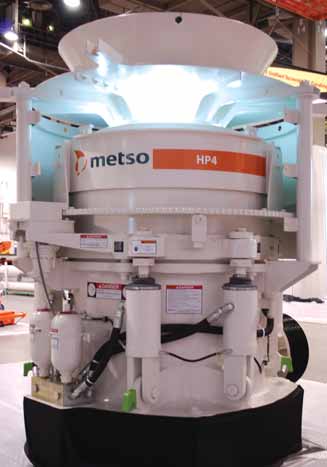 Metso says its HP4 cone crusher offers features and performance that can reduce
investment costs and save energy.

Mähönen (Metso): Most of our customers choose our cone-crusher automation package. The reason for the success and widespread use of our crusher automation system is that it has been developed to control our selected components, and it provides correct and safe start-up sequences (lube unit pump, discharge conveyor, crusher, feeder and so on) and shut-down sequences in a similar way. It monitors the crusher status, so the power draw, pressure levels and temperatures are in the right area.

Automatic wear compensation keeps the crusher setting constant even if the CSS increases because of lining wear. Feed level control keeps the crusher choke-fed, and the feed level at a selected point to provide consistent crushing. In summary, we can say automation gives better availability, efficiency and consistency, as well as safety in cone-crusher operation.

A technical paper presented by Metso at the Procemin 2010 seminar in Chile on "Cavity Level Effect on Cone Crusher Performance and Production" reported the results of experiments that proved the benefits and productivity gain of having controlled feed levels in the crushing cavity.

Olsen (Telsmith): On average, Telsmith customers realize a 10%–15% improvement in productivity with automation. Automating key functions like maintaining the crusher settings throughout the operation will maximize the net finished product while minimizing the re-crush load.

Nilsson Wulff (Sandvik): With ASRi, the actual load inside the crusher is continuously monitored. This makes it possible to optimize crusher utilization, allowing our customers to squeeze the ultimate performance from their machine at all times. The system also keeps track of liner wear, making it easy to plan liner changes and minimize interruptions in production. Finally, the ASRi system can be integrated with sophisticated plant-control systems.

Sandvik's Hydroset system provides safety and setting adjustment functions, and incorporates a heavy-duty hydraulic cylinder that supports the main shaft and adjusts its position. The system also provides automatic overload protection to allow tramp iron or other uncrushable material to pass through.

What About Competition from China?
A quick Web search revealed a number of mainly Shanghai-based manufacturers who are offering cone crushers to the international market. E&MJ asked each of the respondents who participated in this article for their views on the potential threat these pose to the established suppliers.

FLSmidth's Fred Gross was forthright in his response. "Chinese competitive cone crushers are a threat in both the mining and aggregate sectors as they are copying Western cone technology," he said.

Expressing Telsmith's point of view, John Olsen said: "Our Chinese competitors are continuing to improve the quality of their product offerings, increasing overall market share in both the aggregate and mining sectors."

From Metso, Jouni Mähönen said: "At the moment, the clear trend is that the Chinese companies are focusing heavily on the construction segment, with only limited impact on the mining segment. We have seen the Chinese companies produce old-technology machinery we rejected decades ago. However, the threat is obvious as their strategy can change almost overnight. Globally I can see that serious mining and construction customers trust our product knowledge, development skills and industrial benchmark. They appreciate the skills we have to develop new products, systems and automation that are always targeting the lowest operation cost/ton in the market. This is still our strength."

His view was reinforced by Torbjörn Nilsson Wulff at Sandvik. "Any new competitor is a threat, but Sandvik's mining offering goes beyond just supplying cone crushers. Continuous investments in research and development produce a constant flow of innovative technical features. By combining intelligent technology, advanced engineering skills and service and support, the outcome is maximum productivity for our customers." Despite today's tightly held supply position, cone crusher technology continues to evolve, with the world's leading manufacturers all investing in the development of new innovations that will make the concept more productive and cost-effective. Add to that the widening application field, and it is clear cone crushers will continue to be a key component of comminution circuits for both mining and aggregates production.

.
---
As featured in Womp 2011 Vol 05 - www.womp-int.com