Study Supports Husab Uranium Project Development
---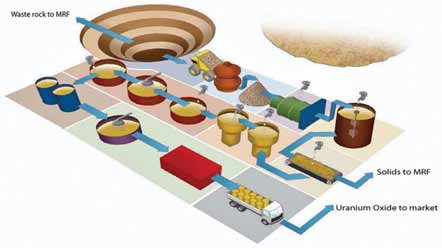 As illustrated in this simplified diagram, processing of uranium at Husab is based on conventional technology,
with crushing and grinding producing a coarse product for agitated-tank sulphuric acid leaching, followed by
solid-liquid separation, ion exchange, solvent extraction and precipitation before drying and packaging of the
final product. Waste rock and tailings are sent to the Mine Residue Facility
Extract Resources has announced details of a definitive feasibility study that supports development of its Husab uranium project in Namibia. Capital cost to develop the project is estimated at $1.48 billion, including initial mine fleet, process plant and supporting infrastructure. Pre-stripping and other pre-production operating costs increase estimated total pre-production spending to $1.66 billion.
The feasibility study calls for mine production from two open-pits to feed a conventional acid leach plant producing 15 million lb/y of U3O8. Production costs are estimated at $28.5/lb of U3O8, excluding royalties, marketing and transport. Operating costs, including royalties, marketing and transport, are estimated at $32/lb.
Project scheduling indicates an engineering and construction period of 33 months from project approval to hot commissioning. Critical path items are construction of key infrastructure, including power and water supply, and procurement of a mining fleet.
The Husab project is located 60 km northeast of the major deep-sea port of Walvis Bay. The project feasibility study is based on an initial reserve of 205 million mt grading 497 ppm U3O8 for a total of 225 million lb of contained U3O8. Pre-stripping ahead of mining will total 85 million mt. The mine plan assumes production of 15 million mt/y at an average strip ratio of 7:1.
Loading equipment in the mine will include three large, electric-powered rope shovels to mine bulk waste and a fleet of smaller diesel hydraulic shovels for ore loading. In-pit blending will minimize the need for rehandling of ore at the mine stockpile. Large electric-powered drill rigs will service the electric loading shovels, while smaller, more maneuverable diesel rigs will service the smaller diesel-powered shovels.
A fleet of 39 diesel-electric-drive haul trucks in the plus-300-mt class will transport both ore and waste. Trolley-assisted hauling is included in the feasibility study base case and will be implemented on most up-ramp sections of the open-pits and on ramps that access the mine residue facility.
The Husab process flowsheet is based on conventional technology, with crushing and grinding producing a coarse product for agitated-tank sulphuric acid leaching, followed by solid-liquid separation, ion exchange, solvent extraction and precipitation before drying and packaging of the final product. Based on the currently contemplated mine plan, overall process recovery is estimated at 88%. Plant tailings will be conveyed to the mine residue facility and disposed of alongside waste rock from the mine.
Ongoing drilling is expected to convert inferred and indicated resources to probable reserves in the area of the planned Husab pits. Extract is also continuing exploration of several mineralized zones on the property that are not included in the definitive feasibility study.
---
As featured in Womp 2011 Vol 05 - www.womp-int.com