Samarco Begins $3.5B Iron-ore Expansion Project
---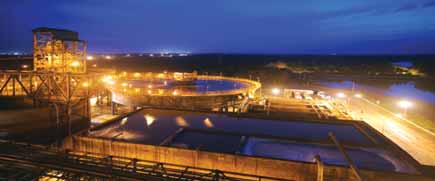 Samarco, an iron-ore joint venture of BHP Billiton and Vale, operates ore concentrators at Mariana and
Ouro Preto, Minas Gerais, Brazil, and three pellet plants at its Ubu unit, shown here, in Anchieta,
Espírito Santo, Brazil. (Photo courtesy of Samarco)
Samarco Mineração S.A., a 50:50 joint venture of BHP Billiton and Vale, began construction in May 2011 of a $3.5-billion project to expand its iron ore pellet production capacity by 8.3 million mt/y to 30.5 million mt/y. The investment includes additional mining capacity and a third concentrator at the company's Germano mines in Minas Gerais; a third slurry pipeline of approximately 400 km in length; and a fourth pellet plant and enhanced ship-loading capacity at Ponta Ubu, Espírito Santo. First production from the expansion project is scheduled for the first half of 2014.
The new slurry pipeline will add 20 million mt/y to Samarco's slurry pipeline capacity, providing transport capacity not only for production from the current expansion but for potential future expansions as well. Samarco has been granted all of the installation licenses required to proceed with the project.
BHP Billiton President Iron Ore Ian Ashby said, "Samarco is a low-cost supplier of high-quality iron ore pellets and over the last several years has been very successful in growing its resource base. This investment builds on its resource and operational strengths and will further improve Samarco's competitiveness and market position."
Founded in 1977, Samarco operates two open-pit iron ore mines in Minas Gerais. Reserves at the mines currently total about 2.1 billion mt. Ore is concentrated by a reverse flotation process that lifts contaminants to the surface and produces a slurry underflow ready for pipeline transport to the company's pellet plants. Port facilities include stockpiling facilities that have storage capacity for 1.8 million mt of pellets and ship-loading equipment that can load vessels at a rate of about 9,000 mt/h.
---
As featured in Womp 2011 Vol 05 - www.womp-int.com