Xstrata Outlines Plans for its North Queensland Operations
---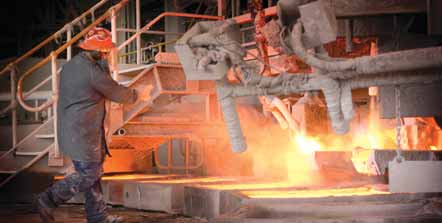 Xstrata Copper has announced plans to phase out copper smelting at its Mount Isa, Queensland, Australia,
operations, shown here, and copper refining at Townsville, Queensland, by the end of 2016. It will,
however, expand mining operations at Mount Isa and continue lead smelting operations there, and will
expand port facilities at Townsville. (Photo courtesy of Xstrata Copper)

Xstrata has announced plans to sustain the future of its Mount Isa operations in north Queensland through expanded mining and concentrate production, while phasing out copper smelting at Mount Isa and copper refining at Townsville by the end of 2016. Planning includes the expansion of existing mining operations and the potential development of new mines at Mount Isa and the broader region. Lead smelting will continue at Mount Isa, and port facilities at Townsville will be expanded.

"Market conditions have been very challenging for copper smelting and refining operations as a result of overcapacity in the global market, low treatment and refining charges, and increasing operating and capital costs. The economic viability of our Mount Isa copper smelting and refining operations has been under increasing pressure for a number of years and cannot be sustained in the long term," said Xstrata Copper North Queensland COO Steve de Kruijff.

"Our operational plan over the next five years will see significant investment in north Queensland to focus on exporting mineral concentrates, along with the development of the necessary infrastructure to increase rail and port capacity.

"We want to make it absolutely clear that we value our people. Our main priority is to ensure employees remain with the business, and we will be working closely with our workforce to deliver retraining and retention packages to support our operations well into the future," said de Kruijff.

Xstrata has 587 million mt of zinc mineral resources and 416 million mt of copper mineral resources (measured, indicated and inferred) at Mount Isa. The resources are potentially accessible through expanded underground and open-pit operations, and concept studies are progressing into their further development. Xstrata is currently investing A$463 million to expand its Mount Isa zinc-lead mining operations, with four significant development projects currently under construction and a further A$300 million of potential expansions under evaluation. Projects currently in progress include an A$274-million expansion at the George Fisher mine to increase production by 1 million mt/y to 4.5 million mt/y by 2013 and an A$112-million investment to deepen the Black Star open-pit mine and extend the mine's life to 2016.

At its Ernest Henry copper mine, Xstrata is currently investing A$589 million to transform the open-pit to a long-term underground mine and to construct an associated magnetite processing facility.

Prior to the announcement of its plans for its north Queensland operations, Xstrata announced on April 20, 2011, entry into an agreement with Exco Resources to acquire the E1 and Monakoff copper tenements near its Ernest Henry processing facilities. The $175-million transaction required Exco shareholder approval.

The E1 and Monakoff tenements contain open-pit copper mineral resources for which feasibility studies have been completed. Production from these deposits could make an incremental contribution to Ernest Henry production from the second half of 2012, including gold byproduct credits. Ore would be trucked from the E1 and Monakoff copper projects to Ernest Henry and processed through the operation's existing concentrator.

The E1 and Monakoff deposits have a combined, JORC-compliant resource of 52.1 million mt grading 0.77% copper and 0.23 g/mt gold at cut-off grades of 0.3% copper for E1 and 0.5% copper for Monakoff.
---
As featured in Womp 2011 Vol 05 - www.womp-int.com