Allied Nevada Updates its Plans for Hycroft Expansion
---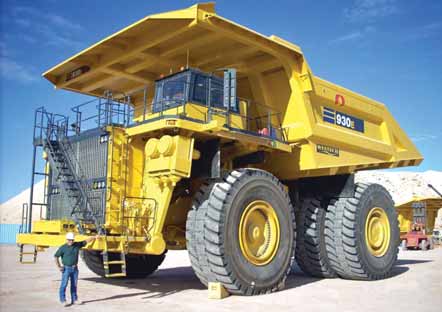 Allied Nevada has commissioned three new 320-ton Komatsu 930E haul trucks, which went into operation in
late 2010 as part of its expansion project at the Hycroft mine in Nevada. Additional 320-ton trucks will be
added to the fleet in 2011. (Photo courtesy Allied Nevada)

Allied Nevada has released updated reserve and resource estimates and accompanying amendments to the scoping study for a planned mill expansion at its Hycroft mine in northwestern Nevada, where 2011 production is currently projected at 115,000 oz to 125,000 oz of gold.

Measured and indicated heap leach mineralization (lower-grade oxide and transitional material) at Hycroft has increased to an estimated 4.8 million oz of gold and 109.8 million oz of silver (720 million st grading 0.007 oz/st gold and 0.15 oz/st silver), which would be processed via the current heap leach process. Measured and indicated mill mineralization, which includes higher- grade oxide, transitional and sulphide material, is estimated to contain 8.8 million oz of gold and 439 million oz of silver (620 million st grading 0.014 oz/t gold and 0.71 oz/t silver) and would be processed through the proposed mill.

The updated Hycroft mill scoping study reflects changes to the milling process, processing of concentrates, and updated capital and operating costs. For the initial 10 years of operation, when the heap leach and mill are projected to operate concurrently (2015–2024), the updated study indicates annual production averaging about 556,200 oz of gold and 27 million oz of silver at an average cost of sales of $304/oz of gold sold, assuming silver as a byproduct credit.

Open-pit mining operations will produce about 150 million st/y of ore and waste. The mining rate will peak at 190 million st/y during the years 2015 to 2019.

The initial capital cost for the project is estimated at $894 million, based on a 120,000-st/d processing plant, paste tailings disposal facility, mobile mine equipment, and other ancillary infrastructure. The plant will have two identical processing lines, each processing 60,000 st/d, with one line processing oxide/transitional material and the second processing sulphide material. The lines will consist of milling and flotation circuits, fine grinding, intensive cyanidation of the concentrates, and a refinery. The tailings from the oxide/transitional circuit will be leached and then impounded in the paste tailings facility.

The mill will operate as a simple grind-float-leach facility for three years. The scoping study indicates that the addition of a 2,500-st/d pressure oxidation vessel to treat the sulphide concentrate is warranted at an expected capital cost of $200 million. The scoping study assumes construction of the pressure oxidation plant will begin in 2016 and that it will be fully operational by 2018.

Jacobs Engineering Group is preparing an initial Hycroft milling feasibility study, with completion planned in the third quarter of 2011.
---
As featured in Womp 2011 Vol 04 - www.womp-int.com