Gold Fields Increases Tarkwa, Damang and Cerro Corona Stakes
---
Gold Fields Ltd. agreed in mid-April, 2011 to acquire Iamgold's 18.9% minority stake in the Tarkwa and Damang gold mines in Ghana for $667 million in cash, and in a separate announcement, reported Gold Fields Corona, a wholly-owned subsidiary, had increased its stake in Gold Fields La Cima from 80.7% to 98.5% following a voluntary offer to minority shareholders in La Cima to acquire their shares at a cost of $379 million. La Cima owns the Cerro Corona gold and copper mine in the Cajamarca district of Peru.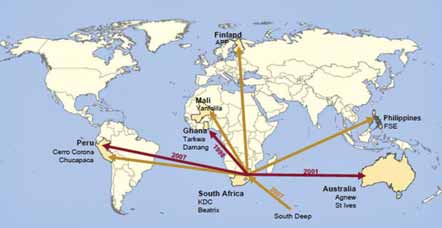 Recent transactions have increased Gold Fields' interest in gold mines in Ghana (Tarkwa and Damang),
adding anadditional 181,000 oz/y of gold production to the company's overall output. In Peru, a Gold Fields
subsidiary also increased its stake in the Cerro Corona Au/Cu mine to 90%
Upon completion of the proposed Tarkwa and Damang acquisition, Gold Fields will have increased its interest in each of the mines from 71.1% to 90%, the remaining 10% interest being held by the Government of Ghana. The transaction, which is subject to approval by Gold Fields' shareholders, was expected to close by the end of July 2011. Tarkwa is projected to produce 720,000 to 760,000 oz of gold and Damang is projected to produce 220,000 oz to 240,000 oz of gold during the 12-month period ending June 30, 2011, Gold Fields' current fiscal year.
Upon completion of the transaction, Gold Fields will acquire an additional 181,000 oz/y of gold production at current cash costs of $540/oz, based on results for the six months ended December 30, 2010. It will also add 2.14 million oz to its reserves and 3.27 million oz to its resources. Gold Fields CEO Nick Holland said, "This proposed acquisition, together with the recent offer to the minority shareholders in our Cerro Corona mine in Peru, are important steps toward our objective of international diversification, and will contribute meaningfully to our target of growing our production base to 5 million oz, either in production or in development, by 2015."
Of the Tarkwa-Damang transaction, Iamgold President and CEO Steve Letwin said, "This sale is the first of several strategic initiatives to create value for our shareholders. We cannot fully leverage our skills and experience in developing and operating mines if we are not the operator and have a minority interest in the mine. Our strategy is to invest in mines that we own and operate, as they represent the best return on investment for our shareholders. Upon completion of this transaction, we will have more than $1 billion in cash, cash equivalents, and gold bullion (at market). In addition, we have a $350-million undrawn credit facility. Our strong liquidity position gives us considerable financial flexibility to continue growing our business."
In Peru, the Cerro Corona gold and copper mine produces about 400,000 gold-equivalent oz/y and has gold- equivalent mineral reserves of 5.3 million oz. Gold Fields' added ownership interest "increases our stake in a world- class mine we know and understand and gives us access to an additional 1 million long-life, low-cost ounces," Holland said. "We are pleased with the outcome, which brings us closer to our strategic vision of owning 100% of the assets in our portfolio."
---
As featured in Womp 2011 Vol 04 - www.womp-int.com