Drive Time
New stationary and mobile drive systems introduced at CONEXPO 2011 offer higher performance with improved economy of operation
By Simon Walker, European Editor
---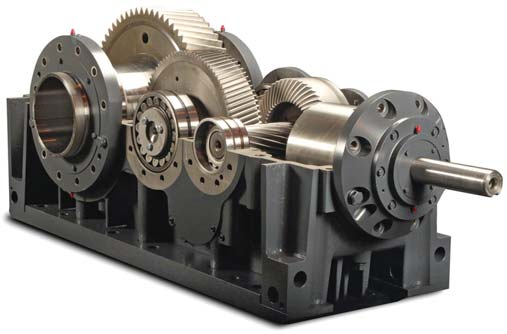 Cutaway view of Rexnord's new Falk V-Class gear drive.

Held every three years in Las Vegas, Nevada, USA, the CONEXPO-CON/AGG exposition is one of the largest trade shows in the world—this year attracting an estimated 120,000 visitors and 2,000 exhibitors. Traditionally, it's an event that industry suppliers view as a milestone at which to introduce their newest products and services for the construction and aggregate industries. However, the product overlap between the equipment commonly used in these industries and in various sectors of large- scale mining makes CONEXPO a must- see event for anyone interested in new mechanical technologies. This holds true particularly for new developments in materials handling components and equipment such as the drive systems that transfer power to conveyors, feeders, screens, stackers/reclaimers and other bulk-materials equipment.

The V-Class of 2011
At this year's CONEXPO, Rexnord Industries launched its Falk V-Class line of gear drives.

"The development of the Falk V- Class has been the largest effort Rexnord has undertaken in the company's history," said Tim Carpenter, Rexnord's vice president and general manager–gear and product services divisions. In designing the new drive line, Rexnord concluded that manufacturers, end users and OEMs wanted a gear drive with more torque, more reliability, and more functionality that delivers optimal thermal performance and can withstand tough environments. Consequently, various new design elements combine to improve the line's torque capacity, including:

• 25° pressure-angle gear teeth;
• Case-hardened, ground gears;
• Optimized bevel and helical tooth forms that ensure full contact under load;
• Proprietary peened gear teeth;
• Gear sets up to AGMA Class 12; and
• A heavy-duty ductile iron housing that withstands shock loads.

Rexnord pointed out one of the most distinguishable features of the Falk V- Class: the housing itself. Its shape and features were designed through the use of Computational Fluid Dynamics (CFD), to enhance the drive's thermal dissipation qualities. Cooling fins on the housing help reduce oil temperature, and proprietary oil feed passages in the housing improve lubrication and provide additional cooling capability. An oil sampling port is built into the housing to allow quick checking of oil condition.

Features that improve installation, serviceability and replacement characteristics include removable, adjustable feet that allow drop-in replacement for current product lines, and can adapt for replacement of competitor drives and different shaft centerline heights. Base- mounted units can be repaired in place, and the horizontally split housing allows easy disassembly/assembly for maintenance of bearings and gearing, while global compatibility permits ease of service regardless of location and pre-cast locations for condition monitoring access allow convenient tie-in to machine-health monitoring systems.

The drive incorporates Magnum noleak seals with oil drain backs and purgeable grease chamber to eliminate oil leaks. An optional, DuraPlate cooling system requires no water or electricity to operate and achieves optimal cooling to fully utilize the unit's unparalleled torque density.

The Falk V-Class drive line offers a torque range extending up to 3 million in-lb (341,000 Nm), horsepower range of 15 to 10,000 hp (11 to 7,500 kW), and both parallel and right-angle shaft configurations, with reduction ratios ranging from 1.25–5 to 28–160 depending on model configuration.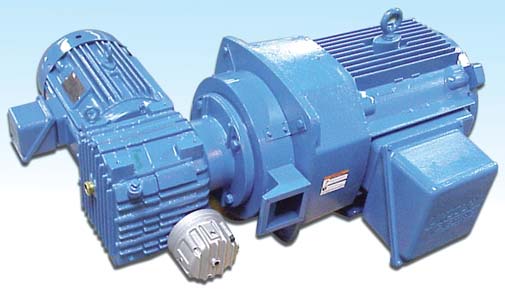 Force Control's Two-Speed Drive.Inching Toward Reliability and Performance
Ohio, USA-based Force Control Industries displayed its Two-Speed Drive package, comprising a brake motor with a low-speed drive built in. According to the company, unlike variable speed motors that lose torque or develop heat problems at very low speed, its air, hydraulic and electrically activated units remain cool while maintaining full torque continuously at low inching speeds. Benefits include the simplicity of a mechanical drive that can be maintained by local mechanical maintenance staff, as well as freedom from problems resulting from electrical line spikes, lightning or other electrical issues. They are suitable for standard NEMA motor mounting and are available for a wide range of gear ratios. Each Force Control Two Speed drive is totally enclosed, protected against dirt, dust and harsh environments.
The Force Control drives are available in two versions: the Posidyne air or hydraulically actuated configuration, and the MagnaShear electrically activated version.
The Posidyne Two Speed Drive consists of a high-speed motor connected through a spring-set friction stack operating as a clutch and a brake (primary brake clutch) to a four-lug shaft mounted to a worm gear. A secondary drive consists of a small low speed motor connected to one end and a spring-set brake (low-speed brake) to the other end. The spring-set brake on the secondary drive is set while in operation, thus holding the worm and worm gear set locked. The primary brake clutch is spring set so the entire drive is locked. To actuate high speed (main motor only) the primary brake clutch is released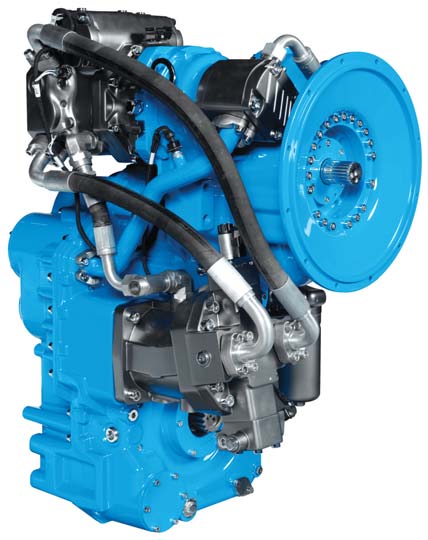 Hydromechanical variable transmission developed jointly by Dana Off-
Highway Products and Bosch Rexroth.and the main motor functions normally. To stop the high-speed motor the primary brake clutch is engaged, connecting it to the locked secondary drive and causing the main motor to stop. To operate the drivein low speed, the low-speed brake is released, the primary brake clutch is released, and the low-speed motor drives through the gear ratio driving the main motor at low speed.
The MagnaShear drive employs the same concept, except the brakes are actuated by an electrical coil instead of an air piston. High-speed and low- speed modes are selected by energizing the appropriateelectrically controlled coils. The spring-set braking mode is selected when both coils are de-energized, allowing the springs to engage both disc stacks to stop the drive system. Low speed is selected by releasing both brakes and energizing the secondary low-speed feed motor.
A Drivetrain Designed for Productivity
Over in the mobile drives and transmissions sector, Dana Holding Corp.'s Off- Highway Products Group introduced the first hydromechanical variable transmission (HVT) system resulting from a cooperative effort between Dana and Bosch Rexroth AG. The HVT displayed at CONEXPO is part of a loader drivetrain system that also includes the Spicer Hercules 37R axle and Spicer Model 114 axle.
Targeted for use on off-highway vehicles—such as wheel loaders, graders, etc.—requiring 115 to 360 hp (90-270 kW), Dana said the HVT improves productivity by enabling sensitive, precise vehicle positioning and stepless drive with uninterrupted acceleration. It occupies the same space within the design envelope as conventional torque converter transmissions while allowing for engine downsizing. The HVT optimizes the operating point of the diesel engine by decoupling engine speed from drive speed, and maintenance costs are reduced by utilizing hydrostatic braking and wear-free directional reversals.
According to the company, simulation testing of smaller front-end loaders equipped with the new HVT demonstrated fuel savings of more than 20% when compared to the same vehicle outfitted with a conventional torque converter transmission.
Engineered with a rigid, modular load-bearing structure including the differential carrier, housing arms, high-energy wet brakesb and planetary wheel ends, the Spicer Hercules 37R axle accommodates multiple vehicle platform configurations.
Spicer 37R axles are available with Posi-Torq and Hydraloc differential designs. Using large multiplate clutch discs actuated by gear-separating forces, the Posi-Torq design provides a 45% locking capacity, resulting in up to 72% torque transfer to the high-traction wheel. As an operator-controlled differential, the Hydraloc design for 37R series axles allows for moment-to-moment lock-and-release control, delivering superior ground torque bias in severe traction conditions. In its unlocked condition, the Hydraloc differential permits free vehicle steering to facilitate maximum maneuverability. Once locked, a hydraulic piston applies force to a large multi-plate wet clutch, resulting in up to 100% torque transfer to the hightraction wheel.
The Spicer Model 114 drive axle includes a limited-slip differential lock that Dana said provides a 45% locking capacity, delivering excellent tractive force and nimble vehicle steering for front-end loader applications. The axle can be configured with a variety of other hydraulic-locking differential options, including dog clutch and multi-disc clutch. Inboard wet disc brakes offer fail- safe stopping performance and energy absorption, while a fail-safe park brake featuring internal negative SAHR is available as an option. The Spicer Model 114 and 37R axles incorporate 6.00-to-1 ratio out- board planetary wheel ends with 425 mm wheel bolt-circle mountings, self- adjusting internal wet brakes, and a trunnion mounting option.
---
As featured in Womp 2011 Vol 03 - www.womp-int.com