Sandfire Advancing Its DeGrussa Project
---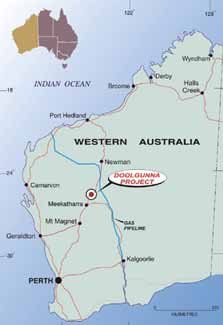 Sandfire Resources has received conditional board approval to start development of its 100%-owned DeGrussa copper-gold mine on its Doolgunna project in Western Australia. The approval is subject to completion of a definitive feasibility study and arrangement of project funding, both of which are expected to be in place before the end of the second quarter of 2011. Construction is expected to begin during the third quarter.
The conditional approval enables the letting of key mining and construction contracts, and Sandfire announced March 23, 2011, it signed a contract with Outotec for purchase key of long-lead processing equipment for a sum in excess of $20 million. The contract covers supply and delivery of the ball mill, SAG mill, flotation cells, thickeners, and a concentrate filter that will installed in the 1.5-million-mt/y DeGrussa concentrator.
DeGrussa is located about 900 km north of Perth and 150 km north of the mining center of Meekatharra. The project will be developed as an integrated open- pit and underground mining operation, with a conventional copper processing facility and supporting infrastructure located on site. Pre-production capital, including contingencies, is estimated at A$270 million for plant and infrastructure and A$130 million for open-pit and underground development.
The first two years of open-pit mining will extract 151,000 mt of direct shipping ore, grading 25.6% copper and 2.6 g/mt gold, along with 3.58 million mt of oxide copper resource grading 1.2% copper and 0.5 g/mt gold. Chalcocite and massive sulphide material from the pit will be stockpiled.
A long-term underground mine will be undertaken using long-hole open stoping (both transverse and longitudinal), with minor areas of jumbo cut and fill or up-hole benching in some of the narrower areas. Open stopes will be up to 50 m high by 25 m long by the orebody width (up to 40 m but averaging 20 m), with the proposed mining sequence aiming for maximum extraction of the resource using paste fill.
The concentrator flowsheet includes conventional crushing, milling, and classification circuits, followed by conventional flotation, de-watering, and filtration. Concentrate production is expected to average 220,000 to 240,000 mt/y grading 27% copper and will be transported by road to Port Hedland for export to international customers. Payable metal contained in concentrate will total about 60,000 to 70,000 mt/y copper and 40,000 to 45,000 oz/y gold.
---
As featured in Womp 2011 Vol 03 - www.womp-int.com