Ferrous Resources Starts Up Two Mines in Brazil
---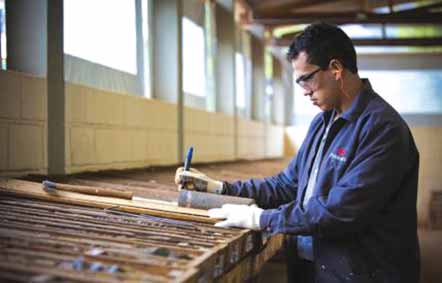 Ferrous Resources' Viga mine, located in Congonhas, Brazil, is reported to have 542 million mt of measured
iron ore resources (35.73% Fe); 374 million mt of indicated resources (34.48% Fe); and 629 million mt of
inferred ore resources (33.49% Fe). (Photo courtesy of Ferrous Resources)
Emerging Brazilian iron ore producer Ferrous Resources reported in early March 2011 that it has begun production at its Viga and Esperança mines in Minas Gerais state, Brazil. The company plans to ship 2.5 million metric tons (mt) of iron ore by the end of 2011, building to 4 million mt in 2012 and 6 million mt in 2013. Longer term, Ferrous is targeting export of 25 million mt/y of iron ore from 2014 and potential expansion to 62 million mt/y by 2016.
Ferrous has secured capacity to export 750,000 tons of iron ore through the CPBS (Sepetiba) port in 2011. Its remaining 2011 production will be sold domestically. The company plans to build its own transportation infrastructure, including a 400-km slurry pipeline from the beneficiation plant at the Viga mine to a dedicated, deep-sea port terminal at Presidente Kennedy, Espírito Santo state. A de-watering and filtration plant will be located near the port. First-phase port construction will target capacity to handle 25 million mt/y of iron ore, with possible future expansion to 50 million mt/y.
The port design provides for simultaneous loading of two high-capacity ships. Ferrous Resources' Minas Gerais properties currently host JORC-compliant resources of 4.5 billion mt and are thought to have exploration potential for an additional 2.4 billion mt.
---
As featured in Womp 2011 Vol 03 - www.womp-int.com