Skid-mounted Jaw Crusher Boosts Availability at Uranium Mine
---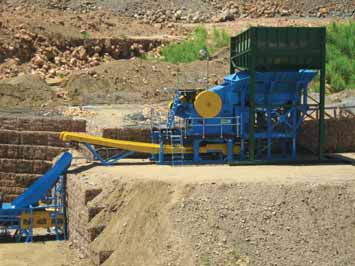 This skid-mounted jaw crusher and feed system from Pilot Crushtec was recently
delivered and installed at Paladin Africa's uranium mine in northern Mali.

Paladin Africa has commissioned new crushing and conveying equipment which it says has led to increased utilization and flexibility in the crushing section at its Kayelekera uranium mine in northern Malawi.

According to Paladin Africa's Production Engineer John Chandler, Pilot Crushtec delivered a skid-mounted jaw crusher and crusher feed system which has "provided flexibility at the front end of the plant which now gives us two crushing options, which has led to an increase in availability." Chandler said the plant now has reached design throughput.

A Pilot Modular MJ3042 jaw crusher, a Pilot Modular MC1000 11-m crusher discharge conveyor and a Pilot Modular MC1200 20-m conveyor feed material into the mine's existing mill feed system operating in tandem with a mineral sizer.

According to Chandler, installation took approximately eight months, from the time the order was placed until the plant was commissioned in 2010. "The earthworks needed for the plant took approximately three months," he said.

Earthworks included extension of an existing run-of-mine (ROM) pad and elevation of the ground on which the crusher now stands. The height of the existing ROM pad from the main conveyor necessitated the design and fabrication of a chute, which was done by the Pilot Crushtec installation team.

Paladin Africa is a mining subsidiary of Australia-based Paladin Energy Ltd. The Kayelekera mine has been in operation since April 2009.
---
As featured in Womp 2011 Vol 02 - www.womp-int.com