Nautilus Gains Deep-Sea Mining Lease from PNG
---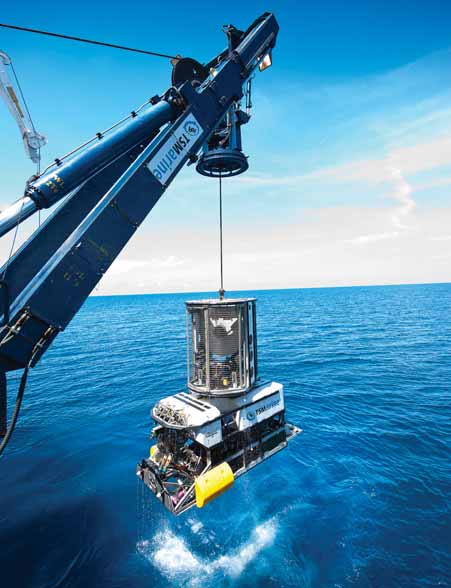 Shown here launching its remotely operated vehicle (ROV) used for exploration of undersea copper gold deposits
north of Papua New Guinea, Nautilus Minerals recently was granted a mining lease by the PNG government, which
will take a 30% stake in the project. (Photo courtesy of Nautilus Minerals)

Nautilus Minerals reported in mid-January 2011 the government of Papua New Guinea granted the world's first deep-sea mining lease for development of Nautilus' Solwara 1 project in the Bismark Sea about 50 km north of the port of Rabaul, Papua New Guinea. The lease covers an area of approximately 59 km2 surrounding the Solwara 1 deposit, where Nautilus intends to mine high-grade, sea-floor copper and gold deposits at depths of about 1,600 m below the sea surface.

The lease was granted for an initial 20- year term. The government retained an option to take up to a 30% stake in the project as a joint venture partner. If the option is exercised, the government will contribute funds in proportion to its interest, including its share of the exploration and development costs incurred to date.

Nautilus is currently working to conclude strategic partnering discussions and is continuing project development at Solwara 1, which has a stated resource of 2.2 million mt of ore, including an indicated resource of 870,000 mt at grades of 6.8% copper and 4.8 g/mt gold. Nautilus anticipates ongoing drilling will expand the resource base at Solwera 1 prior to the start of production. In late January 2011, the company reported laboratory assays had confirmed gold grades of up to 20.8 g/mt and copper grades of up to 37.7% from a series of holed drilled in late 2010 and drilling during January 2011 was continuing to identify high-grade mineralization.

In June 2010, Nautilus Minerals released the results of an independent definition and cost study by SRK (Australia) of the proposed offshore production system to be deployed at the project. The system is based on various technologies utilized in the oil and gas, mining and dredging industries but modified for the offshore production system.

When the project commences production, which is expected to be about 2.5 years after full project sanction, Nautilus expects to produce ore at a rate of more than 1.3 million mt/y, containing approximately 80,000 mt/y copper and 150,000 to 200,000 oz/y gold.
---
As featured in Womp 2011 Vol 02 - www.womp-int.com