Romarco Announces Positive Haile Feasibility Study
---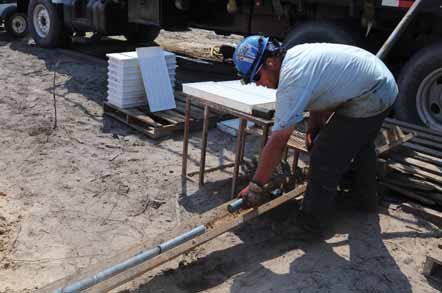 A worker handles drill core at Romarco Minerals' Haile gold project in South Carolina. Romarco's 2011 exploration
program is planned at 110,000 m of both reverse-circulation and core drilling. Design work on a conventional
open-pit mine and process plant is under way following the company's receipt of a positive feasibility study.
(Photo courtesy of Romarco Minerals)

Romarco Minerals has reported positive results for a feasibility study of its 100%- owned, open-pit Haile gold project in Lancaster County, South Carolina. Highlights of the study at a base case gold price of $950/oz include a mine life in excess of 13 years at a mill throughput of 7,000 st/d, producing 172,000 oz of gold during the first year of operation and an average of 150,000 oz/y during the first five years of operation. Proven and probable reserves total 2 million oz of gold at a reserve grade of 2.06 g/mt.

Capital costs to develop the project are estimated at $275 million. Average cash cost of production after byproduct credit is estimated at $347/oz during the first five years of operation.

Detailed design work for Haile mine project development is in progress, and once the necessary permits have been received and financing is in place, Romarco plans to proceed immediately to construction. The project has been designed to facilitate expansion early in the mine life. Studies are currently being conducted to evaluate both open-pit and underground expansion alternatives.

Mining at startup of the Haile project will be based on conventional open-pit methods. The initial mining fleet consists of 14 100-st haul trucks, two 15-yd3 frontend loaders and one 14.4-yd3 hydraulic front shovel, with various support equipment. A variable cutoff grade strategy is planned to provide higher-grade mill feed during the early years of operation, while low-grade material will be stockpiled and processed at the end of the project life.

The Haile process plant design incorporates conventional precious metals recovery processes, including jaw crushing, semiautogenous and ball milling, flotation, fine grinding of the flotation concentrate and carbon-in-leach cyanidation. The plant will process a nominal 7,000-st/d based on 92% plant availability. Gold recovery is calculated at 83.7%. Primary grind product size is estimated at P80 = 74 microns. Fine grind product size of the flotation concentrate is estimated at P80 = 15 microns.

Nominal leach times for flotation tailing and flotation concentrate are 20 hours and 40 hours, respectively. Final plant tailing will be stored in a conventional tailing facility. Well-proven and commercially applied sulphur dioxide/air cyanide destruction technology will be used as needed to ensure tailing meets International Cyanide Management Code standards.

Significant upside potential exists within and surrounding the Haile mineralized system, which continues to remain open in all directions and at depth. Romarco's 2011 exploration program is planned at 110,000 m of both reverse-circulation and core drilling.

The Haile project feasibility study was compiled by M3 Engineering & Technology, with participation by Independent Mining Consultants and AMEC Americas Ltd. Plant design is based on numerous tests that were conducted at various laboratories, including Resource Development Inc. in Denver, Colorado.
---
As featured in Womp 2011 Vol 02 - www.womp-int.com