Fronteer Agrees to Friendly Acquisition by Newmont
---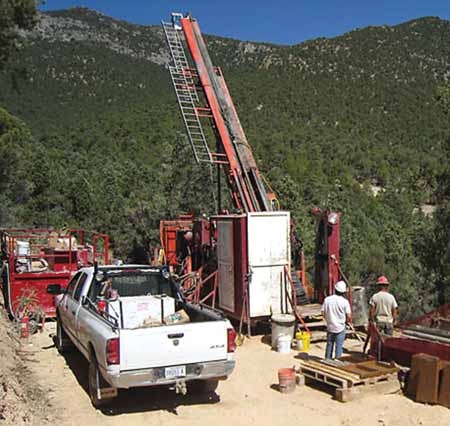 Newmont Mining is optimistic that future exploration drilling at Fronteer Gold's Long Canyon property in eastern
Nevada will increase the property's resource estimates three to four times the current 4.2 million oz of gold.
Newmont announced plans to acquire all shares of Fronteer and spin off a new company, Pilot Gold, that will
own some of Fronteer's exploration assets. (Photo courtesy of Fronteer Gold)

Newmont Mining and Fronteer Gold announced an agreement in early February 2011 pursuant to which Newmont will acquire all of the outstanding common shares of Fronteer. Fronteer shareholders will receive C$14 in cash and one common share in a new company, Pilot Gold, which will own certain exploration assets of Fronteer, for each common share of Fronteer. The cash consideration values Fronteer at about C$2.3 billion, excluding Pilot Gold.

Implementation of the transaction is subject to approval by at least 66-2/3% of the votes cast at a special meeting of Fronteer shareholders expected to be held in early April 2011. The companies anticipate the transaction, if approved by Fronteer's shareholders, will be completed in the second quarter of 2011.

Fronteer Gold owns a 100% interest in the development-stage Long Canyon gold project in the Pequop mountains in eastern Elko county Nevada, about 100 miles east of existing Newmont mines and infrastructure. The proximity of Long Canyon to these Newmont operations provides the potential for valuable development and operating synergies. Fronteer also owns a 100% interest in its Northumberland project in Nye County, Nevada, and a joint venture-interest with Newmont in the Sandman project in Humboldt County, Nevada, among other assets.

Fronteer has total combined attributable measured and indicated gold resources of 4.2 million oz and inferred resources of 1.7 million oz at Long Canyon, Northumberland and Sandman.

"The Long Canyon project, with its Carlin trend-like metallurgical and geological characteristics, complements our existing project pipeline in Nevada," Newmont President and CEO Richard O'Brien said. "Based on the work conducted to date by Fronteer Gold, as well as our own due diligence, we believe Long Canyon holds the potential to grow beyond three to four times Fronteer Gold's current stated resource estimate, with an attractive average gold grade of approximately 2.3 g/mt."

Drilling at Long Canyon has defined a mineral trend that features shallow, highgrade, oxidized gold mineralization and remains open in all directions. To date, the Long Canyon work program has extended mineralization 3 km along trend and across multiple zones, with a footprint up to 600 m in width. The actual length of the trend may exceed 10 km.

As of January 2011, Long Canyon resources at a cut-off grade of 0.2 g/mt consisted of 1.4 million oz measured and indicated at an average grade of 2.36 g/mt gold and 803,000 oz inferred at an average grade of 2.24 g/mt gold. Newmont expects to spend $11 million on exploration at Long Canyon during 2011.

Fronteer's Northumberland project is based on a past-producing property located just north of the Barrick-Kinross Round Mountain gold mine in Nye County. Currently, the project has an indicated resource of 36.5 million mt grading 1.92 g/mt gold (2.3 million oz) and an additional inferred resource of 6.9 million mt grading 3.49 g/mt gold (776,000 oz). Approximately 20% of the gold ounces are oxide, with the balance comprising transitional or sulphide material.

Since 2009, Fronteer has been drilling new target areas in the western portion of the Northumberland deposit and has intersected multiple intervals of high-grade gold. Construction of a 280- m-long decline to access high-grade mineralization within the deposit was scheduled for completion in early 2011. The decline will provide access for evaluating controls on high-grade mineralization and for conducting underground definition drilling and bulk sampling.

The Sandman project is located about 13 miles west of Winnemucca, Nevada, and consists of 24,440 acres of claims and private mineral rights. The property has five identified gold deposits that are near-surface and potentially amenable to open-pit mining. The property is within trucking distance of Newmont's Twin Creeks mine, potentially eliminating the need for a stand-alone milling facility and other significant capital expenditures if the project proceeds to production.

Pilot Gold will own a portfolio of Fronteer's exploration properties in Nevada, Turkey and Peru. Upon closing of Newmont's acquisition of Fronteer, Fronteer shareholders will hold an aggregate 80.1% interest in Pilot Gold, and Newmont will hold the remaining 19.9% interest.
---
As featured in Womp 2011 Vol 02 - www.womp-int.com