Spotlight on Slurry
Plant operators, pump suppliers and researchers continue to pursue higher efficiency and reliability in slurry transport applications
By Russell A. Carter, Managing Editor
---

At Terramin Australia Ltd.'s Angas zinc mine, two Larox Flowsys peristaltic pumps transport thickener underflow to filters for dewatering.
In the mining industry, time is money—and so is water. And unscheduled downtime is big money lost. When it comes to pipeline transport of fluids and other materials involved in mining applications, such as slurries, viscous liquids, reagents or concentrates, the longer a pump can operate without maintenance or failure, the better. And the less water a plant operator needs to add, pump or remove during a process also generally translates into lower operating costs. Consequently, the pursuit of ever-more cost-efficient pumping technology is a constant source of interest to miners, a fertile landscape for researchers and a financially attractive business sector for consultants, engineering companies and related enterprises.
Promoting Peristalsis
In the spectrum of mining-related pumping applications, slurry transport may possibly be the most universally troublesome process of them all. Apart from often just being difficult to pump, slurries and thick liquid-solid materials also may be abrasive, corrosive or both, resulting in high operating and maintenance costs. The equipment of choice for pumping slurries has long been centrifugal-type pumps, but evolving technology has produced a challenger to centrifugal's reign: the peristaltic or hose pump. With few moving parts to break or wear out, easy maintenance requirements and an appetite for a wide range of pumpable materials, these mechanically simple pumps have found their way into a growing variety of mining uses.
Outotec Australia recently described how a set of Larox Flowsys peristaltic pumps, in concert with Outotec Larox CC filters, helped an Australian zinc mine surpass startup expectations.
The Angas zinc mine, located in South Australia, is 100% owned and operated by Terramin Australia Ltd. In its first year of operation, the low-cost mine, with a resource of 2.4 million mt and situated just 60 km from Adelaide, produced nearly 23,000 mt of high-grade lead and zinc concentrate by the end of its second quarter.
Following commissioning in July 2008, the operation was brought into full production six months early, in January 2009. According to an informational update recently released by Outotec Australia, the mine exceeded production start-up expectations, in part by using Outotec Larox CC filters (formerly Larox Ceramec capillary action disc filters), which are efficiently dewatering higher-than-expected grades of zinc and lead concentrate.
In addition to the filters, the other important ingredient in the mine's advanced filtering and drying system is a pair of Larox Flowsys peristaltic feed pumps. These pumps employ a single, bearing-mounted eccentric roller design that compresses each hose once during a 360° operating cycle. This feature, according to Larox Flowsys, reduces the hose compressions required by 50% compared with peristaltic pumps that use two sliding shoes for compression. With these pumps, hose leaks can easily be detected, revolution counters can track pump hose life (thereby reducing unscheduled stoppages) and processing noise levels can be kept to a minimum.
Watson-Marlow's Bredel SPX thickener pumps employ peristaltic action to
transport highly concentrated material..

After slurry thickening, the pumps feed the relatively coarse lead (P80, 50 μm) and zinc (P80, 71 μm) concentrates into their respective filtering circuit. There, concentrates coat the ceramic disk segments during immersion in slurry baths and dewatering starts immediately via capillary action. Extracted filtrate passes through the microporous structure in each disk before being removed by a small, 2.2-kW vacuum pump. The dried filter cake that remains is continuously scraped off as the disks rotate. The extracted filtrates are very high in clarity while the dried filter cakes meet required transport moisture limits (TMLs) for their ore grades.

Outotec Australia notes the Larox CC filter has undergone extensive development to establish itself as a top performer. When lead grades rose higher than expected soon after installation, the filters were quickly upgraded, providing Angas with a 30% increase in filtration capacity, allowing the handling of higher lead concentrates when the ore grade is high. As a result of this upgrade, the lead filter can capably handle higher lead head grade ore and increase production while still producing filter cake under the required TML.

Less Water, Lower Costs
Watson-Marlow, another manufacturer of peristaltic pumps, highlights its line of heavy-duty Bredel SPX thickener underflow pumps. As the company notes, peristaltic hose pumps of this type are virtually maintenance free with no impellers, liners or mechanical seals to replace, no check valves to clog and no rotors and stators to wear out. In addition, they can be considered water-saving devices, because not only can they handle very high solids-content material, they don't need gland water, thus eliminating the requirements to either treat process waste water or provide pump service water.

According to Watson-Marlow, every one of its peristaltic pump models is an inherent metering pump with repeatability of 99.5%. Many models include integral digital drives with Profibus or SCADA control in NEMA 4X washdown enclosures. These self-priming pumps accommodate flow rates from 0.1 microliter to 350 gpm, and are extremely durable, withstanding pressures up to 232 psi. There are no internal universal joints, valves, dead corners or glands to impede flow, and they are reversible for backflushing.

As a real-world example of how these pumps can provide efficient solutions to specific problems, Watson-Marlow cited a large copper and gold mining company in the Southwest U.S. that had to frequently replace components on hard chrome iron centrifugal pumps used in a difficult tailings slurry application. The centrifugal pump impellers were wearing out every two weeks, causing significant downtime and costly repairs. The mine considered several different pump technologies, finally selecting Marlow Bredel SPX100 hose pumps. In this application, the hose pumps transfer tailings slurry 2,200 ft to a separate plant. With no seals to flush and the ability to pump tailings with a high solids concentration (80%) the mine uses much less water with the SPX pumps, providing considerable savings in both maintenance costs and water usage.

The Hose is the Heart
Netherlands-based Verder Group is another well-known supplier of peristaltic pumps. As reported in E&MJ not too long ago, the company was able to solve a critical pumping problem by installing its Verderflex peristaltic pumps at Vale Inco's Voisey's Bay copper-nickel mine in Newfoundland, Canada.

At Voisey's Bay, the high-grade nickel, copper and coppernickel concentrate slurry flows produced at the remote are abrasive, with 68%–72% solids by weight. Consequently, the mine's original centrifugal pumps suffered eroded seals, clogged valves and rotor and stator wear, leading to downtime, high wear part costs and difficulty in meeting the 40–90 gpm flow rates required to achieve the plant's 7,000- mt/d throughput target.

Verder's peristaltic hose pumps are characteristic of the overall pump class, with no seals, valves, glands or moving parts in direct contact with the slurry, which is contained within a tough, flexible hose. The heart of the Verderflex design, according to Verder, is the hose, which is specially designed and manufactured for maximum strength and resistance against harsh chemicals and abrasive slurries, while textile reinforcements within the hose allow for discharge pressures up to 16 bar/230 psi. The hose is squeezed externally by a rotor, forcing the contained material forward while generating a strong vacuum that draws additional slurry into the hose. The low-shear pumping action provides a smooth flow passage with no backflow, which keeps the slurry in constant suspension.

At Voisey's Bay, each of the concentrate lines was initially fitted with a 10-ft suction line, later reduced to 7 ft of 4- in.-diameter pipe. The discharge lines are 3-in. rubber-lined pipe with an inside diameter of 2.5 in.; the line used to move the high-grade copper concentrate is 60 ft long, that for the mixed concentrate is 90 ft, and the high-grade nickel concentrate line is 100 ft. To maintain a smooth flow path and control pulsation along these long lines a 21-gallon air dome was fitted on the discharge side with a constant air feed of 1 bar.

Pump hose life in continuous duty has ranged from 3,200 hours for the high-grade nickel line to more than 4,000 hours for the high-grade copper and mixed concentrate lines. A new hose is routinely installed at 4,000 hours, a procedure that takes between 1-1.5 hours.

Overhauling Slurry Pipeline Design
On a broader scale, research into more efficient modes of slurry transport continues on a number of fronts. Recently, the Australian research organization CSIRO reported on an ongoing program involving fundamental research efforts into high concentration slurry transport and, through this, optimizing designs for solids transport in several areas.

Author Rebecca Thyer explains, in a recent issue of CSIRO's newsletter, Process, how the organization's Dr. Jie Wu is leading an internal project on pipeline transport, because moving ores, concentrates and residues in a slurry form is such an essential part of industrial processes.

In an effort to reduce both water and energy consumption and improve the slurry transport's reliability, researchers have built a fundamental understanding of slurry flow design— particularly for highly concentrated slurries—via two previous projects.

Although a goal is to use less water in the transportation process, doing so creates thicker, more paste-like slurries, which in turn creates other issues, according to Dr. Wu. On one hand, more product can be moved at lower velocities; but on the other, pipes and associated infrastructure have to be designed to handle the thicker flows.

To address these issues, researchers will use and finetune methods embodied in Pipetools, a software program developed in previous projects that provides a more accurate prediction of the behavior of concentrated suspensions compared to existing tools.

Wu said there are huge errors—up to 600%—associated with conventional designs of high-concentration flows, which result in pipeline transport failures or the inability to pump the desired amount of solids. "Being able to make more accurate predictions will help the industry to optimize design and achieve a much better outcome," he said.

As well as extending Pipetools, the new project aims to help industry sponsors apply this technology and in turn reduce energy use, water use and capital design costs, while operating pipelines with better reliability.

Wu said further research will be undertaken into high-concentration, wide size-distribution suspensions through horizontal and inclined pipes at energy consumptions comparable to conventional conveying techniques.

Vertical hoisting will also be researched. "The anticipated benefits of vertical slurry pipelines as a future technology for deep mine transport include less in-ground manpower, less maintenance, potentially lower capital and running costs, and it will be inherently safe," Wu said.

Research will focus on developing optimum designs to convey ore solids via vertical pipes at reduced energy cost and with high reliability. Blending of crushed ore with carrier fluids will be used to achieve stable, low speed and safe conveying.

Centrifugals: Still a Force
Although peristaltic pumps are making market inroads against centrifugal models in the slurry-pump sector, the more conventional centrifugal types remain extremely popular for this application. One of the more recent models to be introduced is GIW Industries' ZW Pump Series, which the company says has proven to be a durable, affordable unit for vertical sump requirements.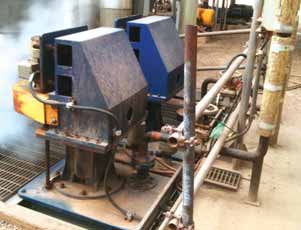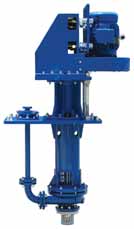 GIW's new ZW pump model, shown here in sump duty.

GIW said the ZW Pump Series' primary test market was Australia, where gold-mining operations require a highly functional, durable and low-maintenance slurry pump. The ZW Pump's high chrome material configuration, according to the company, allows for maximum wear resistance necessary in mining equipment.

"We had a lot of influence from Australia, where this type of pump is popular," said Richard Inglett, market manager at GIW Industries. "Their input was key. They really stressed a double-suction design and market price."

The ZW Pump features a double-suction vertical design suited for handling aggressive, abrasive slurry applications. Instead of stopping and starting as water levels fluctuate, the ZW Pump's top- and bottom-suction design allows it to run continuously in "snore" mode to provide more consistent pump action and to reduce pump stress. Additionally, its semi-open impeller design permits large solids to pass freely.
---
As featured in Womp 2010 Vol 10 - www.womp-int.com