Cleaner industrial power
---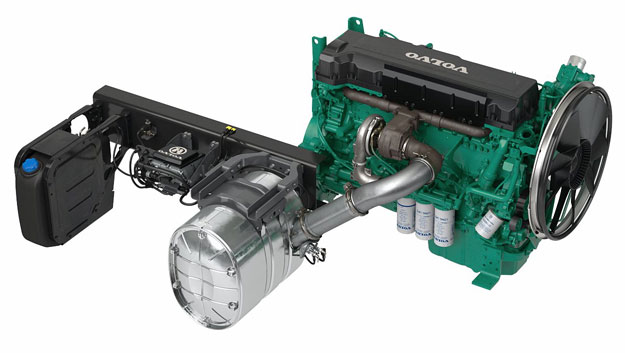 Volvo Penta, part of the Volvo group, provides an overview of its 2011 engine ranges. "Quality, safety and environmental care are our core values and they are an integral part of our offering. The latest advances in engine technology are used to ensure that the engines meet existing and future emission legislation, as well as customers ever increasing demands for low cost of ownership", says Giorgio Paris, vice president at Volvo Penta and head of the industrial power division. "We want to give our customers cutting edge technology and ease of installation. Our commitment is usually long-term, where we and the OEM enjoy a mutually beneficial development", Paris says. All Volvo Penta manufacturing units are certified to ISO 14001.
Off-road and off-grid
Volvo Penta has over fifty years of working with equipment manufacturers and users of off-road machinery and equipment for surface mining and quarrying vehicles, crushers and pumps. The unit is also a leading provider of engines for power generation.
At Bauma Volvo Penta launched a range of four base off-road engines engines for Europe and the United States, with no less than 16 power options from 129 to 515 kW. All offer compact installation, minimal maintenance and not least low fuel consumption. They use Volvo's proven Selective Catalytic Reduction technology to meet the demands of Stage 3B in Europe and Tier 4i in the US, both to be introduced January 1, 2011. The base engine is Volvo Penta's robust and well proven in-line six cylinder, with electronic high pressure unit injectors and an electronically controlled waste-gate turbo. The Engine Management System, EMS 2, optimizes engine performance. This gives excellent characteristics with high torque directly from low revs and excellent peak power.
"Obviously we are planning for the next emission levels", says Darren Tasker, project director at Volvo Penta. "Within the Volvo Group we are developing our Tier 4 final product range and the objective is to have minimal impact in terms of installation, operational cost and performace. This is based on our current SCR technology and looks very promising indeed".
High reliability, durability and low operational costs are key elements in Volvo Penta's 2011 Stage 3A/Tier 3 engines for power generation. The range covers 5-16 liter diesel engines, with output levels ranging from 75 kW to 640 kW. Almost all engines are dual speed, 1500 rpm (50 Hz) and 1800 rpm (60 Hz), making it easy for OEMs to adapt the generator set for different market demands. They offer excellent step load performance, Volvo Penta says.

In addition Volvo Penta has introduced a temperature-controlled cooling fan for diesel engine powered generating sets to reduce noise level and fuel consumption. The fan can be ordered as an option starting with the most recent engine in the range, the D13 engine, and more engines will follow shortly. The control system of the fan is integrated in the Engine Management System and uses various parameters to optimize fan speed according to engine running conditions, such as engine load and ambient temperature. As an example, a Volvo Penta 13L genset engine operating at 75% average load can save 10,000 liters of fuel over a 5,000 hour period. The load acceptance may also be improved as the fan may absorb less power at start up.
The engine noise level will be significantly reduced. Many generating sets today are designed and built to meet a specific sound level and significant savings may be possible with an engine more silent. The system is supported by the Volvo Penta global aftermarket network.
All Volvo Penta's electronically controlled engines can be connected to VODIA, an easy-to-use service tool for testing, troubleshooting and diagnosis. And the network of retailers and service technicians covers more than 100 countries
---
As featured in Womp 2010 Vol 10 - www.womp-int.com