Engine Builders Roll Out Models to Meet 2011 Standards
Manufacturers have been redesigning, repackaging and updating their mid-range off-road diesel lineups to meet stringent new emissions limits
By Russell A. Carter, Managing Editor
---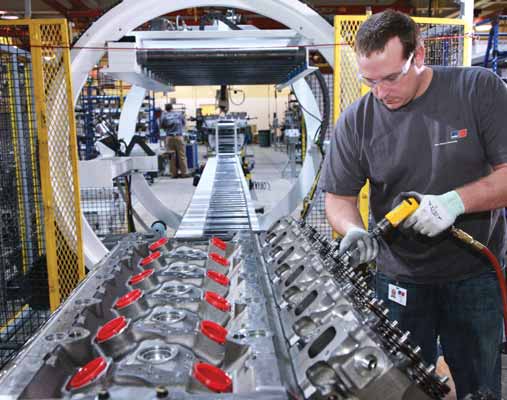 Intent on capturing a larger share of the U.S. market, Tognum subsidiary MTU recently opened an engine assembly
factory in Aiken County, South Carolina, USA. The Aiken facility will build MTU Series 2000 and 4000 diesels,
many of which are used in various types of mobile mining equipment. (Photo courtesy of Tognum/MTU).

For manufacturers of diesel engines used in off-road applications, the past few years have been a time of preparation, validation— and reassurance. The handful of major engine suppliers deeply involved in mineequipment diesel power used most of 2009 as well as the rapidly expiring 12 months of 2010 as a runup period to introduce, certify and implement production plans for models in the power ranges covered by stringent new emissions standards scheduled to take effect on the first day of 2011.

The driving force behind all of this activity is the tiered series of diesel emissions regulations initiated 13 years ago by the U.S. Environmental Protection Agency. The EPA's "Tier" standards 0 through 4 have been generally mirrored by the European Union's Stage I through IV standards. With the latest (Tier 4, Stage IIIB) regulations poised to take effect at the turn of the year, these standards, as applied to off-road engines and described by a recent backgrounder report released by the Diesel Technology Forum—a supplier- supported diesel advocacy organization— require progressively lower allowable emissions of nitrogen oxides (NOX) and particulate matter. "It is a complex system and its compliance dates are based on engine power rating as well as other factors," the report notes, and as E&MJ researched this article, one engine expert joked, "Nope, Tier 4 compliance isn't rocket science…it's actually much more complicated than that stuff."

The Tier 4 standards offer manufacturers a provisional step (Interim Tier 4, or 4i) that stipulates a certain level of emissions particulate-matter emissions, followed by a final step, starting in 2014, that dictates additional cuts in NOX and HC emissions. Overall, Tier 4 essentially requires manufacturers to reduce emissions to levels anywhere from 50% (NOX) to 90% (PM) lower than the current generation of diesel engines. However, Tier 4 emissions requirements apply only to new products and are not retroactive to existing machines or equipment. Engines or dieselpowered equipment designated for export outside the U.S. also aren't affected by Tier 4 regulations, although some manufacturers have stated as a matter of policy they'll only offer appropriate Tier/Stage-compliant engines to all of their global customers regardless of location.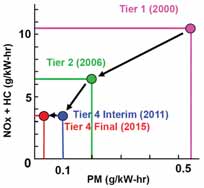 Sequential "Tier"regulations are aimed at reducing diesel-
generated NOX, hydrocarbon and PM emissions drastically.

Throughout the process, engine builders have been able to achieve certification by way of three options: "straight certification," or full compliance with currently applicable Tier requirements; "banking" or trading credits, which involves using measured under/over compliance of certain engine families with current Tier standards as currency to achieve compliance in other engine families by "averaging out" emissions performance, banking these emissions credits to use them in future years; or simply trading them with another manufacturer. Engine builders also have been able to take advantage of a flex program that allows them to continue offering engines that only meet the prior Tier emissions level instead of the applicable current level; this allows manufacturers to avoid the expense of essentially revamping their entire product line to meet current limits every time the latest Tier standards take effect.

Although Tier 4/Stage IV standards apply to all off-road diesel engines—with the exception of those used in underground mining and certain other nonmining applications— the immediate focus is on engines rated up to 750 hp (560 kW), because Tier 4i/Stage IIIB standards immediately impose noticeably higher limits on this range than on the much higherhorsepower units that are the workhorses of mine loading and haulage. The midrangesize diesels affected typically are used to power wheel loaders, bulldozers, road graders, smaller rigid-body and articulated haul trucks, hydraulic excavators, drills, and other types of mobile support and utility equipment as well as stationary equipment (crushers, gensets, etc.)
Common emission-control technologies for off-road diesel applications. Emissions: HC-Hydrocarbons,
PM-Particulate Matter, NOX-Nitrogen Oxides, CO-Carbon Monoxide.

Engines designed to comply with Tier 4 rules will indeed be different animals than their predecessors, and with the tight technology- implementation deadlines imposed upon engine suppliers to meet rising emissions- control demands, off-road diesel equipment OEMs and end users are curious, if not somewhat apprehensive, about the immediate and long-term costs, benefits and unknowns they'll eventually have to confront when time comes to redesign/ replace older equipment. Some of these considerations pertain to:
• The type of fuel and lubricating oils required, and what is actually available;
• The amount of additional technician training required;
• The extent of additional maintenance attention required;
• Engine durability, reliability, power and performance characteristics;
• Actual cost increases (early estimates predicted the cost increase to install additional emissions control for most equipment would be on the order of 1% to 3% of equipment price, although more recent estimates are in the low double- digit range; while the cost of low-sulphur diesel fuel could raise fuel prices by seven cents per gallon); and
• Real-world effectiveness in helping to reduce an operation's carbon footprint.

E&MJ addressed a number of these issues a year ago (See "High-horsepower Diesel Design Revs Up to Meet Tighter Emissions Standards," December 2009, p. 72). Over the past year, engine builders have introduced literally dozens of new models in the ≤750-hp range that are Tier 4i/Stage IIIB certified. This article recaps some of these new products with relevance to mining.

Making Introductions
Engine suppliers used the bauma 2010 trade show held in April to showcase the technologies they've selected to comply with Tier 4i/Stage IIIB standards, as well as an opportunity to reassure both existing and prospective customers that newly certified engine designs wouldn't come with unpleasant surprises in performance, fuel consumption, maintenance and other considerations. Suppliers included, Caterpillar, Cummins, MTU, Volvo, Deere Power systems, Perkins (a Caterpillar subsidiary) and Deutz displayed diesel units for both mobile and stationary mining, quarrying and construction applications, and made concerted efforts to educate and assist product stakeholders in assessing future engine-selection strategies—a complicated prospect, as indicated by the accompanying chart.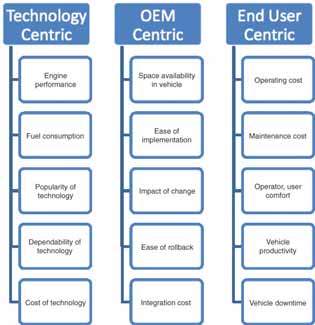 Choosing the proper emissions control strategy requires a wide range of choices
and assessments by all involved—the engine builder, equipment OEMs and end
users. (Source: "Off-road Diesel Vehicle Emission Regulations–Trends and
Challenges," R. Shet and N. Shetty, Tata Consultancy Services.)

Caterpillar, for example, had already been conducting Tier 4 integration workshops with OEMs, focusing on various aspects of its Tier 4i/Stage IIIB ACERT engines. The collaboration process, said Cat, provides benefits for OEMs such as detailed packaging and installation data as well as direct interaction with Cat dealer and factory technical experts. These collaborative efforts, according to the company, were integral to its New Product Introduction (NPI) process for obtaining 'voice of the customer' requirements early in the product design and development stage which helps minimize the design time for new product installations. Other engine vendors carried out their own OEM-reachout efforts as well.

Because no single technology can reduce all regulated emissions to the levels demanded by Tier 4 final standards, manufacturers have selected from a laundry list of available technologies to suit their corporate requirements and objectives. In a recent white paper titled Offroad Diesel Vehicle Emission Regulation– Trends and Challenges, researchers from Tata Consultancy Services provided thumbnail descriptions of each major supplier's core Tier 4 strategy. Excerpts follow:

"Caterpillar will continue to follow its ACERT technology path and build Tier 4 on it. The core concept behind ACERT technology is advanced combustion. The combustion process is carefully controlled to reduce pollutant levels, while maintaining performance and efficiency. To meet Tier 4 requirements, Caterpillar is focused on deepmachine integration, electronic controls and aftertreatment. Caterpillar's Tier 4 engine systems will be equipped with PM after-treatment technology, including oxidation catalysts and diesel particulate filters with advanced regeneration systems that will optimize uptime, fuel efficiency and operator convenience. The engines will not use SCR to meet Tier 4 interim regulations.

CNH, a Fiat subsidiary, uses externally cooled EGR coupled with DPF for lowersize engines. This solution meets emission targets at low cost and with limited impact on vehicle space requirements. Medium to large vehicle applications go with SCR as such machines will have less space constraints. SCR has been selected as it offers significant operating cost reduction compared to other technologies, lower maintenance cost and excellent engine performance and fuel consumption. Adding to above technologies, the engines come with common rail elec-tronic injection and two-stage turbocharging.

Cummins' Tier 4 Technology includes High Pressure Common Rail (HPCR), Variable Geometry Turbocharger (VGT), advanced electronic controls, cooled Exhaust Gas Recirculation (EGR) and Diesel Particulate Filter (DPF). The engines will be also equipped with a crankcase filter which eliminates escaping blow-by gases, oil mist and droplets. The Cummins Tier 4 product range will maintain or increase power outputs compared with Tier 3.

Deere Power Systems starts with its proven Tier 3 PowerTech Plus engine platform as foundation and adds a DOC/DPF unit for reducing particulates. NOX is controlled by increasing the percentage of cooled EGR. PowerTech Plus technology uses four-valve heads, cooled EGR, vari able-geometry turbochargers (for more precise combustion-air management), air to air aftercooling and a new electronic control module.

Volvo's V-ACT (Volvo-Advanced Combustion Technology) includes a highpressure fuel system, fixed-geometry turbochargers, switchable internal EGR, new camshafts, enhanced electronic control and new coolers. It expects to meet Tier 4 with the addition of diesel particulate filters, which is the technology it used to meet on-road regulations."

Missing from these descriptions is mention of an early 2010 announcement by Komatsu America that it was implementing new diesel technology that meets Tier 4i standards. Based on Komatsu proprietary technologies, this approach is claimed to reduce exhaust gas particulate matter by more than 90% and NOx by more than 45% when compared with current Tier 3 levels, while still consuming less fuel.

Komatsu's Tier 4 engine technology includes a newly designed variable geometry turbocharger; diesel particulate filter, heavy duty high-pressure common rail fuel injection system, a larger and more robust cooled EGR system, redesigned combustion chamber at top of piston, and a harmonized engine and machine interface by means of electronic control. Komatsu said it has integrated the technology into mining engines ranging in size from 3.3 to 46 liters, including those it jointly develops and builds with Cummins.

Presenting the Certified Collection
Caterpillar, using its proprietary ACERT technology as a foundation, has implemented next-generation turbocharging, advanced electronics, advanced fuel systems, particulate aftertreatment systems and a suite of NOX reduction technologies to provide Tier 4 emissions solutions. In February 2010 Caterpillar introduced five new Tier 4i/Stage IIIB Industrial engines. the C13, C15, C18, C27 and C32. These ACERT technology engines cover a power range of 385–1,200 bhp (287–895 bkW).

The new C13 ACERT is a 12.5-liter-displacement engine and delivers 385-475 bhp (287-354 bkW). It is claimed to provide torque up to 1,604 lb-ft (2171 Nm), is electronically controlled and features a mechanically actuated electronic fuel injection (MEUI) system and asymmetric turbocharger.

The 15.2-liter C15 delivers 475–580 bhp (354–433 bkW) and provides improved lower end power density compared with the Tier 3/Stage IIIA configuration. The C18 is an 18.1-liter displacement model that delivers 600–765 bhp (448–571 bkW); depending on power requirements, either single asymmetric or series turbocharging is used. Cat said power density for the 765-bhp (571-bKw) rating has been significantly increased over the Tier 3/Stage IIIA model and it does not require aftertreatment. The C15 and C18 are built on a common core platform and share similar physical dimensions. According to Cat, a C18 800-bhp/ 597-bkW model will be available only in Tier 4 Final configuration.

The C27 ACERT is a 27-liter, 800– 1,050 bhp (597–783 bkW) unit and, according to Cat, can easily be integrated into OEM equipment powered by Cat's Tier 2 configuration or a competitive model. It produces maximum torque of up to 3,539 lb-ft (4798 Nm) and features side-mounted asymmetric turbochargers and a mechanically actuated electronic fuel injection (MEUI) system. The C32, a 32.1- liter displacement model producing 950– 1,200 bhp (708–895 bkW), is equipped with side-mounted asymmetric turbochargers. Both engines are built on a common core platform and do not require aftertreatment to achieve Tier 4i emissions.

In April 2009, Cat introduced the C7.1, a 7-liter family with a power rating of 175–300 hp (130–225 kW) and peak torque of 944 lb-ft (1280 Nm). That engine includes Cat's Clean Emissions Module (CEM) aftertreatment system to meet Tier 4i/Stage IIIB emissions standards. Cat said it is designed to allow OEMs maximum flexibility in mounting the aftertreatment module in a wide variety of locations depending on the application. Equipped with a next generation A5 electronic control unit, high pressure common rail fuel system and a two-stage Smart Wastegate turbocharger, Cat claims the new C7.1 ACERT engine delivers excellent low-speed response and torque as well as superior power density at higher speeds. Fuel consumption improvements of up to 5% have been realized compared with equivalent Tier 3/Stage IIIA engines.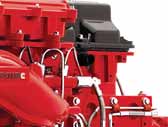 Cummins' new QSX11.9 (left) and QSX15 (middle)Heavy-Duty engine duo, introduced earlier this year, feature
the engine builder's latest technology designed to efficiently power mining equipment in the 300- to 600-hp
(224-447 kW) range.

Cummins presented its QSX11.9 and QSX15 engines at bauma. These 11.9-l and 15-l models use a particulate filter to reduce PM emissions by more than 90% and cooled EGR to reduce NOX by 45%. Cummins said the engines will lower operating costs with up to 5% improved fuel efficiency. The QSX11.9 is a clean-sheet design for Tier 4, sharing technology with the larger QSX15 engine. The smaller displacement model provides a compact solution for 300- to 500-hp (224-373 kW) applications, with peak torque of 1600 lb-ft (2169 N•m. Power from the 15-l engine extends from 400-600 hp (298-447 kW) with a peak torque of 2050 lb-ft (2779 N•m). Both engines offer torque rise of up to 50%.

Cummins announced in September it was commencing production and supply of its Tier 4i and EU Stage IIIB compliant QSB6.7 and QSL9 engines. The QSB6.7 is certified to a power output of 300 hp (224 kW), while the QSL9 engine offers output of 400 hp (298 kW).

Tognum subsidiary MTU Friedrichshafen used the bauma event to highlight its compliance plan, which it said is designed to meet all foreseeable future emissions standards. The program involves engines up to 730 kW for Tier 4 (from 2014) as well as engines below 560 kW for Stage IIIB and Tier 4 interim and includes its Series 400, Series 500, Series 900, Series 2000 and Series 4000 engines producing 100 kW to 3,000 kW.

Ten- and 12-valve Series 1600 engines for mining applications will extend MTU's product line up to 730 kW. These meet EPA Tier 4 requirements by using EGR and do not need diesel particulate filters or SCR units. MTU has placed particular emphasis on optimizing the combustion process in these engines, and has raised injection pressure to 36,000 psi and incorporated two-stage intercooled turbocharging.

The 10- and 12-valve versions of its Series 1600 engines will extend MTU's mid-range off-road
engine product line up to 730 kW for mining applications.

Beginning in 2014, in its range of engines rated up to 560 kW, MTU will extend its offerings below the Series 1600 with new 4- and 6-cylinder engines designated Series 1000, Series 1100, Series 1300 and Series 1500. These engine series will meet Stage IV and Tier 4 final specifications and will be equipped with EGR, DPFs and SCR systems. The engines are based on a new generation of Mercedes-Benz truck engines engineered by MTU for off-road applications.

To comply with Stage IIIB and Tier 4i standards, MTU will equip these engines with an integrated SCR unit. This technology, according to MTU, was selected after consultation with major customers and allows OEMs to convert their vehicles and equipment for 2011 emissions targets with the least possible outlay. This approach also brings additional benefits in the form of reduced fuel consumption.

Further tweaking of its larger Series 2000 and Series 4000 engines to comply with Tier 4i and Tier 4 final standards, said the company, will primarily be aimed at the U.S. market. The first public introductions of these engines will occur at trade events taking place in the U.S. in 2011.

In October, Volvo Construction Equipment reported that it had received Tier 4 interim emissions certification Volvo D13 (13 liter) and Volvo D16 (16 liter) engines. EPA certification for the D11 (11 liter) engine was received in August 2010. The EPA-certified D11, D13 and D16 Tier 4i engines with V-ACT (Volvo-Advanced Combustion Technology) feature high-pressure variable fuel injection systems, cooled exhaust gas recirculation (EGR), precise variable- geometry turbo (VGT) turbocharger controls, and a new engine management system (EMS). The Volvo electronic control unit (ECU) controls the entire EGR process, managing the mix of recirculated exhaust gas and fresh air crucial to the reduction of PM and NOX emissions while maintaining performance and fuel economy. And, because reduction of diesel particulate matter is a major objective of Tier 4i, the new Volvo engines also employ an exhaust after-treatment system that reduces particulate matter by 90%.

John Deere Power Systems said its PowerTech PVX 6.8L engine above 130 kW (174 hp) and PowerTech PSX 6.8L engine had been certified as compliant with Tier 4i and Stage IIIB regulations. The PowerTech PSX and PVX 6.8L engines join the certified 9.0L engine models.

Deere said it achieved compliance by starting with its PowerTech Plus Tier 3/Stage IIIA engine platform—which includes cooled EGR—and adding an exhaust filter to reduce PM. These engines will feature full-authority electronic controls, a 4-valve cylinder head, a high-pressure fuel system, single variable geometry or series turbocharging and an air-to-air aftercooling system.

Deere elected not to use SCR, noting instead its cooled EGR and exhaust filter approach provides OEMs and end users a proven solution with the best total fluid economy. The single-fluid approach of cooled EGR means owners and operators won't incur the cost of diesel fuel plus an additional cost for diesel exhaust fluid (DEF) required by SCR systems.

The certified PowerTech PVX 6.8L offers a power range of 185–250 hp (138–187 kW), while the PowerTech PSX 6.8L offers 225–300 hp (168–224 kW). PowerTech 6.8L engines began production in September.
---
As featured in Womp 2010 Vol 10 - www.womp-int.com