Fortescue Investing $8.4B to Expand Iron Ore Production
---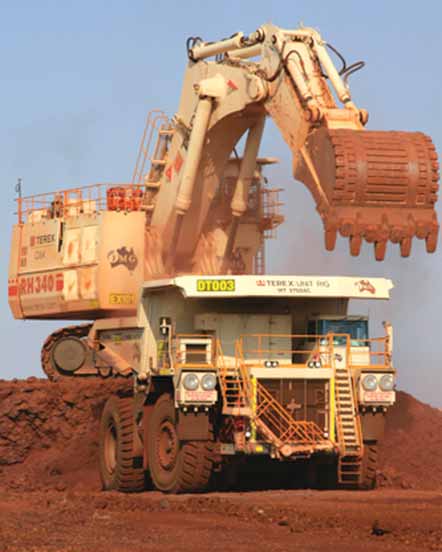 As part of an ambitious expansion plan, Australian producer Fortescue Metals plans to raise iron ore
output from its Christmas Creek mine to 55 million mt/y while keeping production at its Cloudbreak mine
(shown here) steady at 35 million mt/y. (Photo courtesy of Fortescue Metals).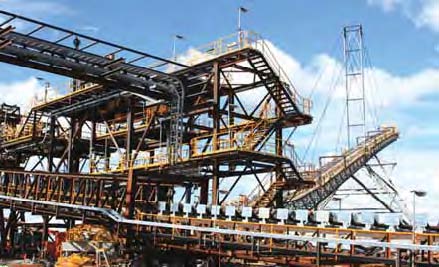 Higher production at the Christmas Creek operation will largely come from additional ore-handling
capabilities. Shown here is the existing ore stacker facility; as part of the expansion plans, a new ore
crushing plant will be built and connected to the mine's central ore-handling and loading point via
an overland conveyor system. (Photo courtesy of Fortescue Metals).

Fortescue Metals has approved capital expenditures totaling $8.4 billion to expand its iron ore production in Western Australia from 55 million to 155 million mt/y over a period of 30 months. The expansion and spending are divided into three work programs: 1) expansion of port and rail facilities, budgeted at $4.6 billion; 2) expansion of existing mines, budgeted at $1.5 billion; and 3) development of the new Solomon mining area, which will include two mines, budgeted at $2.3 billion.

Fortescue is still studying whether expanded mine production will be based on contractor or owner mining. If the company elects to go with owner mining, the cost of mobile mining equipment will be in addition to currently planned spending.

Fortescue currently has two berths and supporting loading facilities at Port Hedland. The expansion program calls for construction of an additional two berths, and Fortescue will seek approval for a fifth berth. Some preliminary port works have already commenced, and completion is scheduled for the fourth quarter of 2012.

The rail works program includes duplication of some 120 km of existing track, construction of a new 130-km spur line to the Solomon mines, construction of four new bridges, completion of two new rail loops at the port to deliver into a new dual train unloader for conveying to an expanded port stockpile area, and a complete upgrade of the existing signaling system.

Fortescue currently operates two mines, Cloudbreak and Christmas Creek, at its Chichester mining hub. Production from Cloudbreak will be maintained at its current level of about 35 million mt/y, and Christmas Creek production will be expanded to approximately 55 million mt/y through additional processing facilities and increased mining activity.

The Christmas Creek expansion will include construction of a second ore processing facility, using much of the current stockpile and train load-out infrastructure. A new primary crushing hub will be located to the east of the central ore processing facilities, with an overland conveyor system connecting the two facilities. Additional investment will be made in other infrastructure for utilities, accommodation and water management. Works are scheduled to begin during the second quarter of 2011, and completion is targeted by end 2012.

Stage 1 of the new Solomon mining hub is still subject to a number of consents and approvals, which are expected in early 2011. Construction is expected to begin during the second quarter of 2011. Development will be a two-stage process, with an initial ore processing facility for the Firetail Brockman mine and then a separate ore processing facility for the Kings Channel mine. The mining areas are 25 km apart, and processing will be different for the two types of ore.

Other planned infrastructure includes a central 2,500-person camp, an airstrip, a power station and an overland conveyor system that will take product from both processing facilities to a centralized train load-out facility. Export of direct shipping ore is forecast for the third quarter of 2012, while initial export of processed ore is planned for the third quarter of 2013. Fortescue will fund its expansion through one or more new bank or bond debt facilities, cash on hand and cash flow from operations.
---
As featured in Womp 2010 Vol 10 - www.womp-int.com