PanAust Will Boost Pit, Mill Output at Phu Kham Operations
---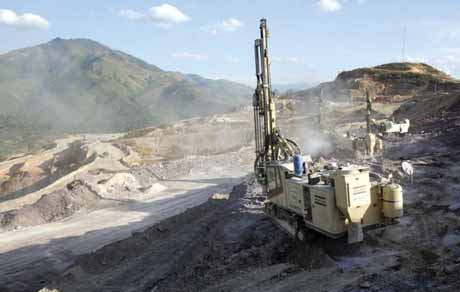 Drilling in the pit at PanAust's Phu Kham copper-gold mine in Laos. The company will spend $110 million to increase
concentrate production by adding new mining and processing equipment. (Photo courtesy of PanAust Ltd.)

PanAust Ltd. is investing $110 million to increase ore processing rates and improve metal recoveries at its Phu Kham copper- gold operations in Laos. Production of copper in concentrate is planned to increase to between 65,000 and 70,000 mt/y beginning in mid-2012 from current levels of between 60,000 and 65,000 mt/y. Precious metals contained in the concentrate are expected to remain at about 50,000 oz/y of gold and 275,000 oz/year of silver following the expansion. Ore processing rates will increase to 16 million mt/y from the current rate of about 12 million mt/y.

Commissioning of the Phu Kham upgrade is timed to coincide with a scheduled decline in ore head grade. Mill capacity will be augmented by a second 13-MW ball mill, similar to the existing ball mill. The extra milling capacity is expected to allow the nominal grind size to reduce from 106 microns to 75 microns, improving liberation and adding about one percentage point to copper recovery. No improvement in precious metal recovery is assumed; however, finer grinding should also liberate more gold and silver.

Flotation capacity will be expanded by about 50%, providing for increased flotation residence time and adding another percentage point to copper recovery. Combined, the increased grinding capability and flotation capacity are expected to support copper recoveries in the range of 74%–82% over a mine life of more than 10 years.

Additional mining equipment will be required to deliver the increased mine tonnage at Phu Kham. Studies are currently in progress to determine optimal mining fleet configuration and leasing arrangements.
---
As featured in Womp 2010 Vol 09 - www.womp-int.com