Hecla Poised for Final Decision on New Shaft Project
---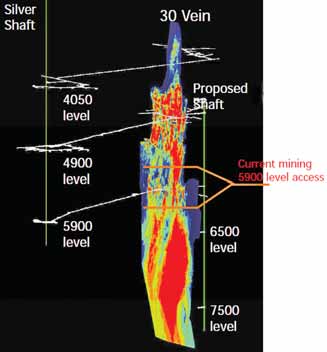 Completion of Hecla's No. 4 Shaft project, illustrated in this diagram, could
extend the life of its Lucky Friday mine by more than two decades, according to
the company. (Photo courtesy of Hecla Mining)

In late October, Hecla Mining Co. provided an update on the No. 4 Shaft project at its Lucky Friday mine in Mullan, Idaho, which Hecla believes could increase the mine's annual silver production by approximately 50% from current levels and extend the mine life beyond 2030.

Total estimated capital expenditures for the shaft project could range from $150 million to $200 million, for an internal shaft descending from the mine's 4900 level to the 7800 level (see diagram below). Engineering is under way to determine the feasibility of constructing the shaft to an ultimate depth of 8,800 ft.

Hecla said that since project inception in 2007, its board of directors has approved approximately $55 million of capex for prefeasibility, feasibility, frontend engineering and design, and earlyphase development of the shaft project. By year-end 2010, $50 million will have been invested in detailed engineering and design of the shaft, excavation of the hoist room and off-shaft development access to shaft facilities, and placement of orders for major equipment.

Hecla said its management expects to make a final technical and commercial feasibility determination and seek final approval by the board for completion of the project no later than the middle of 2011. If approved, Hecla estimates the project would be completed by the end of 2014.

"This is a major milestone in the mine's history and we are very excited about the organic growth opportunity at Lucky Friday," said Phillips S. Baker Jr., president and CEO. "The mine has been in production for more than 68 years and we believe it may extend much further into the future with the addition of the No. 4 Shaft. With no debt and approximately $200 million of cash on hand at June 30, 2010, Hecla is currently well positioned to fund all of its capital requirements internally."

Hecla reported good progress has been made on preliminary construction activities. Excavation of the hoist room was completed ahead of schedule in the third quarter of 2010 and foundations for the main production hoist are currently being constructed. Off-shaft development is planned at multiple locations between the 4700 and 7500 levels. Major long-lead equipment items received to date include the permanent hoist, underground concrete trucks and temporary sinking plant facilities.

By year-end, the company will have invested approximately $50 million since project inception in 2007. Assuming board authorization for completion of the project, the balance of the capital requirement ($100–$150 million) would be distributed over the next four years, with 2011, 2012 and 2013 being the more capital intensive years. The company believes cash on hand combined with free cash flow from existing operations should be sufficient to fund completion of the project.
---
As featured in Womp 2010 Vol 09 - www.womp-int.com